Every CEO wants to ensure that even after the last employee clocks out for the day, support is still available for customers at all times. However, myths about an offshore team's productivity and skill level can prevent many organisational leaders from exploring this option. As a result, partnering with a remote outsourcing specialist to assist your day-to-day operations and after you have closed for the day is one of the best-kept secrets of the global IT industry.
Significant assistance may not be needed only during the peak hours for your full-time employees but also during after hours. These out-of-hours services help you get a head start the next day when your employees clock in. Recognise that it is not only during peak hours or seasons that you require significant reinforcement for your full-time employees who work throughout typical business hours.
This blog will look at how out-of-hours services and their application to different businesses streamline workflow, decrease overheads and increase profits. The industries we will explore include records retrieval, healthcare recruitment, digital marketing and video surveillance.
Out-of-hours across industries
If you want your clients raving about your services, you need to be available round-the-clock to address inquiries, complaints and support requests. You may count on an efficient after-hours outsourcing service to save you time.
Most distraught customers want redressal to their complaints and answers to their queries as soon as possible. Think of it this way – if your team is not available to address urgent client needs, your competitors end up with an easy opening to pitch better customer service. Let's check out which industries can benefit from a remote offshore team offering out-of-hours services.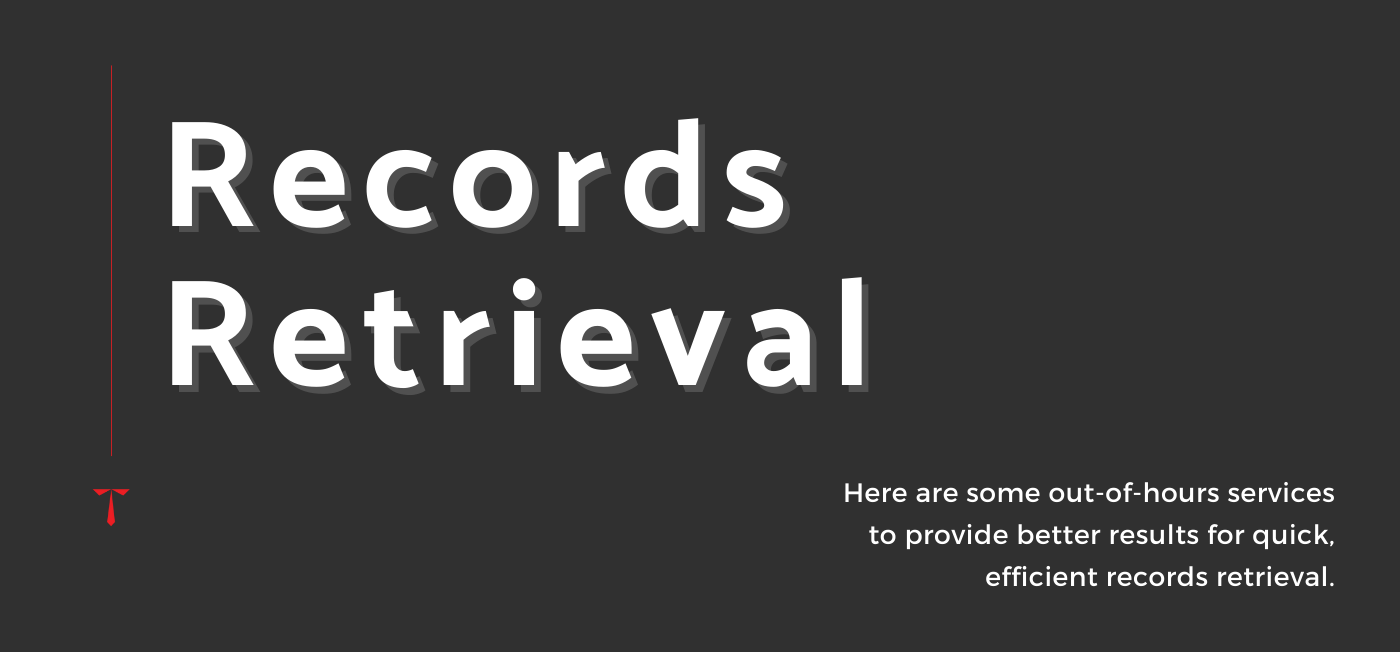 Records Retrieval
An efficient records retrieval team obtains medical, legal and other documents quickly and easily. Record retrieval is a tedious, time-consuming, but ultimately inevitable component of the legal, medical and insurance documentation. Retrieval tasks may include devoting hours to filling out documents, making phone calls, or combing the country for the correct doctor's office, police station, employer, or medical care provider to contact. Records retrieval may be a thorn in the side if not appropriately managed – slowing procedures and producing unnecessary expenditures. At worst, a haphazard approach to record retrieval might result in squandered staff hours. At best, organised, quick records retrieval with a standardised process can be a lucrative way to acquire more clients.
Out-of-hours records retrieval services
Research
Research is the initial step in the records retrieval process where requests are received. The records retrieval team checks each request to ensure it directs to the most accurate document you want to seek. The team heads on to find the information, such as the facility's name, concerned contact/person, updated address. We assess the most effective strategy to expedite your request and contact the document facility to guarantee that records are retrieved as soon as possible.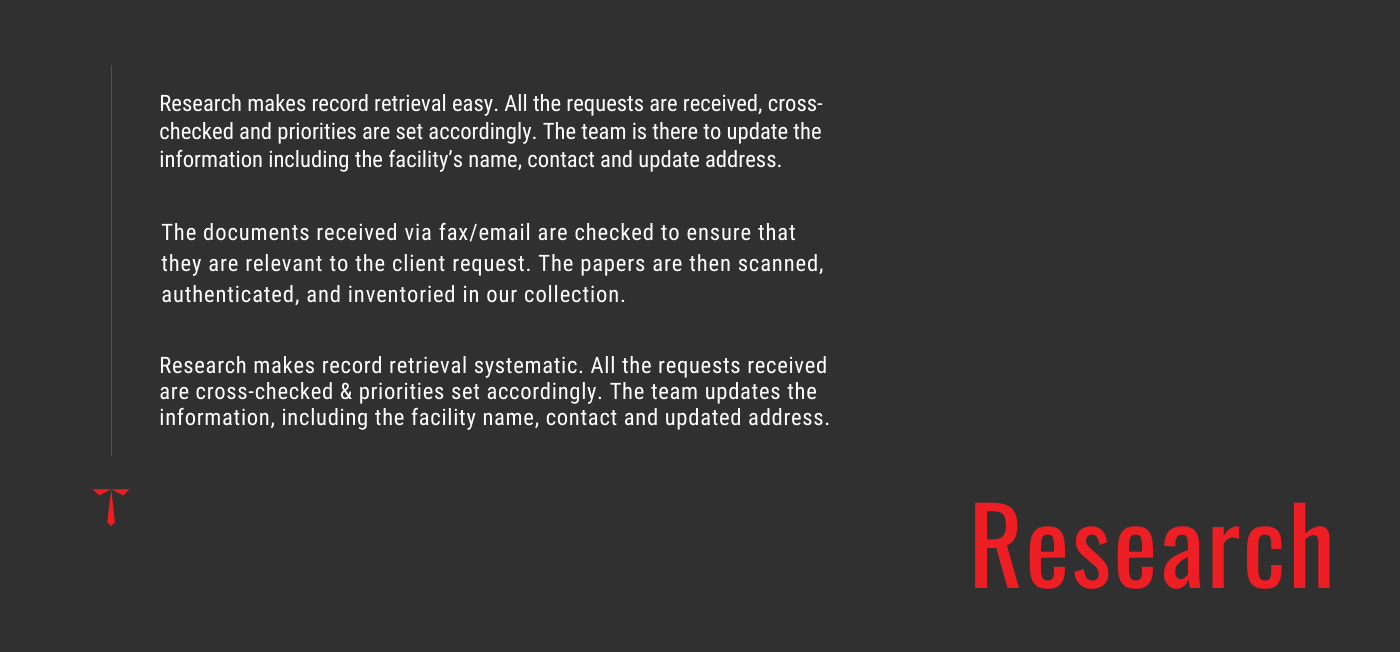 Research makes record retrieval easy and systematic. All the requests are received, cross-checked and priorities set accordingly. The team updates the information, including the facility's name, contact and update address.
Production
The authorities then check the documents received via fax/email to ensure that they are relevant to the client request. The papers are then scanned, authenticated, and inventoried in our collection. Custom numbering offers help with extensive tort litigation or multi-district document management, and we can sync them accordingly.
Portal Access
In the client's portal/system, the records retrieval team can pay the pending invoices download & upload records according to the requirements. The team will examine the documents to see if there are any more record sources and determine if the providers are a possible source of relevant records. Lastly, the portals assist in data mining and identifying records as quickly as possible.
Records retrieval teams save your company money by simplifying the entire process. Remote retrieval assistance helps when the request status and recent updates notifications are piling up at the portal interface. The offshore retrieval team helps you clear the backlog. By the time your on-ground team logs in for the day, the missing records will be organised, summarised, and complete.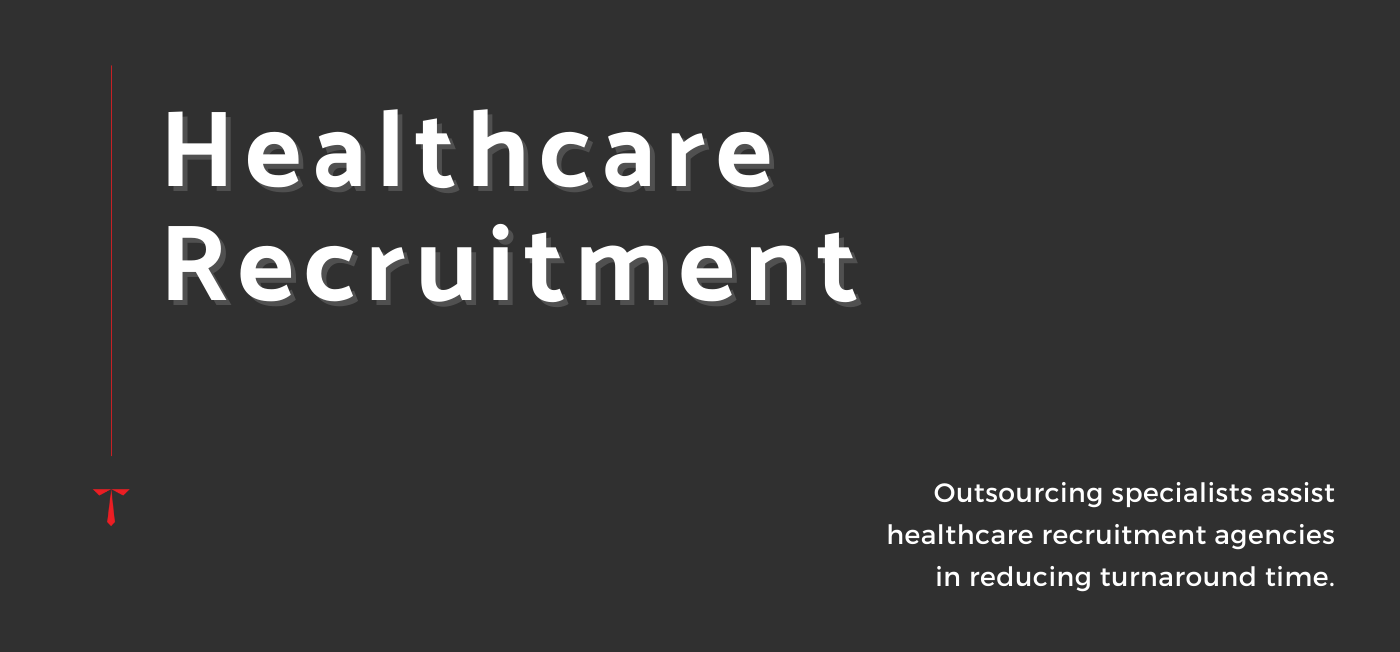 Healthcare Recruitment
Outsourcing specialists assist healthcare recruitment agencies in reducing turnaround time. Offshore teams also help you manage the expenses associated with sourcing and recruiting clinical and non-clinical staff.
Offshore teams with global experience act as an extension to your in-house team, assisting with DBS compliances, chasing down references, last minute candidate bookings as well as resolving administrative and customer service issues
Out-of-hours healthcare recruitment services
Scheduling Issues
Some issues that need attention on an urgent basis can be taken up on priority during the out-of-hours working. Common challenges that need immediate solutions include cancellations from hospitals, candidates due to unforeseen circumstances, or candidates not attending the shift. The candidate might forget, not receive the confirmation, go to the wrong hospital or in the wrong ward. The out-of-hours team helps sort such issues so that your in-house teams get a head start the next day.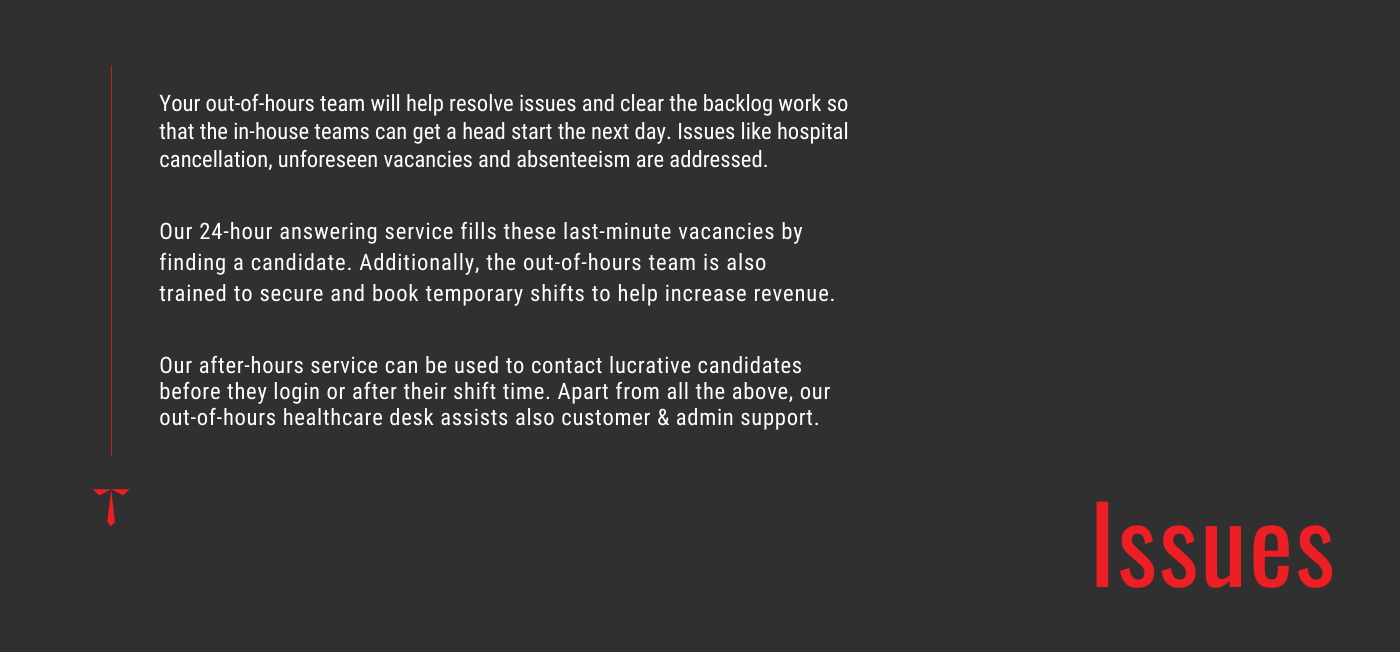 Your out-of-hours team will help resolve issues and clear the backlog work so that the in-house teams can get a head start the next day. The problems might be related to the hospital cancellation, unforeseen circumstances and absenteeism of candidates during the shift.
Bookings (Generating Revenue)
Sometimes, locum placements involve filling medical positions immediately. Our 24-hour answering service fills these last-minute vacancies by finding a candidate. Additionally, the out-of-hours team is also trained to secure and book temporary shifts to help increase revenue.
Compliance
Due to the nature of the work done by doctors & nurses, it is tough to get a hold of them during regular working hours. Our after-hours service can be used to contact lucrative candidates before they login or after their shift time. Offshore healthcare recruiters then inform them of the job, explain pending documents and can even obtain papers that may expire in the coming month.
Apart from all the above, our out-of-hours healthcare desk assists in completing the other admin tasks of uploading documents on the system reactivation of candidates by calling the candidates who are currently not active but are just there in the database.
Support includes tasks such as contracts made on the bookings CRM and handling a variety of hospital grievances. With OOH (out-of-hours) assistance, recruiters can provide services to their clients during non-working hours, weekends and bank holidays. Delegating these small-time tasks helps recruitment agencies expand their recruiting capacity without compromising quality or paying through the nose. You can customize an extensive talent pool of temporary and permanent medical professionals with an offshore team. Our agents use a data-driven approach to address specialised, high-volume recruitment requests.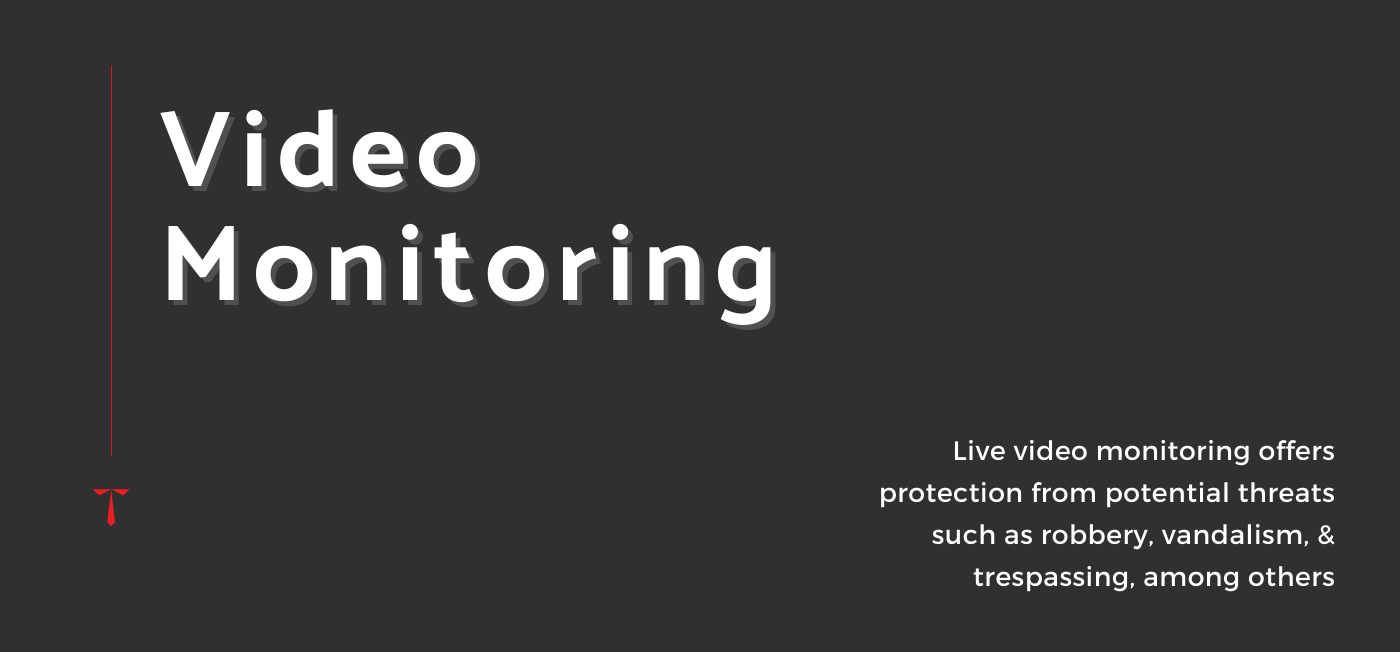 Video Surveillance
At Technomine, we also have extensive experience assisting security agencies with our out-of-hours services. In the past, we have provided assistance with remote guarding for truckyards, car dealerships, cold storage facilities, residential units, commercial buildings, campuses, warehouses as well as construction sites. Live video monitoring offers protection from potential threats such as robbery, vandalism, loitering, trespassing, and even shootings. Remote patrol agents not only ensure safety to client property, but are also trained to deal with nuisance alarms, camera down identification and Level 1& 2 technical support.
Out-of-hours electronic security services
Deter crimes
Whether you are covering a school, hospital or commercial office building for security services, your client facility is inherently vulnerable to unwelcome visitors. If someone were to access campus property after hours or in a restricted location, virtual guards detect and stop probable crime before it happens. Then, depending on the seriousness of the situation, the remote security staff would provide a voice-down warning, trigger an alarm, and contact onsite security officers and authorities if needed.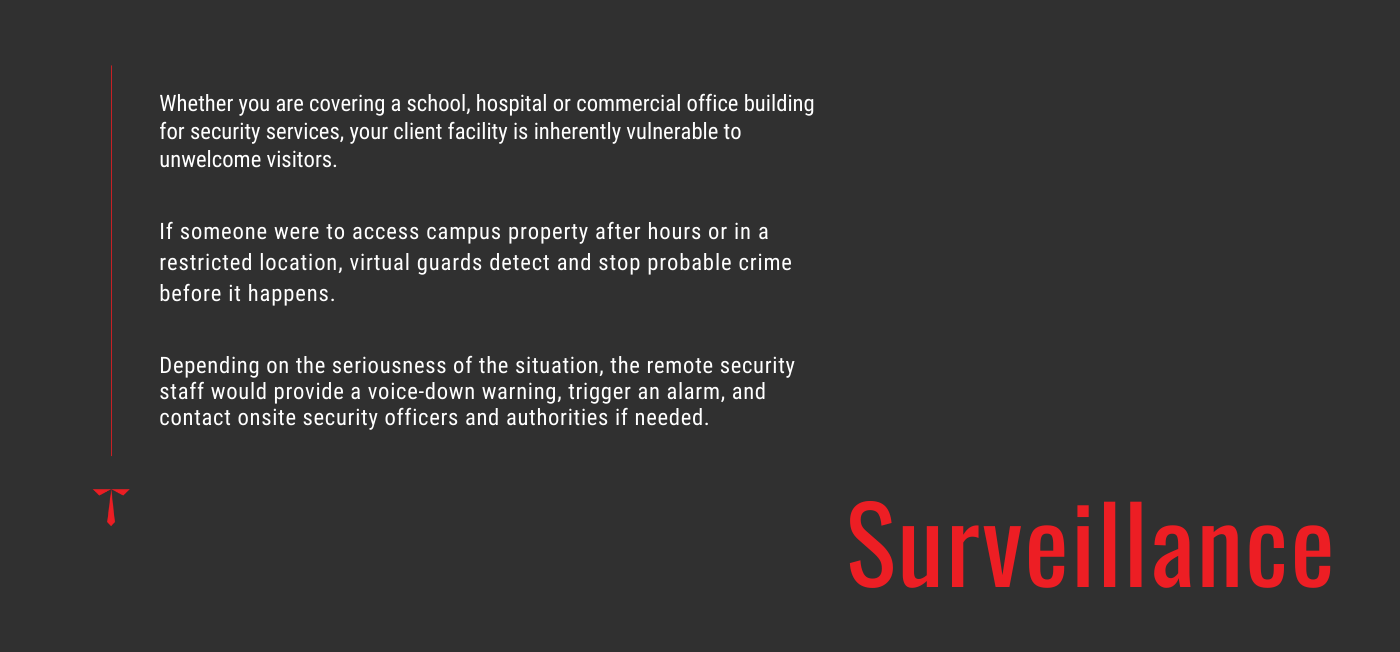 Assisting physical guards
Onsite security guards are also necessary for a comprehensive security plan. Services provided by remote video monitoring security teams help your security personnel virtually patrol the client sites that otherwise might have been unsupervised. Even during out-of-hours coverage, your on-ground security team would stay updated on threats to locations where they are not present and take the necessary actions at the right time to prevent incidents.
Real-time surveillance
Quick decision-making and the ability to respond in seconds is what a trained remote security provider brings to the table. Virtual guards are also trained to distinguish between actual dangers and false alarms.
Partnering with a remote guarding business is cost-effective for security agencies. Round-the-clock security coverage and perimeter surveillance offers superior quality of service – even at an affordable price range . Our offshore video surveillance team undergoes training to deal with a variety of adverse incidents as well as daily protocols for individual client sites. Protocols set by the clients are used by our virtual guards to effectively deliver premium services for alarm monitoring, live monitoring, retrievals, trucking, GPS tracking.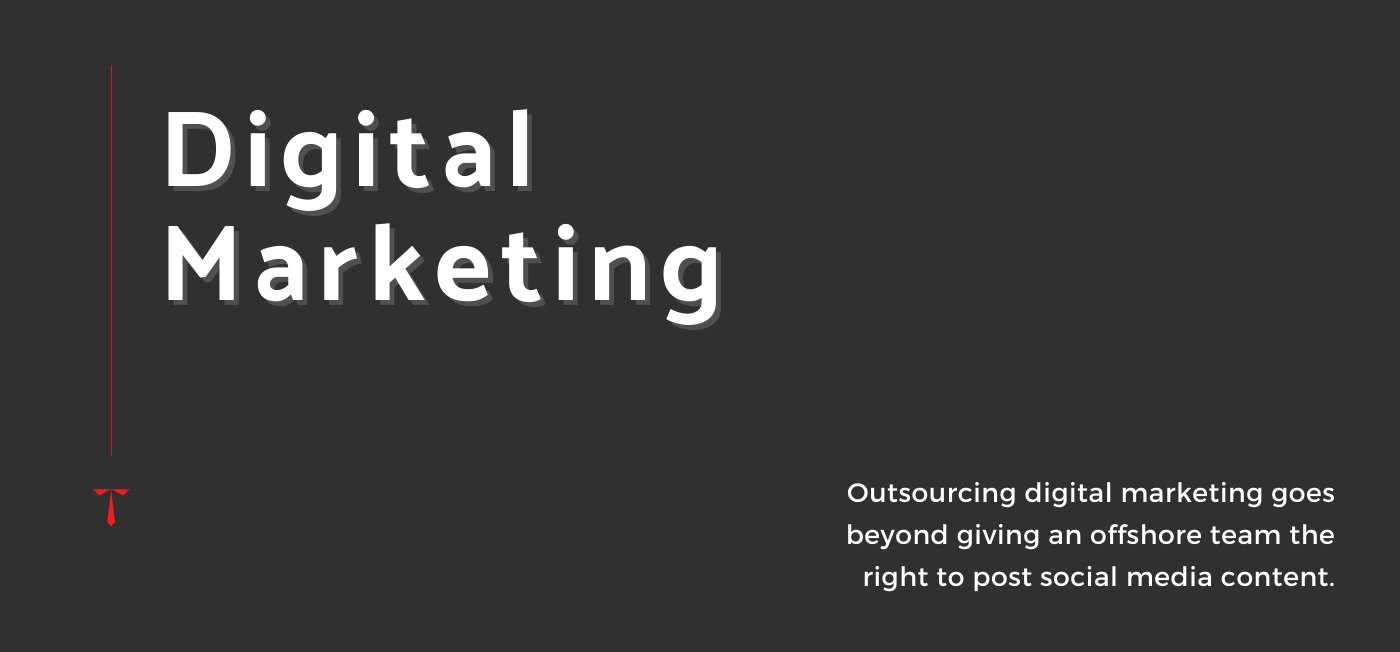 Digital Marketing
Outsourcing digital marketing is more than just giving an offshore team the right to post social media content on your behalf. Instead, you hire a third party to develop content or conduct marketing activities to promote and grow your agency. The range of services includes blog management, designing advertisements, making social media posts, producing video content, building lead magnets, managing pay-per-click (PPC) campaigns, developing Facebook ads, and running affiliate or loyalty programs managing SEO. Digital marketers specialists focus more on profits and retaining client relationships.
Out-of-hours digital marketing services
SEO
Search engines are frequently the primary traffic source and generate leads for B2B websites. SEO is a continually growing discipline necessitating detailed knowledge of search engine algorithms, content strategy and website technical needs. Unless you have someone on your staff with extensive SEO skills, this is one area you should undoubtedly outsource to an offshore team. While your in-house marketing team can take care of marketing strategies, an offshore team can work after hours on SEO updating and back-end work.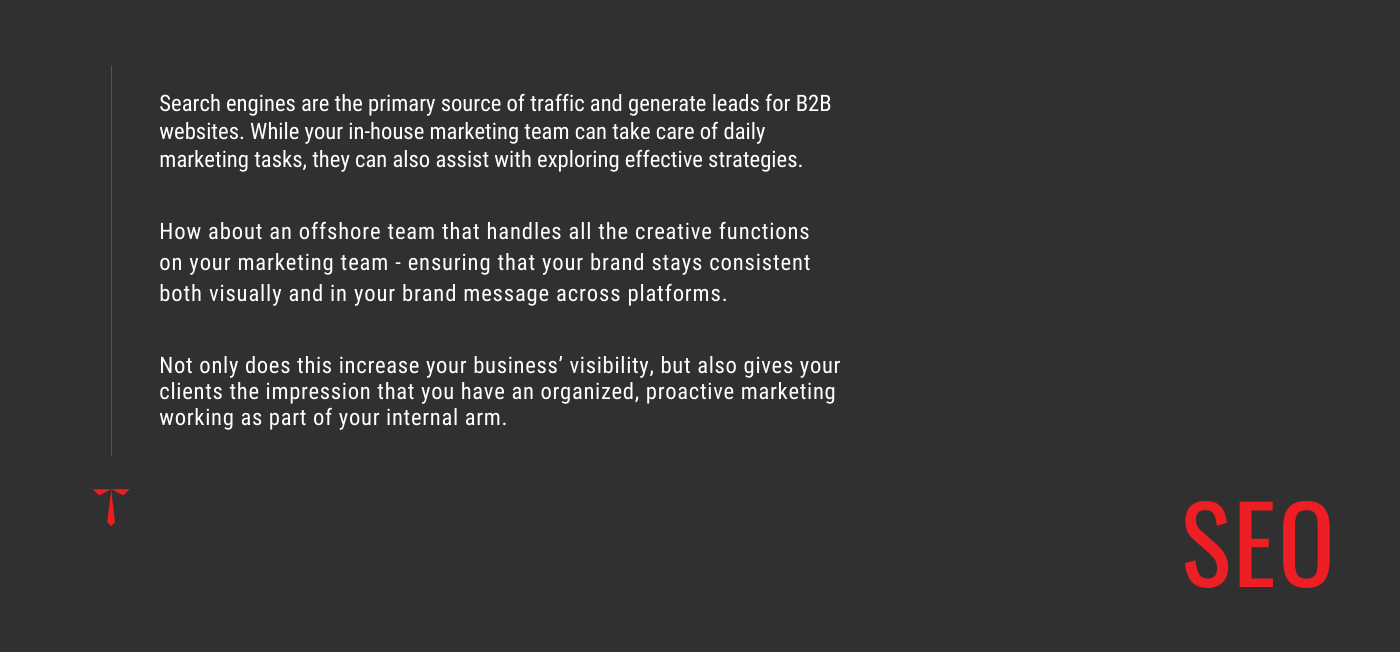 Creative support
How about an offshore team that handles all the creative functions on your marketing team – ensuring that your brand stays consistent both visually and in your brand message across a variety of platforms. Not only does this increase your business' visibility, but also gives your clients the impression that you have an organized, proactive marketing working as part of your internal arm.
Website development
Website development is the most technically challenging aspect of any digital marketing requirement and is constantly growing. Your website is the focal point of your digital presence for lead generation, market placement, brand recognition and customer service. Cutting corners on web construction frequently results in pain. In addition, offshore web designers and developers may constantly refine their talents by working on new projects, a luxury that in-house marketers might not have.
Determining which marketing services to outsource is easier once you have established a budget, channel priorities and internal team resources. There is no one-size-fits-all solution for outsourcing digital marketing services, so examine your budget, marketing mix and team skills before making a selection. Then, entrust your marketing responsibilities to someone who understands how to get the outcomes you seek. This delegation will give you a chance to focus on automating the marketing process while focusing on client onboarding.
After hours support
At the beginning of this blog, we set out to explore how offshore team services can help meet the out-of-hours requirements across various business industries such as records retrieval, video surveillance, healthcare recruitment and even digital marketing. Throughout this piece, we have seen how out-of-hours support has evolved as a strategic tool businesses can harness to cut costs and scale with stability. After-hours services like live chat, technical support and incident interventions can provide consistent customer satisfaction. Such proactive practices can set you apart from the competition.
Leading companies in the records retrieval, healthcare recruitment, digital marketing or video surveillance industries have used our outsourcing functions to gain a competitive advantage and tap into a diversified set of skilled professionals.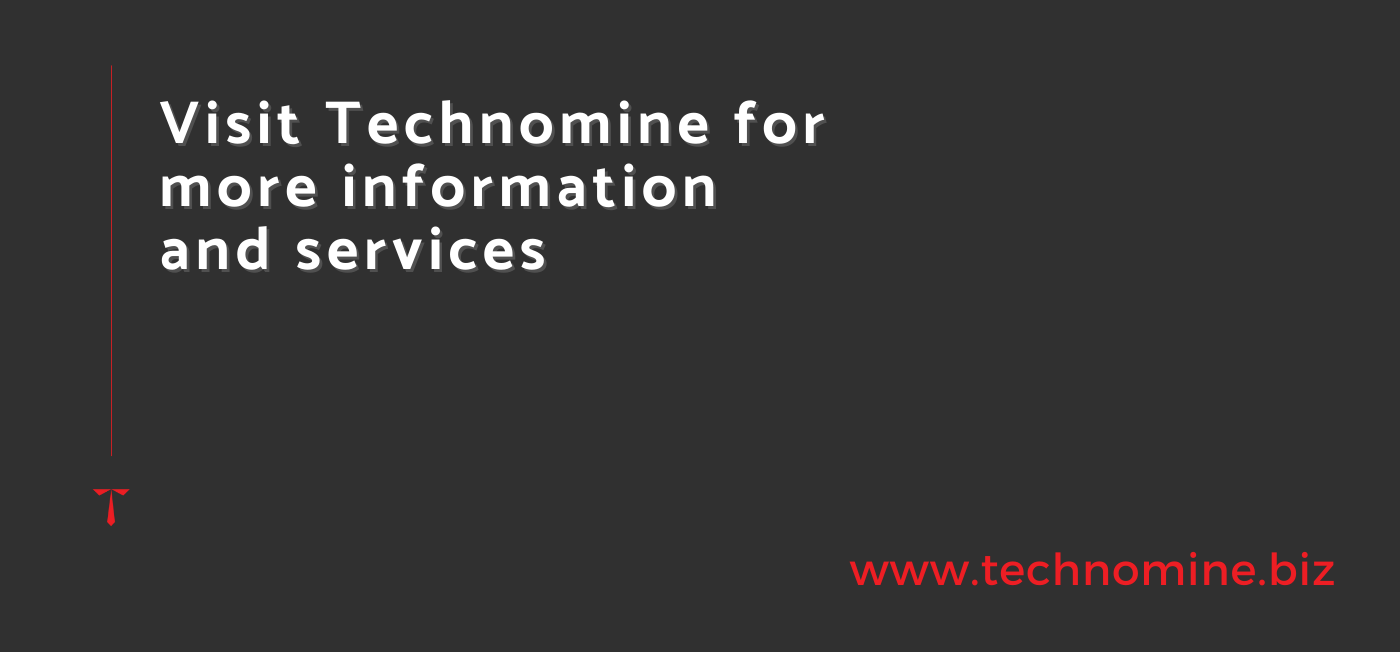 Think of it this way. Your competitors may already have hired an out-of-hours provider for better customer satisfaction, faster growth and streamlined staffing. Delivering services quickly with better after-hours coverage can be a unique selling point in a competitive market. Access to your offshore team helps you shift existing resources to the most critical areas for business acquisition. Contact info@technomine.biz if you want to discuss how out-of-hours services can be harnessed to stabilise and grow your existing business.