In the year 2020, there was a 50% drop in all crimes because of surveillance cameras, according to a study published in the New York Times. Police officers involved in this research also found it easier to investigate the case with the help of surveillance footage. Surveillance camera footage can also help flush out significant leads to support forensic investigations.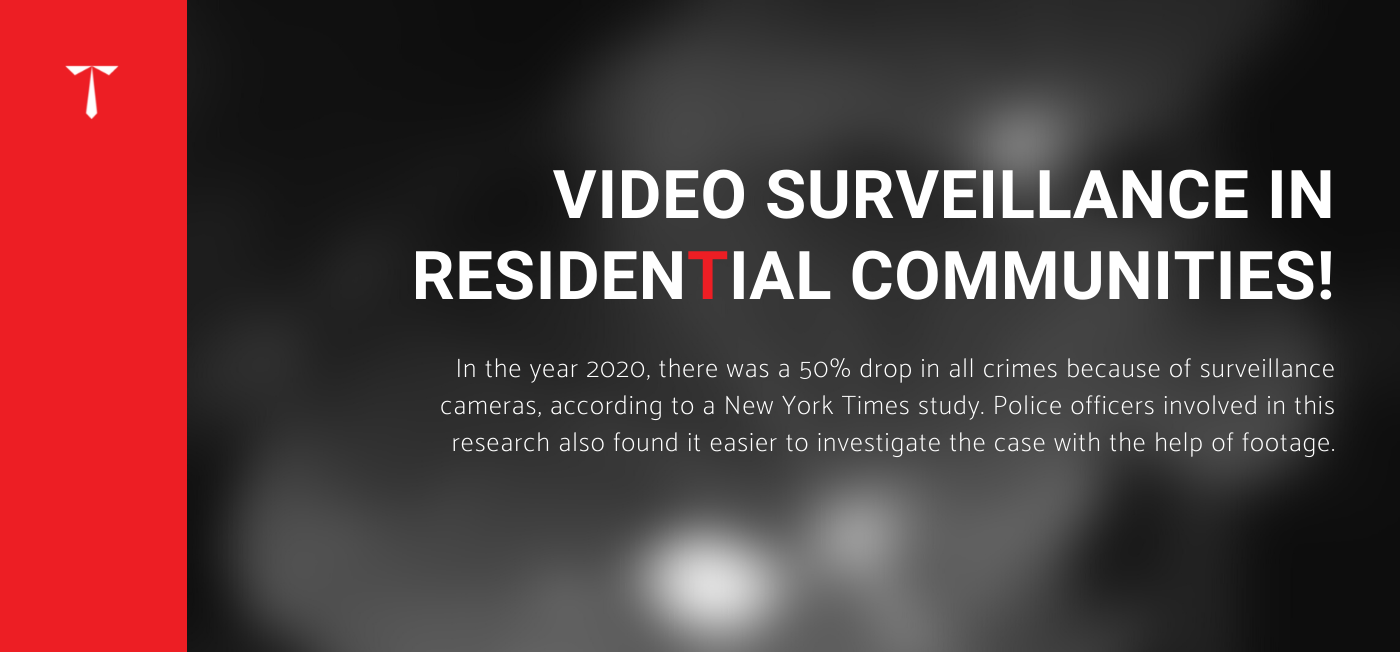 In another research conducted by the University of North California, there were around 422 burglars imprisoned using surveillance cameras. Approximately 60% of the burglars mentioned that they intend to look for an alarm before breaking into the house. If there is an alarm inside the targeted house, burglars will eventually move on to the house with no cameras to avoid getting caught. The same research conducted by the University of North California indicates that having a surveillance camera reduces crimes.
This month, Technomine will critically explore the different aspects of neighbourhood safety. We will discuss the following concepts.
How do burglars choose the houses?
Where to keep the cameras?
What types of crimes can be detected using surveillance cameras?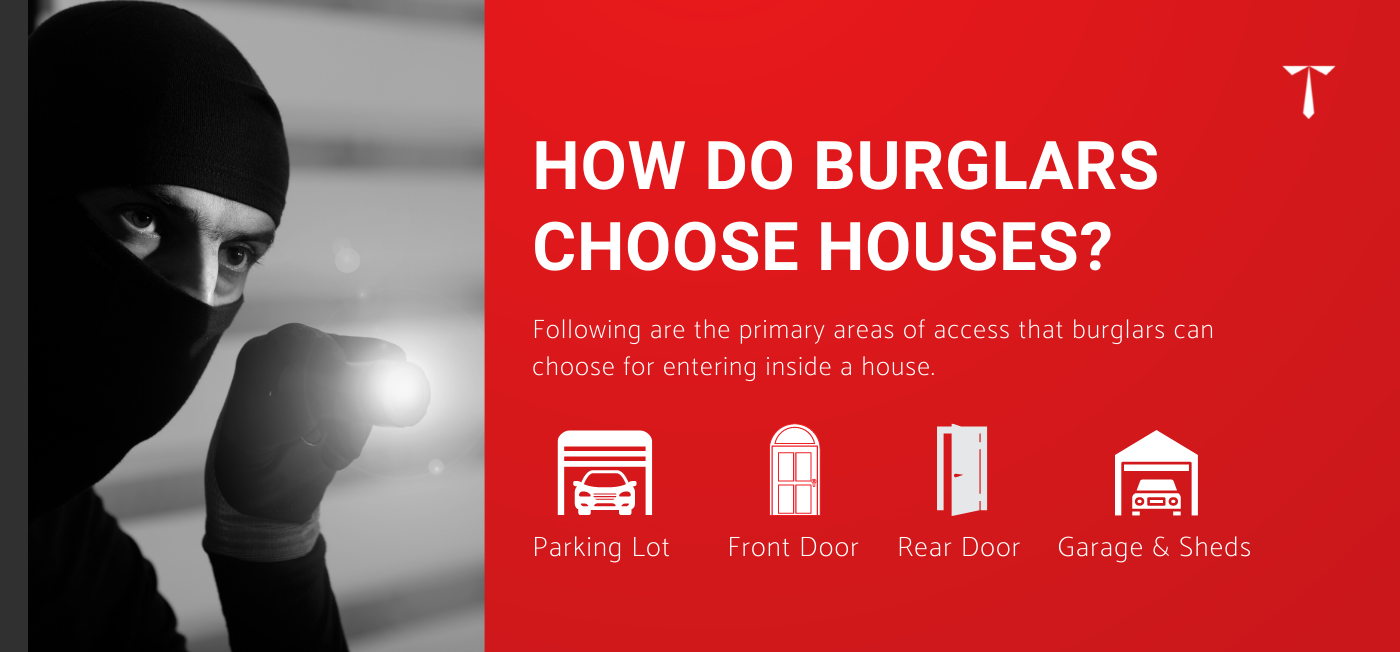 How do burglars choose houses?
We often read news related to crimes like burglary, robbery, theft of motor vehicles and arson. The question is – how do the burglars even choose which house to rob? How do they target a specific area? What is their insider planning like before actually committing the crime?
According to ADT, most criminals target a house that is easy to break. They watch the neighbourhood and then select the homes where people are more likely to be in and out of the home. It becomes challenging to identify the thief as several people come in and go out of the house. Often the targeted homes are in more rural or remote neighbourhoods – but targets can also be near a cul-de-sac or bordering a public park – making their escape route easy and usually unmonitored. Burglars need easy to carry items like money or expensive assets to fetch the best price for their efforts. So, the primary target is well-kept houses and have costly cars parked.
Houses with open windows and easy entry are also a great target for burglars. Following are the primary areas of access that burglars can choose to enter a house.
Front Door
Rear door
Parking Lot
Garage and Sheds
If any of the doors, be it the front or rear door remains open, it is all the easier for burglars to get into the house. Another security pitfall – glass doors look beautiful, but they contribute nothing towards the house's safety.
Digital locks are also not as safe as you think because, at this point, a criminal might have a bump key that might help them bypass the security pin, allowing the burglar to pick the lock quickly, getting access to enter the house without much effort.
After discussing the burglar's perspective when choosing houses, let's discuss where security agencies can place client cameras to get a better view of the activities going on in and around the house.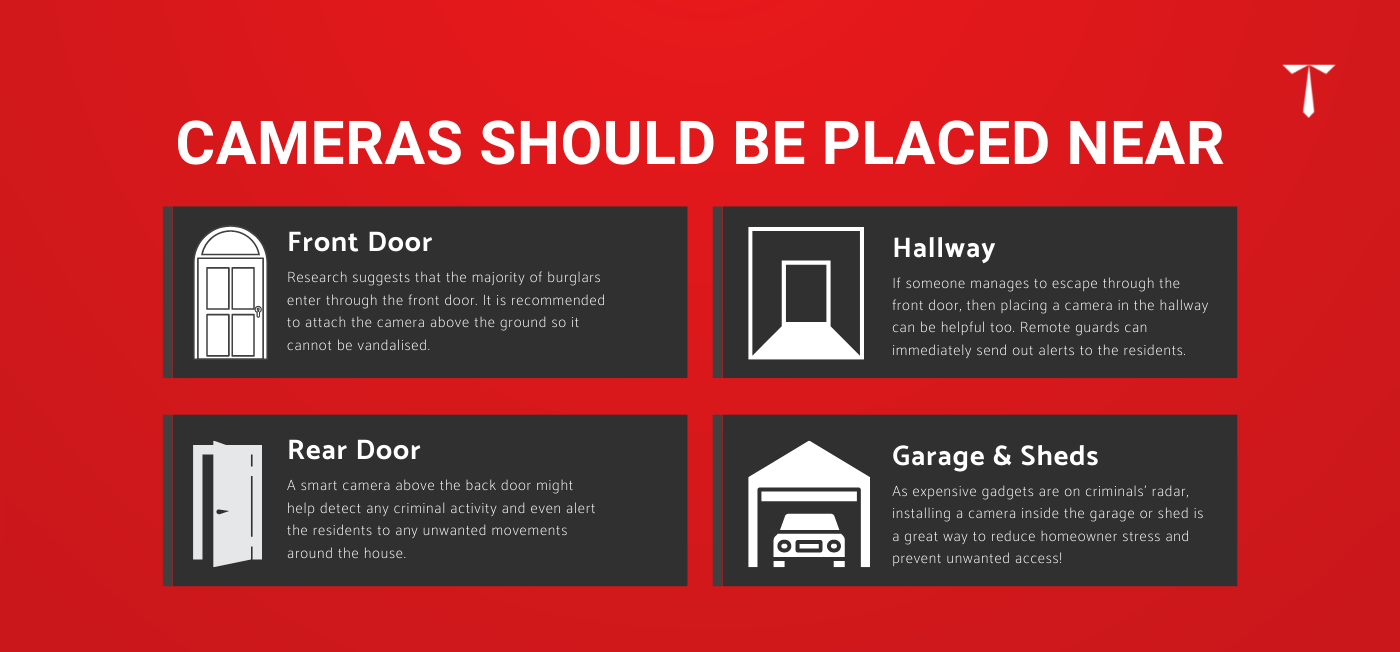 Camera Placement
Security agencies know that there is a difference between internal and external security cameras. Home surveillance cameras can help keep watch over the house from inside and outside – giving your clients an extra pair of eyes and ears to watch their home.
Cameras hiding in plain sight
The University of North California research identified that burglars look for surveillance cameras before entering a house. If there is a camera, they move to the next identified target (home) to avoid getting caught. Installing a surveillance camera around the house might help monitor outdoor activities anytime.
This section will discuss the places to hide security cameras for better monitoring. As a result, reduced crimes will lead to a safe and sound neighbourhood.
Front Door
According to a study by MoneySuperMarket, most burglars enter through the front door. So, we recommend installing a security camera at the front door. Ensure to attach the camera above the ground so it cannot be vandalised. We can place the camera to monitor the front gate or immediate surroundings rather than passing traffic and pedestrians.
Hallway
If someone manages to escape through the front door, then placing a camera in the hallway can be helpful too. Remote guards can immediately send alerts to the residents and the local authorities to reach on time before the crime happens. With the help of night vision cameras, it will be easier to spot the burglar inside the camera.
Rear door
The door at the backside of the house often remains undetected. A smart camera above the rear door might help detect any criminal activity and even alert the residents to any unwanted movements around the house. Again, it would be best to place the cameras out of sight of the criminal.
Garage and Sheds
The garage and sheds inside the house have some vulnerable and expensive assets like cars, bikes and motorcycles. As such expensive gadgets are always on the radar of criminals, garages and sheds are some of the most vulnerable sites that need security. Installing a camera inside the garage or shed is a great way to reduce homeowner stress and prevent unwanted access!
Sheds are not often monitored regularly by the residents but contain expensive equipment like bikes and tools that can be annoying to replace and annoyingly easy to steal. An outdoor smart camera monitors your client's garage or garden shed, and it is a simple way to beef up security.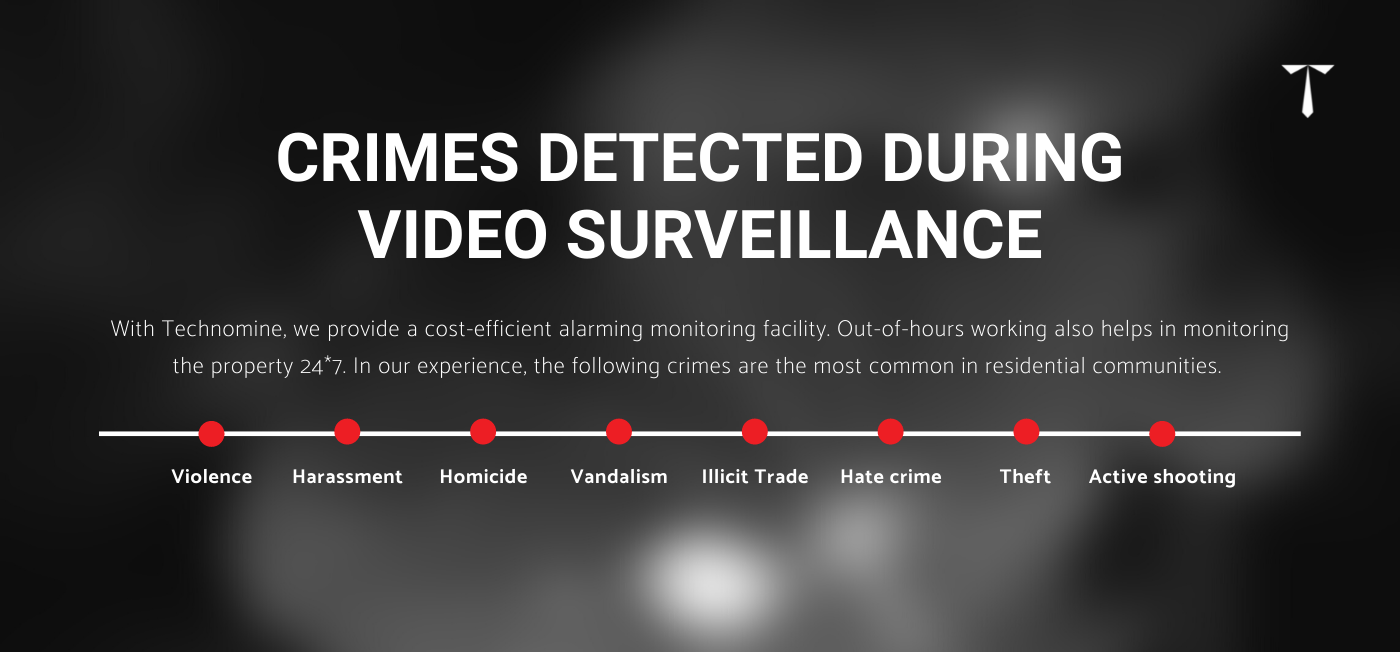 Crimes detected during video surveillance
When we monitor neighbourhoods and homes, there is a set of crimes that recur at a particular site.
Violence
Harassment
Active shooting
Unauthorised access
Illicit Trade
Homicide
Vandalism
Hate crime
Theft
Suppose any of the above activities happen in and around the surrounding area. In that case, the alarm monitoring team will immediately alert the criminals and even contact the local authorities to stop the crime before it happens. Crime detection becomes easier with video surveillance.
With Technomine, we provide cost-efficient alarming monitoring facilities. Out-of-hours security support also helps in monitoring the property 24*7.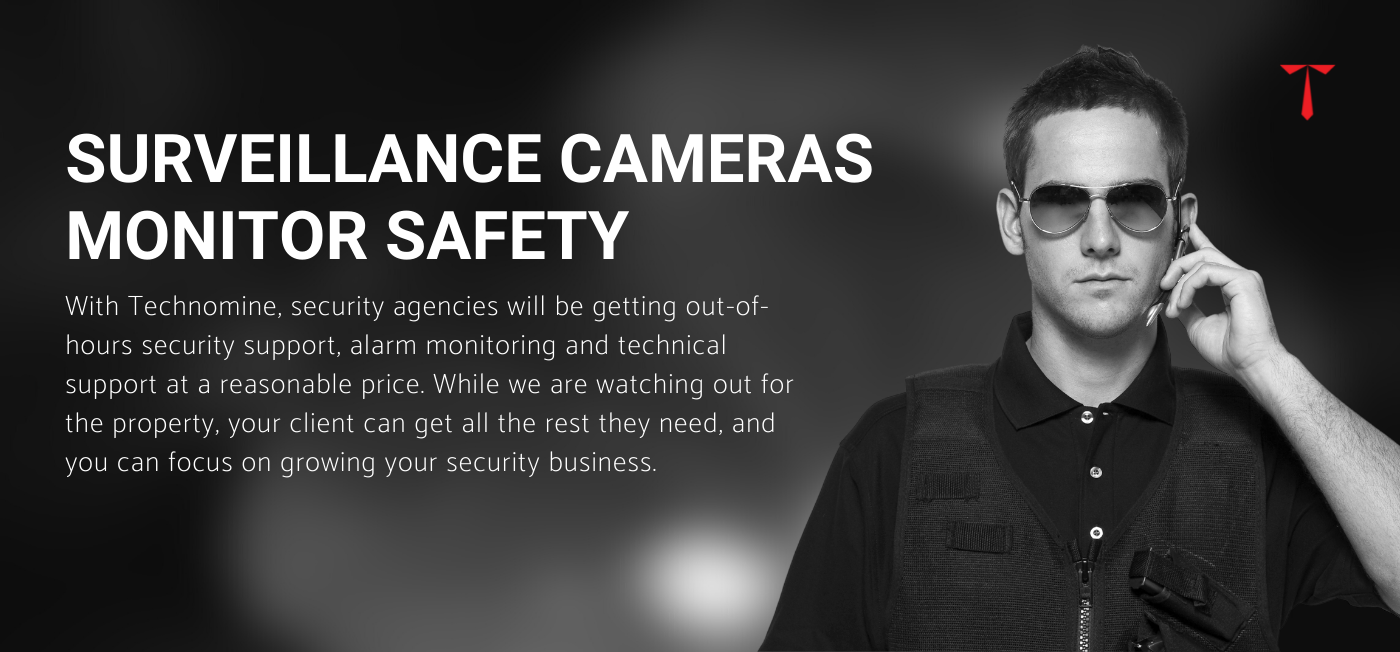 Surveillance cameras monitor safety
At the start of the blog, we discussed how surveillance cameras could help improve the house's safety. Various articles and research in this blog identified that criminals look for homes with easy sneak-in options and expensive assets. Therefore, it is better to keep an eye on the activities going in and around the house.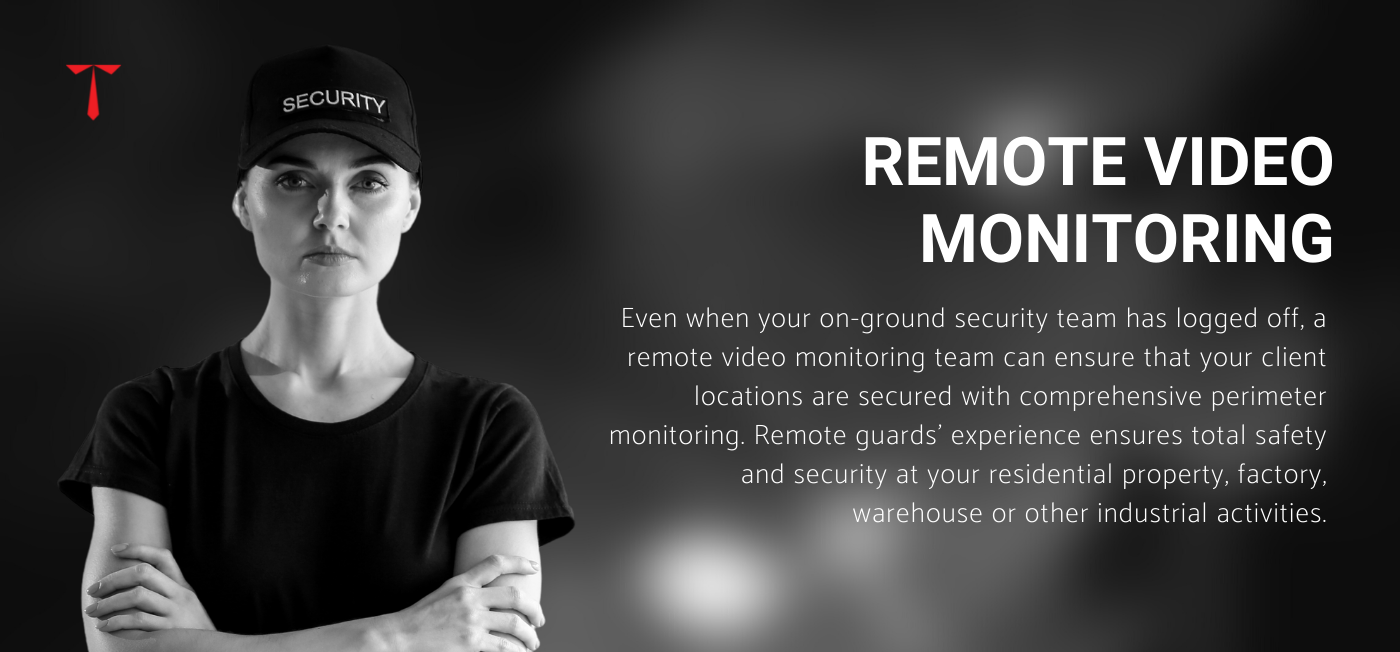 With Technomine, security agencies will be getting out-of-hours security support, alarm monitoring and technical support at a reasonable price. While we are watching out for the property, your client can get all the rest they need, and you can focus on growing your security business.
Alarm monitoring makes crime detection easier, alerting local authorities. With the help of video surveillance, clients can make virtual guards. Remote guards can aid security companies with service continuity and emergency response. Even when your security team has logged off, a remote video monitoring team can ensure your client locations are secured with comprehensive perimeter monitoring. Remote guards' experience ensures total safety and security at your factory, warehouse, and industrial activities.
Found interesting?
With Technomine's video monitoring features, your clients get out-of-hours security coverage at a much lower cost to you. Technomine services include careful monitoring of every single camera on every active client site and looking for instances of a total or intermittent video loss. If an incident happens, remote agents update the relevant software or spreadsheet tracker with the appropriate site name, camera number and the issue for your records. Where dictated by protocol, they will also escalate the problem to your on-ground security staff, control room or even local authorities based on your preferences.
Our experienced agents identify technical support requirements, lost video or site down and raise a tech support ticket accordingly. We use Salesforce, TaskRay and similar industry software to create tech support tickets for Level-1 tech support engineers to address.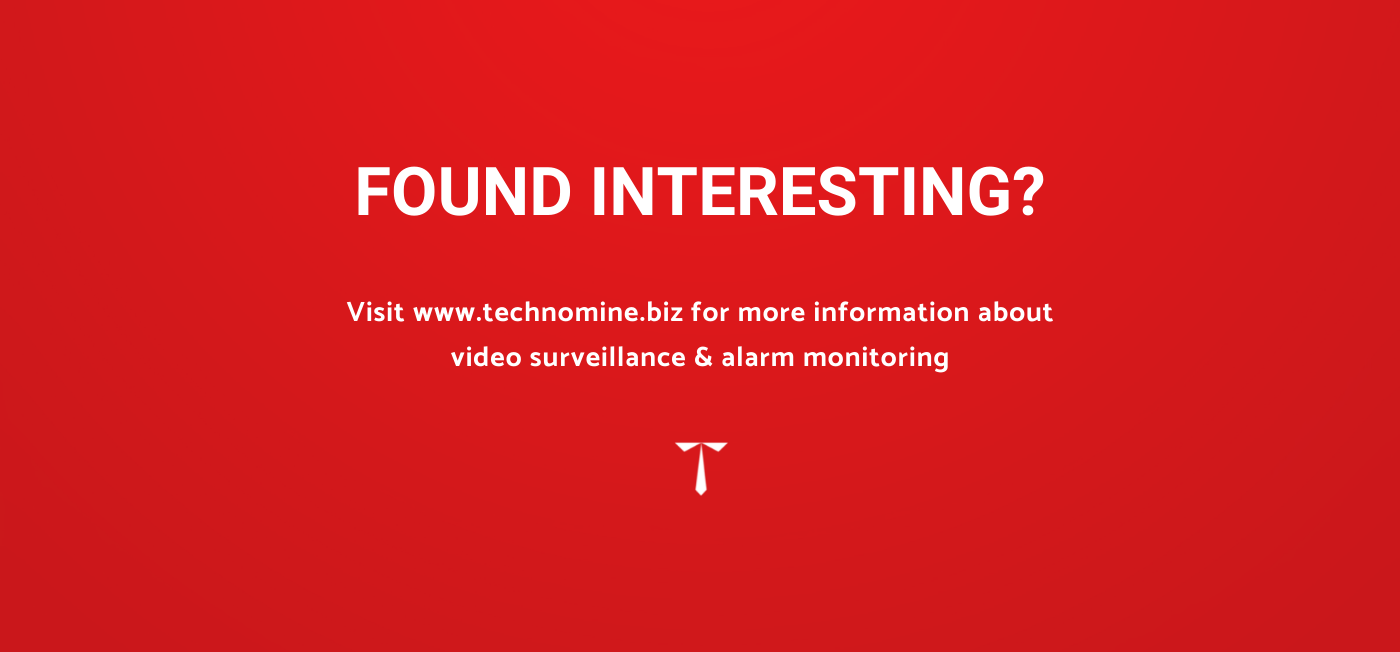 We provide a cost-effective security solution. As a result, our security services are cheaper than most on-ground staff. To see how you can slash guarding costs, increase safety and clock greater profits with our remote security services, visit our website https://www.technomine.biz and reach out to us via the chatbox on our homepage.