Security businesses are under increased pressure to provide a 24-hour surveillance service, but this may not always be feasible. The basic client expectation is that the security company will safeguard property round the clock so that unanticipated threats can be mitigated. Remote guards can aid security companies with service continuity and emergency response. Even when your on-ground security team has logged off, a remote video monitoring team can ensure that your client locations are secured with comprehensive perimeter monitoring. In addition, your clients will have peace of mind knowing that your remote team is monitoring their sites even during off-hours and weekends when physical security staff is hard to find. Going above and beyond to ensure your clients' safety after hours can go a long way towards setting you a notch above other security providers.
Let me illustrate the need for out-of-hours coverage with a scenario.
Say, most of on-ground team has left for the day at a corporate site as most employees have logged out. There's no activity in sight in the control room or on the client sites. Everything seems to be on track… until it isn't. A figure with a maroon jacket approaches the back gate with the loading docks. This area is vulnerable as the lighting is poor and the entrance is hidden from public view. The remote guard in charge of this site is sitting thousands of miles away but notices the unusual activity immediately and responds with a voice-down intervention. "The man with a maroon jacket. This area is under 24/7 security surveillance. Your actions are being monitored and recorded. Law enforcement is on standby and will be immediately notified in case of any mischief." The remote security team has managed to scare off the intruder without putting himself or anyone else at risk.
With a voice-down system and other remote video monitoring features, security agencies can ensure better security to the clients even during off-hours. Remote video monitoring is an advanced security service that combines a central station system, onsite surveillance and camera analytics to monitor and protect property, assets and people – proactively and in real-time. In this blog, we will discuss how remote guarding assists security agencies in ensuring security even during out-of-hours.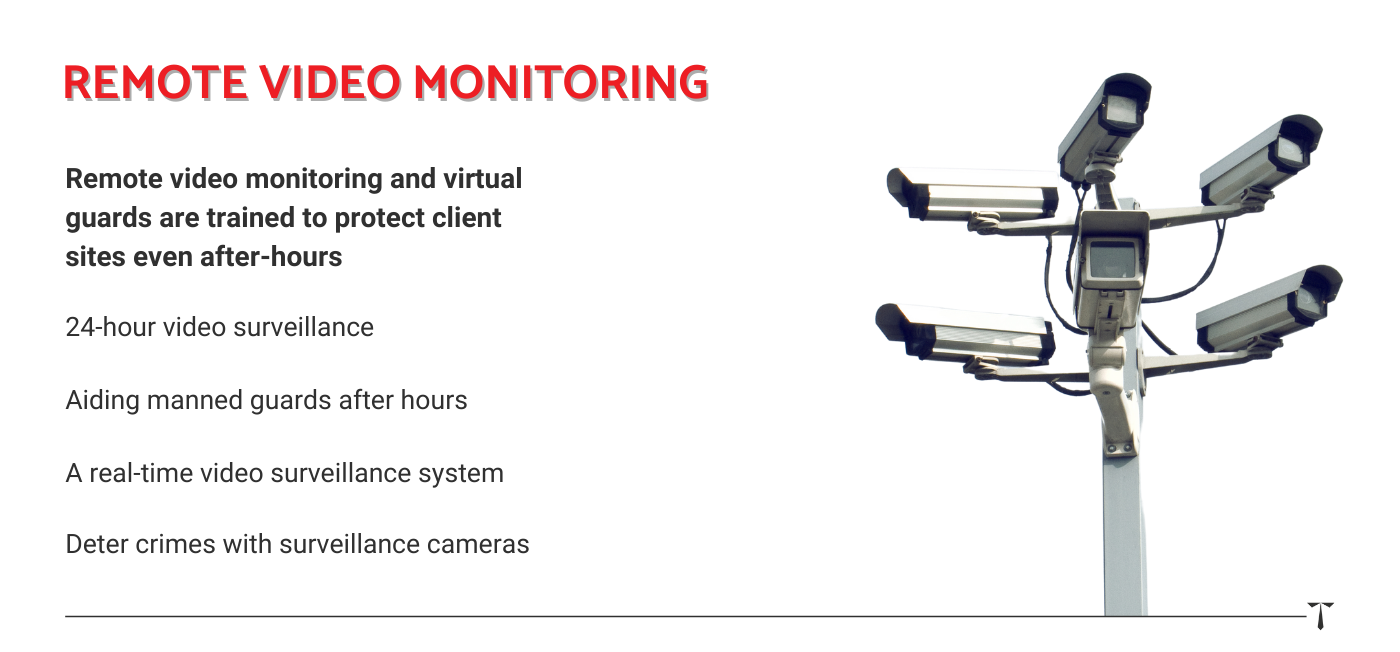 Advantages of remote video monitoring
Remote video monitoring and virtual guards are trained to protect your protect to make you get your beauty sleep.
Remote Video Monitoring is available at all times – even on public holidays. Virtual guards are trained to protect various sites, including construction, residential, and trade show security, particularly after-hours security, when no physical security is available. Remote guards' experience ensures total safety and security at your factory, warehouse or other industrial activities.
24-hour video surveillance
With the help of 24-hour surveillance cameras, remote guards can strengthen your clients' security since they record all activity and can even discourage crime on occasion. If people or property are in danger, the trained virtual guards alert the law enforcement bodies and take necessary action even during off-hours. In addition, this remote video monitoring integration aids in informing your security staff when a predefined line is crossed that may be suspicious.
Deter crimes with surveillance cameras
Whether you operate a school, hospital or commercial office building, your client's facility is inherently vulnerable to unwelcome visitors. If the site is in a high-crime region, the security teams need to be on high alert during on and off-hours. These unwanted intruders can be better deterred with the assistance of remote video monitoring. If someone were to access your property after hours or in a restricted location, the virtual guards would detect and stop probable crimes before it happens. Depending on the seriousness of the situation, the specialist would provide a voice-down warning, start an alarm, and contact onsite security officers and authorities.
With the assistance of remote video monitoring, virtual guards can detect possible crimes and stop them before anything actually happens.
Aiding manned guards after hours
Onsite security guards are also important in a comprehensive security plan. But, manned guards face the dangers of physical attack. Therefore, guards can always utilize remote backup and circumvent the danger to their personal safety, the liability of company conflict, and the impossibility of covering all locations at once. In addition, services provided by remote video monitoring security teams help your security personnel virtually patrol the client sites that otherwise might have been unsupervised. Even during off-hours, your security team would stay updated on threats to take necessary actions at the right time.
A real-time video surveillance system
It does not take long for a potential criminal to steal, break-in or harm the property of your client due to a lack of adequate security provisions on client sites. The security team has to be quick on their feet and flexible to ensure that the right measures are taken before the crime happens. Quick decision-making and the ability to respond in seconds is what a trained remote security provider excels at. A smart video surveillance monitoring team prevents thieves proactively, even during off-hours. They also distinguish between actual dangers and false positives so that false alarms do not cause unnecessary panic in the minds of the client or the security agency.
Lonely, secluded areas under supervision, such as building sites and industrial facilities, may not be as easy to secure as they might seem. A site, for example, may lack adequate illumination, or lack the physical infrastructure required to deploy standard cameras. Regardless of the scenario or location, a remote security team can make recommendations to help your team keep the property safe for your clients.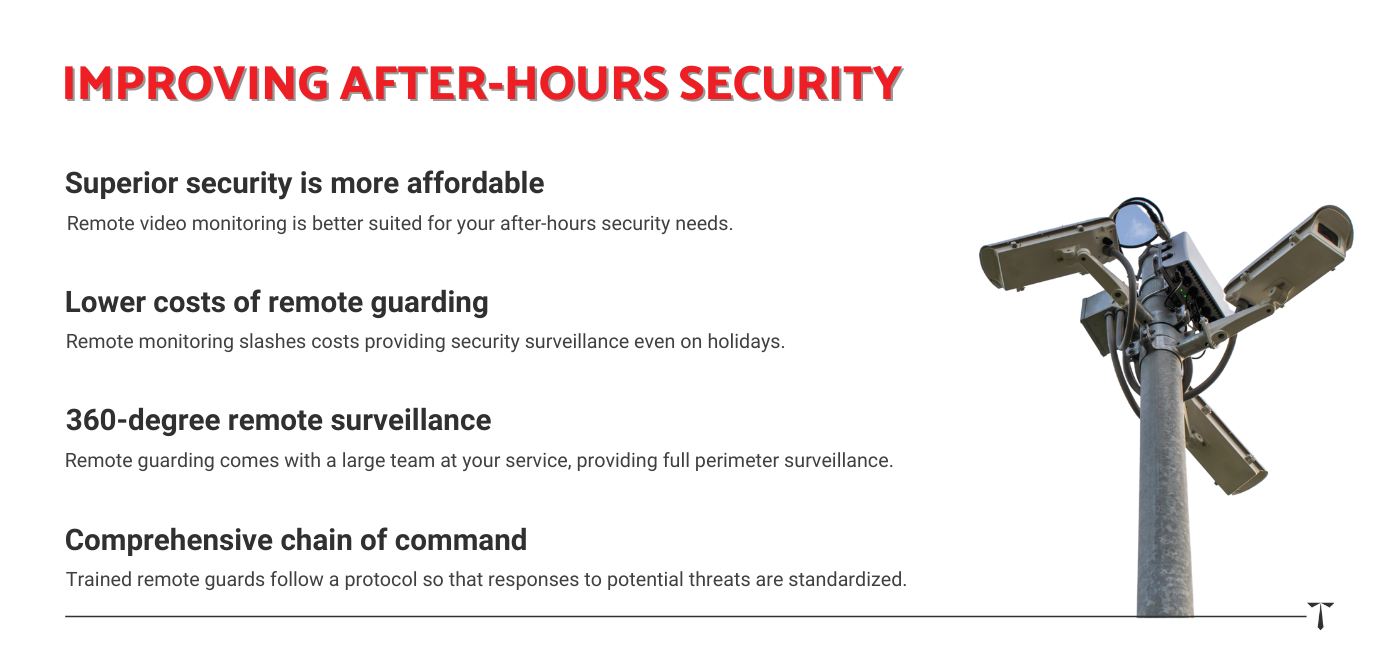 Tips on improving after-hours security
A worksite that is being monitored 24/7 with excellent night vision cameras is the safest and the most efficient tip to improve site security.
Surveillance cameras enable you to keep an eye on what happens on your property even when you are not around. You may also watch footage of the after-hours activities at the site to identify areas for better safety.
Remote security teams supervising your client sites provide a larger trained team at reduced costs decreasing the likelihood of crimes even during off-hours. The virtual guards also gather credible proof in case matters escalate.
A virtual security team does more than just prevent illegal activities and crimes. A remote video surveillance equipment protects your company from legal responsibility, such as curious youngsters walking into your property and causing damage. A trained security expert, like Technomine, can detect crimes before it happens even during off-hours. Most importantly, knowing that our video surveillance monitoring business is working round-the-clock, you get to rest peacefully.
Superior security is more affordable
After all these discussions, you might plan to hire manned guards that patrol your site with a torch and a cane. You are not wrong. Guards are right for some settings, but here's why remote video monitoring is better suited for your after-hours security needs.
Lower costs of remote guarding
Hiring security guards to ensure site security may be rather expensive. Especially on weekends and holidays, when your site may be at its weakest. Remote monitoring slashes costs providing security surveillance even on holidays.
360-degree remote surveillance
To monitor virtually any size region, you will need more than one security officer. A guard's field of view is relatively narrow compared to a team aided with a multi-directional camera. Remote guarding comes with a large team at your service, providing full perimeter surveillance.
Comprehensive chain of command
Many security positions are part-time. As a result, even the most dedicated security guards might become tired after a while, causing fatigue and lowered efficiency during off-hours. Trained remote guards follow a protocol so that responses to potential threats are standardized.
Is remote video monitoring right for your organization?
One thing can be said with certainty – If an option to get remote guarding services is available, you need to consider it. Remote video monitoring is a solution worth considering as they might help you cover the gaps in your existing security. For example, after-hours security is essential for preventing crime – which can even come from within the organization. Professional video security systems protect your organization by preventing employee misdemeanors such as those listed below.
Violence
Harassment
Kidnapping
Illicit Trade
Homicide
Vandalism
Employee Theft
Security agencies across the globe have worked with Technomine for a long time due to our efficient and best-in-class remote video surveillance services. Our experienced specialists have the skills and knowledge to monitor and manage enterprise-level video surveillance networks. For leaders in electronic security industries looking to consult with us regarding video surveillance, truck yard monitoring, field tech dispatch & management, access control management, remote intervention & voice down, false alarm elimination and more – we would love to talk to you! Reach out to us at info@technomine.biz if you are curious about how remote security services can support your security business.