From the moment one wakes up from the bed until they go back on the couch again, there is a risk to their lives or their assets. Depending on your lifestyle, you visit different centers to carry on with the day in your routine life. Kids might rush up to their schools and educational campuses to pursue knowledge, while the working class may go off to their workplaces to earn their daily bread and butter. Occasionally, you might even go to some recreational centers to refresh their mind. Remote security services help detect intruders and intervene in response to potential crimes like vandalism and theft. In fact, most remote security teams play a big role in working out strategic decisions for a variety of sites under the protection of a security agency.
Dangers lurk in every community. Suspicious offenders with potential criminal intentions might get into an under-protected facility and cause mayhem. Fires can sprout within a public building without forewarning. While adverse events may not be within our control, better safety can be assured if simple security protocols are followed in community spaces.
Delegating to a remote security team helps security agencies protect the communities that they serve across multiple sites for greater neighborhood safety.
Physical security is fundamentally concerned with protecting your buildings, people and assets from real-world dangers – this applies to community settings as well. An offshore electronic security team provides extensive perimeter controls to keep tabs on both external and internal threats to community centers. Read this article to find out how safety in schools, public spaces, workplaces or residences can be improved.
School Safety
With the re-opening, school safety is a rising concern. Parents and guardians trust the educational campus and the campus, in turn, puts their faith in the security agency to protect students. Instead of waiting for a serious crime to happen on the school premises, you want your remote security team to work towards preventing mishaps if possible. Regardless of how rare a terrible scenario on campus appears to be, educational campuses should be vigilant and always consider investing in security measures that safeguard students and teachers.
With the help of an article in Campus Life Security, we would like to present a case study of the Sandy Hook Elementary School tragedy and the quick response to that occurrence with the entire build out of video surveillance throughout seven of the Newtown Public School District's campuses.
Right Security Systems
Following the events at Sandy Hook Elementary School in 2012, the Newtown School District had to find a solution for on-premise video security immediately. The requirement for wide-area surveillance to properly cover exterior and interior regions without invading individuals' privacy or breaching labor agreements. Security should offer a safe and secure environment that is impervious to attackers while allowing students, professors, staff and visitors to utilize the buildings and grounds easily. Maintain these security mechanisms and controls in an open and learning-friendly environment.
Sharing responsibility
With the growing awareness of suitable security systems, the campuses and security agencies have been opening their eyes to solutions that will prevent massacres. Video security moving away from centralization to decentralization, ownership has shifted from physical security teams to offshore teams. Although the duty for school safety varies by district and solution, maintaining safety should be a shared obligation among school authorities, security agencies and virtual guards. The benefits of an "all hands on deck" approach are straightforward.
Enforce Positive Behaviors
External dangers to school safety, such as intruders or strange cars parked near the school grounds, are viewed as the greatest hazards. With reported incidences of school bullying at an all-time high, schools turn to CCTV footage to assess a situation and handle unwanted actions objectively. All activities are automatically documented by the camera system's audit log function, giving security personnel complete access to user behaviors. Virtual guards can raise tickets that are outside the set parameters, allowing rapid action.
Before the first bell of 2019, 490 cameras were deployed across all eight schools in the Newtown Public School District.
Takeaways for School Security
Maintaining situational awareness in schools requires a 360o level protection because a 'good enough' security is not sufficient. Security Informed quotes Robert LaBella, A&E Business Development Manager at Identiv "New surveillance, access and identification technologies are helping to resolve these issues along with a delicate balance of manpower, but there is no single end-all solution on the horizon. Each educational facility has its own set of nuances and security hotspots that security personnel need to address on a very individualized basis."
So while the kids are safe under remote surveillance at their schools and colleges, what's happening over at the corporate offices?
Workplace Surveillance
Having physical security measures at corporate offices helps to prevent a wide range of workplace crimes, including theft, property damage and assaults. Businesses of all sizes and in all industries are vulnerable to crimes that might endanger employees or consumers as well as the brand of the company. Security agencies that are handling corporate security can get additional benefits from partnering up with remote virtual guards. The following are some of the most significant advantages.
Protecting Company Assets
Strict security systems are needed to protect corporate assets from thefts or being accessed by unauthorized parties. The restricted data in question comprises such information or media that is critical to the services provided by a firm. The significance of these assets cannot be overstated since each one plays a vital part in a company's success. Corporate security strives to secure corporate assets by employing several proven deterrence and prevention techniques. In addition, security features like gatehouse monitoring, which virtual guards excel at, are beneficial to prevent crimes as stated above.
Security Systems To Protect Corporate Grounds
Bankrate quotes FBI crime data stating a burglary occurs every 12 seconds in the United States, resulting in more than $3.4 billion in property and personal losses each year. Although there is no way to foresee when a crime will occur, businesses can take preemptive measures to secure their corporate premises.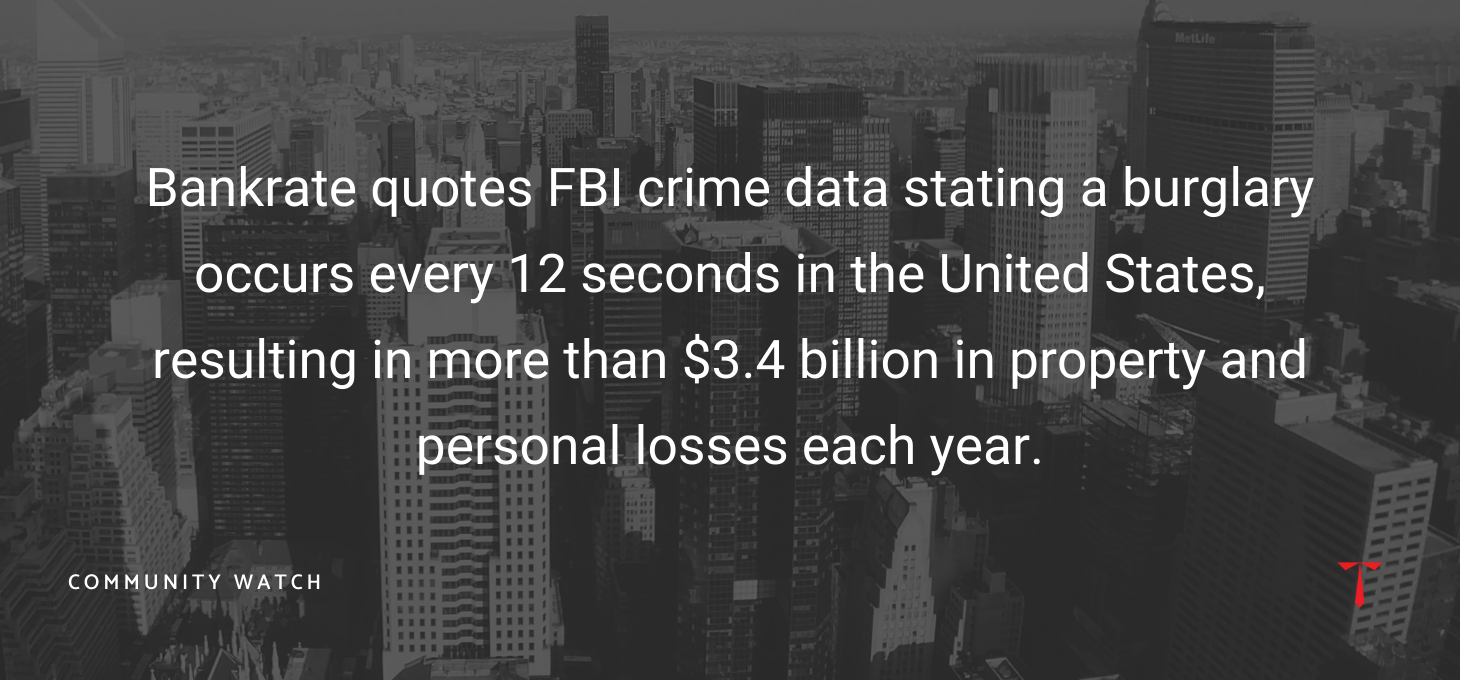 Security systems are made up of technologies that are intended to guard against intruders and other unwanted activities, such as workers, vendors, and other trustworthy individuals. Door and window sensors, motion sensors, high-decibel alarms or sirens, wired or wireless security cameras and similar devices are common components of security systems.
Workplace Theft
Workplace theft has been a serious issue in recent years, and it may lead to a company's collapse. CBS News quotes the US Chamber of Commerce, an estimated 75% of all employees steal from their job, and many commit this crime regularly. Unfortunately, these crimes frequently go undiscovered for long periods if adequate security measures are not in place.
Corporate security services can help avoid crime in the workplace by offering companies a variety of security options. These services, ranging from uniformed security guards to corporate alarm monitoring, substantially minimize workplace crimes and allow a firm to dismiss untrustworthy workers, vendors or visitors.
Takeaways for Corporate Security
Many businesses overlook the need for corporate security services until a crime occurs that draws attention to the lack of workplace security. Corporate houses are likely to be targeted by petty thieves and criminals validating the fact that such 'unprofessional' crimes can occur on 'professional' grounds as well. To learn more about the importance of corporate security or to receive a quote for expert security solutions for businesses, contact a corporate security professional. After a tough day at the office, let's check out our residence now.
Public spaces
Every day, visitors or members enter public spaces like recreation centers, parks, educational campuses and community centers that have unique security needs. They create a positive & lively atmosphere for customers looking for a few hours of recreation. However, security risks are inherent to any public space – especially those with poor perimeter security. Among other threats, security teams at recreation facilities deal with large crowds, hot temperatures and potential criminals who increasingly target densely populated areas where an attack can have the greatest impact or with more ease. As a result, security personnel must remain constantly vigilant for physical security threats to guests, staff and facilities.
Rise in hate-crimes
There has been a reported rise in crimes in courthouses, banks, festivals, funerals, schools, mosques, churches, synagogues, clinics, water treatment plants and power grids, according to SPLC.
In May 2013, the City of Philadelphia Commission on Parks and Recreation released a report titled "Safety in Philadelphia Parks and Recreation Centers." The work of the 15-member panel was prompted by a series of security-related events in the city's recreation facilities during the summer of 2011, ranging from gunshots and robberies to trespassing and vandalism. This is not new.
Role of remote monitoring
The rise in hate crimes has given rise to the importance of remote monitoring, closed-circuit television (CCTV) allows for observation by a single qualified security officer stationed at a master console. Monitoring, evaluating and organizing saved videos improves the system's efficiency. Although security concerns and methods differ, the risks to today's public leisure centers are genuine.
If your client's sites are being targeted, have been vandalized, or have been the victim of a brawl, monitoring surveillance improves the capacity to avoid threats. Physical security risks to visitors, workers, and facilities must be continually monitored by security professionals. Remotely monitored services are becoming more affordable. As a result, more and more security agencies are depending on them.
Recommendations for remote security
The ADL issued nationwide calls to action that included direct links to federal bomb threat advice and associated warnings from the Department of Homeland Security and the FBI, security films and manuals and a basic security punch list. ADL provided an overview of the initiatives for better security. We took the liberty to present it alongside remote security.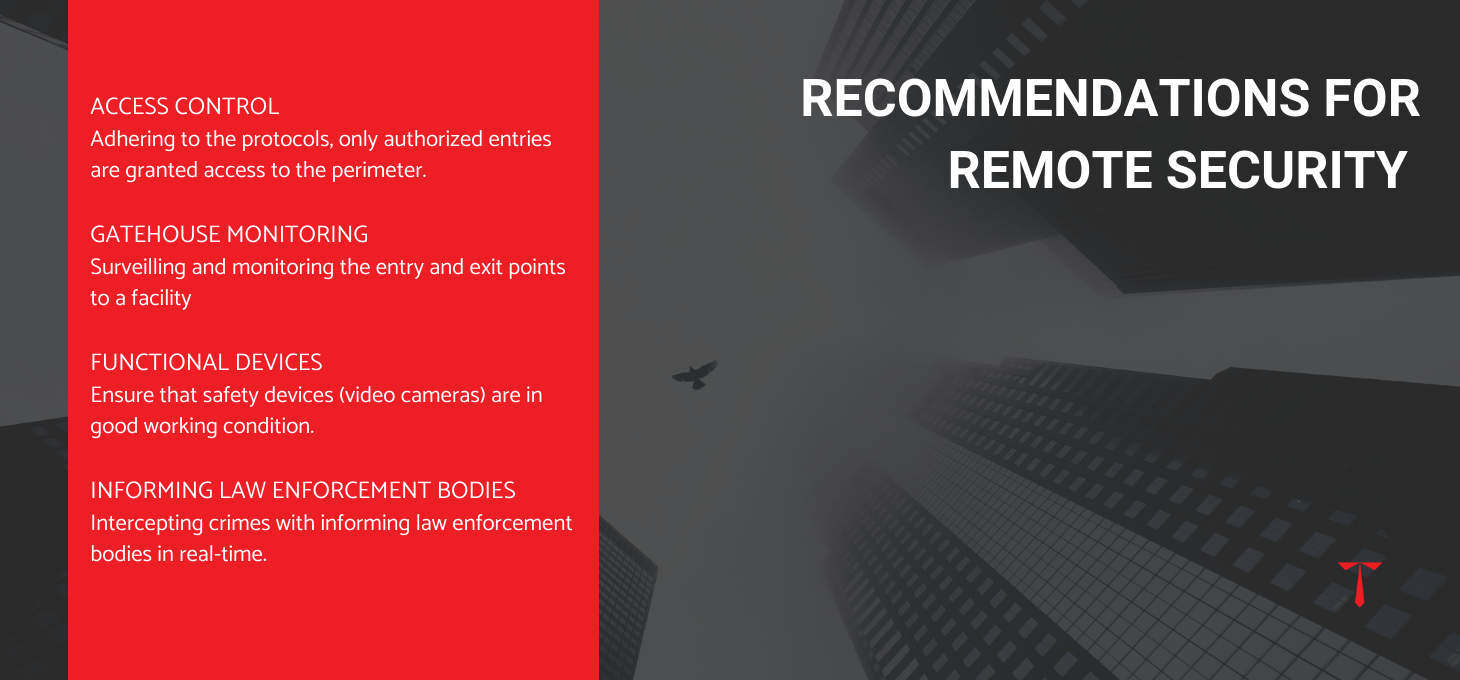 Takeaways for public space security
The use of a remote electronic security system provides effective solutions to deal with high visitor flow which is often a challenge while handling security in public spaces. While controlling access for different staff profiles is critical to creating a secure public space like a recreational center. The focus should also be made on the significance of security training in community healthcare settings while assessing the security challenges and liabilities.
Residential Security
The affordability of housing is a crucial element of any modern metropolis. If decent shelter is only accessible to the wealthiest among us, individuals trying to make ends meet would be pushed into a cycle of insecure housing and homelessness from which they may never recover. Having said that, affordable housing apartment complexes confront several severe security concerns that other forms of residential units do not. This is especially true when it comes to vulnerable areas such as senior living neighborhoods. Pew Research brings forward an interesting statistic for this matter. In the U.S., 27% of adults ages 60 and older prefer to live alone in specially designated places such as independent senior living spaces and retirement communities. Consider securing your premises and protecting the residents by a contemporary, technologically advanced approach.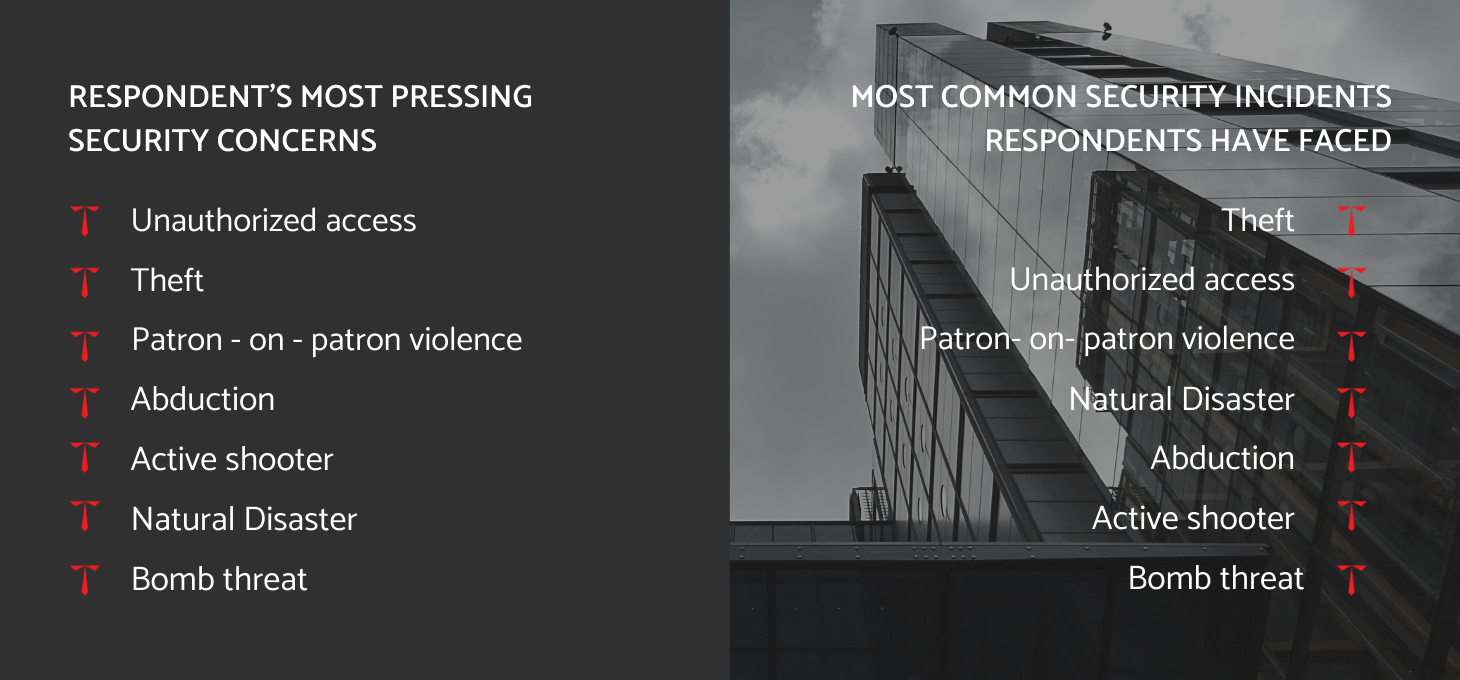 Gatehouse monitoring
A residential society welcomes visitors and residents at any time of day or night. Guests who arrive and depart in a housing complex must be verified to have authorized entry. This gatehouse control is required to avoid scenarios where a homeless or other unauthorized person breaks into a housing unit and utilizes the apartment for illicit activities like drug dealing, conducting crimes.
Just imagine the repercussions of this. Law-abiding residents will be outraged by such transgressions and your security agency may suffer the brunt of their anger. Do you think having a physical security guard is enough? Not always!
Protection against trespassers
It's an unpleasant fact that trespassers and criminals frequently see affordable housing apartments as the ideal place to vandalize, hang around and drink/do drugs, or burglarize residents. After all, they believe that most complexes do not take on-site security very seriously. They may have little or no probability of being detected doing something illegal.
Such activities are a huge liability for property managers or investors. Even the most well-intentioned on-site security officer cannot possibly keep an eye on every nook and cranny at all times. An efficient remote security crew, on the other hand, will maintain a watchful eye on all hiding nooks and alcoves in real-time. Your remote security team can contact directly with the trespasser and tell them to leave via two-way audio.
Parking lots
The dark parking lots are undoubtedly the most common target for actual property damage, vandalism and theft. Parking garages in residential communities are often dimly lit, full of hiding places attracting people eager to do things they should not do. In addition, the reputation and monetary loss of having bad security will fall on your clients if the residents are continuously phoning the police to report break-ins, theft or damage to their vehicles.
Secure Residential Societies
Potential criminals frequently outwit, outwork or flee on-site security guards. Strict supervision backed by our round-the-clock offshore teams makes it more difficult for them to commit crimes. Our proactive remote guards monitor the whole property in real-time, raise tickets and take the necessary actions if a potential crime is detected. Trust an experienced offshore team to ensure better security plans for the security needs of your clients.
Adopting a secure lifestyle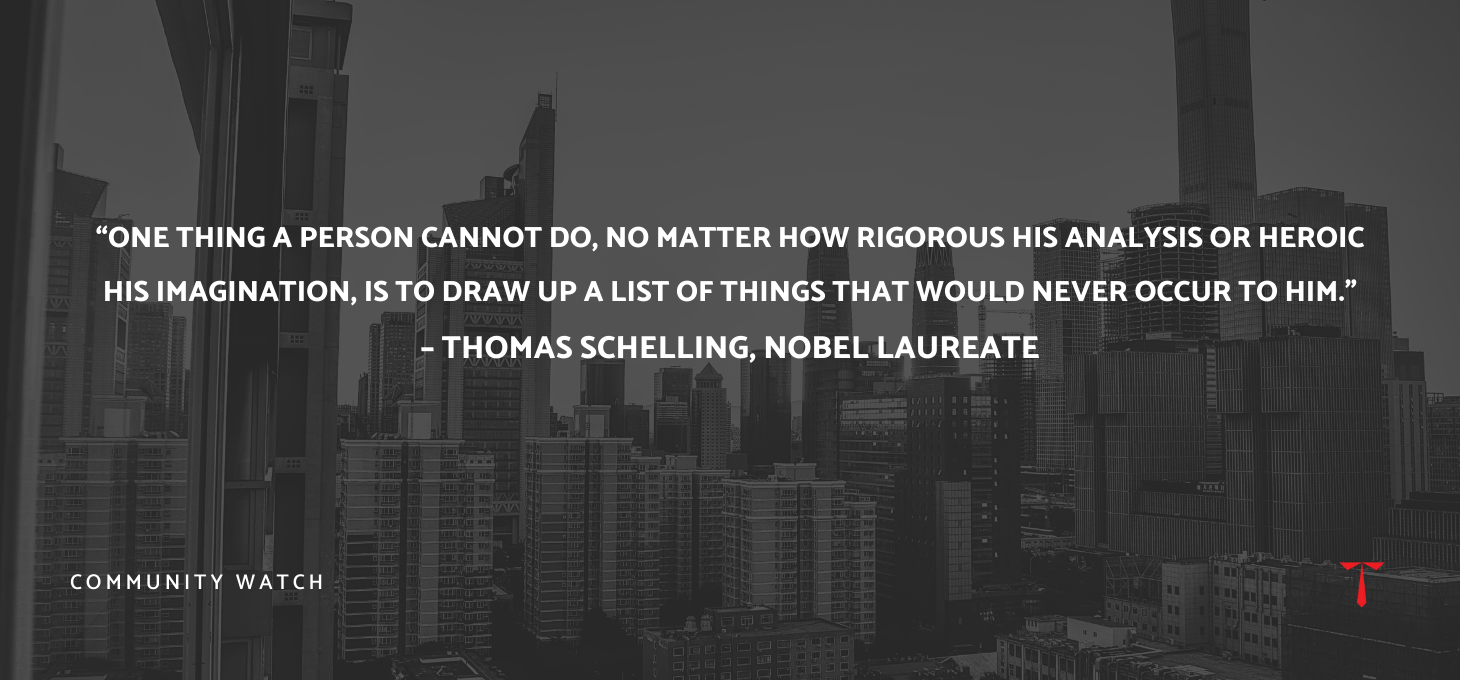 Out on the streets or within the corridors, any person can breach the security walls and become a potential threat to your corporate assets, private belongings, little ones in school and community spaces. Security providers tend to overlook the importance of having an additional offshore team until a crime occurs on their watch. Any modern security agency needs to have remote security support from a specialized offshore team in order to compete in the security market today – especially when it comes to protecting communities from vandalism, hate crimes, assault, robberies, mob violence. The hybrid security partnership model quickly discourages truant behavior and helps put protective measures in place to keep our communities safe. Learn how remote security agents can help security agencies safeguard clients in the community against potential threats within educational campuses, corporate offices, residential neighborhoods as well as public spaces. Contact our security expert at info@technomine.biz for affordable, precise and round-the-clock remote security support.