Home monitoring service is an excellent addition to any home security system. Residential monitoring provides 24*7 coverage to the property, regardless of location. In a previous blog on residential communities, we explored how strategically placing security cameras around your home or business premises can help protect your space
In fact, when cameras are placed strategically, alarm monitoring services provide 24*7 access to the property, regardless of location. Live surveillance reduces the chance of burglary, theft, vandalism and other crimes – with further advantages if cameras are placed correctly. Like any technology, a camera system is a tool. When used correctly by human operators, these tools can enhance security and ensure peace of mind.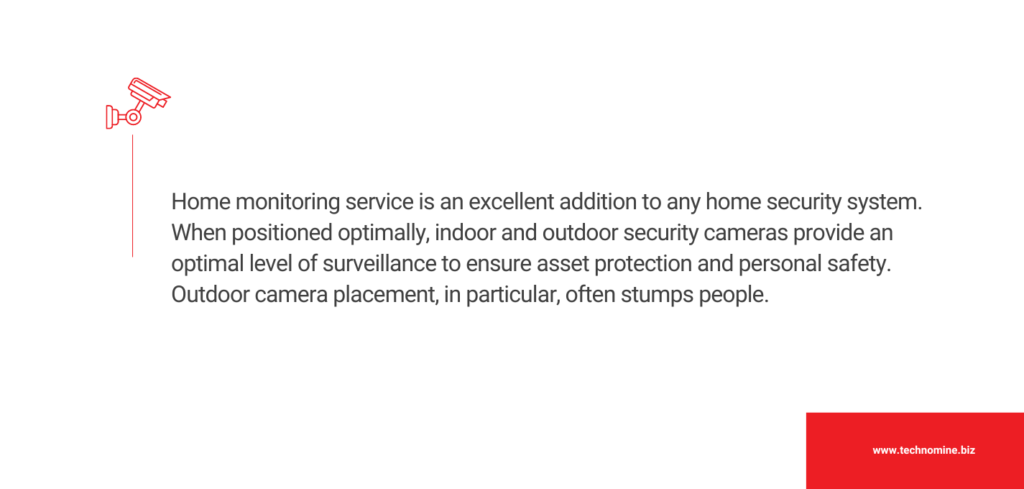 When positioned optimally, both indoor and outdoor security cameras provide an optimal level of surveillance to ensure asset protection and personal safety. Outdoor camera placement, in particular, often stumps people. So, this month, our team at Technomine took a look into the best locations for outdoor CCTV cameras.
So, where should you place your CCTV camera?
Before planning security camera installation, consider which locations in and around your property will provide the widest viewing ranges. While all properties are situated differently, most have high-traffic spots, as well as isolated areas – both are more vulnerable to break-ins.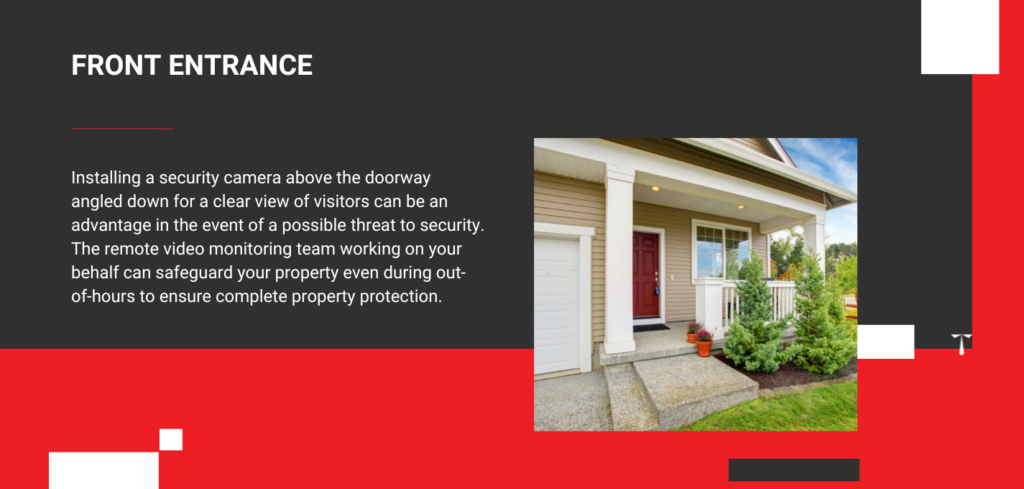 Front entrance
Research suggests that over one-third of burglars enter a property through a front door. So, if you want to prevent possible crime and capture footage in case of adverse incidents, you want to keep these vulnerable areas under full visibility. Installing a security camera above the doorway angled down for a clear view of visitors can be an advantage in the event of a possible threat to security. The remote video monitoring team working on your behalf can even safeguard your property even during out-of-hours to ensure complete property protection. 
Backyard and side doors
Unlike entrances, outdoor security cameras placed to monitor the backyard are specifically on the lookout for intruders. The placement of the camera should be uninhibited by physical interference. Install your CCTV system up high or under a porch for a full area view.
Driveway
If a burglar approaches your property, they may walk down your driveway to attempt to enter through the garage door. Therefore, home alarm monitoring services can help prevent burglars from entering your property. The cameras should be placed near the garage door, allowing an expansive view of the area behind the driveway gate.
Off-street windows
Windows that are not facing onto a busy street or road may be attractive to crooks as there are no prying eyes from the public. Installing security cameras above these windows helps monitor places with less or no human traffic. Never neglect your windows – keep them closed and locked whenever you go out.
Worksites
Unlike the other locations that video surveillance cameras can monitor, worksites can be surveilled to encourage company policies and employee safety. Therefore, surveillance should be placed where the device cannot be inhibited naturally. Ideally, you want multiple cameras covering the entire work floor area.
Insider Tips for CCTV Camera Placement
Security cameras are essential to monitoring your property and protecting your building. To maximize their effectiveness, it is important to place security cameras optimally to ensure they cover every property inch. Security insiders who deal with threats on a daily basis have given us clear insight into how cameras can be strategically positioned for optimal coverage. Here are some insights from the control room.
Keep cameras up high
Obviously, all security cameras should be out of reach so they cannot easily be knocked down or destroyed. Place outdoor security cameras at least 9 feet above the ground to ensure maximum protection. Make sure the cameras are installed securely. While some cameras can be attached to surfaces with adhesives, screwing them directly into a wall is more secure.
Angle cameras correctly
A lot of people do not realize that finding the right angle to complement camera placement is equally as important as the placement itself. Put the security cameras one foot or two next to a door or window with the camera angled toward the entrance. This is great when you want to identify the potential intruder quickly. Even if your security camera is visible, that would not be a problem as it might be helpful to scare off two-thirds of potential intruders.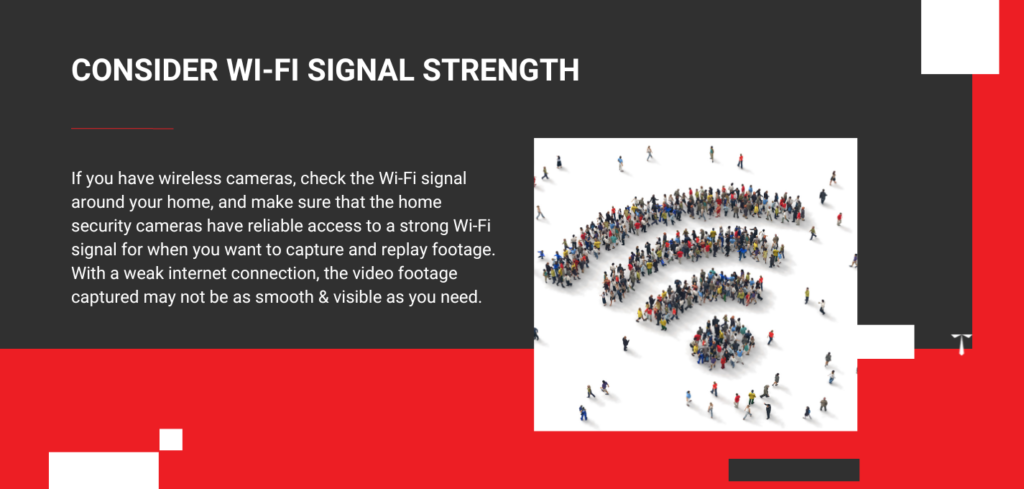 Consider Wi-Fi signal strength
If you have wireless cameras, check the Wi-Fi signal around your home, and make sure that the home security cameras have reliable access to a strong Wi-Fi signal for when you want to capture and replay footage. With a weak internet connection, the video footage captured may not be as smooth & visible as you need.
Start your journey with Technomine!
The world of virtual security monitoring is expanding astronomically – and these are just some of the insights we have gained over the years working with top-tier security agencies. We specialize in working alongside reputed security providers to help them devise the most appropriate security solutions for client premises. When you have an offshore team taking care of the grunt-work, your on-ground team has a lot more time to capture newer clientele.
For more information about remote video monitoring, alarm monitoring and video surveillance support from Technomine, visit our video surveillance and alarm monitoring page or email us at info@technomine.biz and get in touch with our experts.