Every day, hundreds of strangers visit an automobile dealership. They may not always be interested in exchanging money for cars. They may not always want to buy "cars." The valuable assets at the dealership act as crime magnets that attract potential crimes. Thieves may want to steal these assets for themselves or resell them to make easy money. Some unsavory characters may even vandalize high-value items for fun, making car dealerships' security a critical necessity. There is a clear requirement for security in dealerships, which can be met with offshore electronic security.
In this blog, we will understand how electronic security systems ensure the safety of auto dealership premises. It is critical to ensure that the car dealership has cutting-edge security features backed by alarm monitoring systems and a professional offshore security team to deter crimes like vandalism or theft or provide the police with enough evidence to apprehend them if a mishap happens at the dealership.
This blog will teach you everything you need to know about car dealership security, such as the importance of alarms & inventory management, as well as why monitored video surveillance is your best bet for keeping your client's location secure. By the end of this blog, we will have a better understanding of the vulnerable assets that get stolen or vandalized at auto-dealerships – and which security measures can offer the best protection.
Upgrading to Active from Passive Security
One of the most challenging security hurdles in car dealerships is allowing easy access to potential customers while ensuring safety for the business and its valuable inventory from potential threats. Now, there are a variety of approaches that owners undertake to ensure security to their auto dealership premises. Check out the approaches below!
Some dealers use a combination of fences, alarms and essential "record-and-store" video surveillance as a security solution. While these approaches can provide the first line of defence, they are passive systems with limitations. Fences can be easily breached, alarms can be disregarded and simple security cameras only provide evidence after the incident.
Some dealerships will hire security guards to provide proactive security. As talked about in our previous blog "Keeping up with the security features", this is the most expensive method of security. This approach comes with its own set of limitations. Guards are prone to feeling tired falling prey to fatigue, distraction, absenteeism, human error etc.
A few progressive dealers opt for a remote video surveillance system to deter crime. Offshore guards provide live monitoring round-the-clock and deter criminals with the help of alarms, sirens, strobe lights and recorded verbal warnings. Transitioning from a reactive to a proactive security strategy is recommended for auto dealers which is based on real-time detection and active deterrence with remote video surveillance.
Understanding the assets
Theft of vehicles and vehicle parts is on the rise. The auto industry is worth $926 billion – and still growing every year with the introduction of electric vehicles on the market. Statista states that in 2020, 17.5 million automobiles were sold in the United States alone. However, with increased revenue comes an increased risk of crime. Vehicle theft increased by more than 4% in 2017, according to the National Insurance Crime Bureau (NICB). A car dealership is full of valuable items that criminals may find appealing. Look at the following items.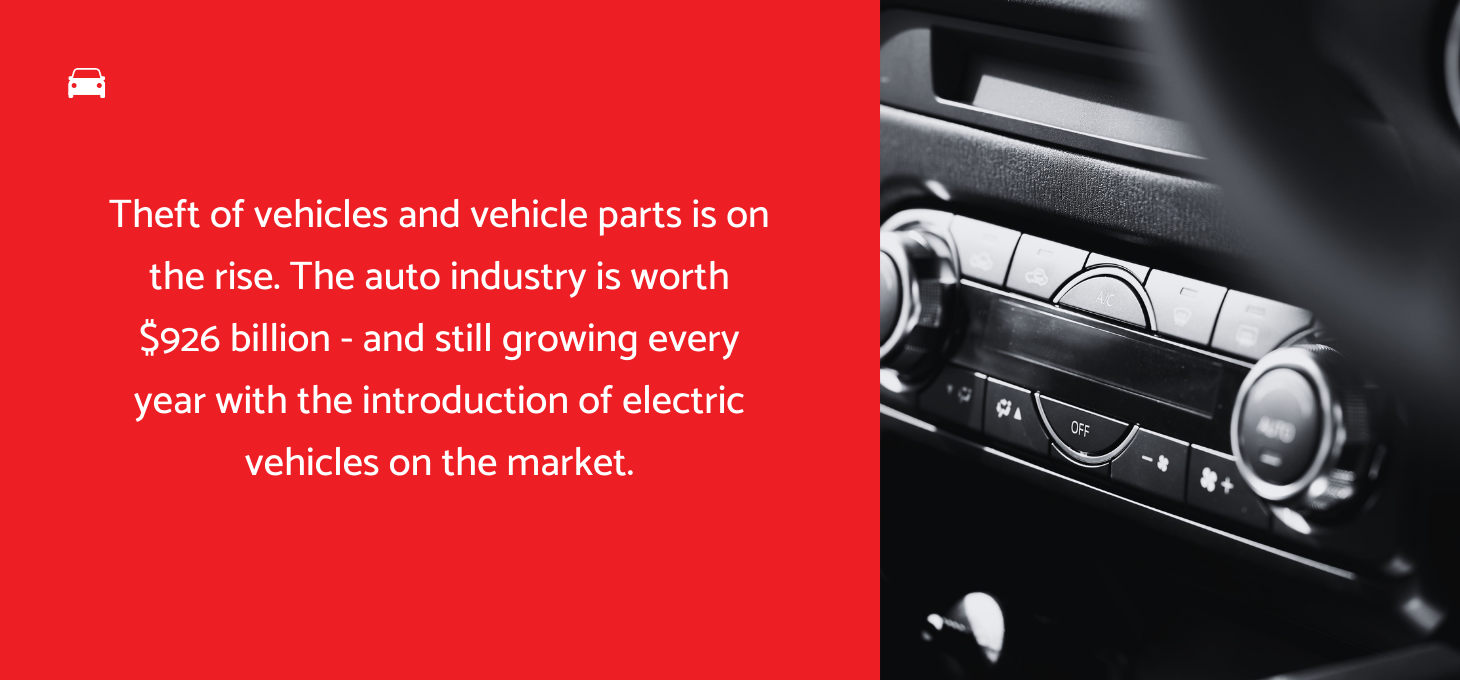 Cars on display
The huge cars appear to be the most susceptible, but it is not possible for one to steal and drive away unnoticed. Here, vandalizers do their jobs in out-of-sight places, scratching and destroying the models for fun.
Equipment & tools
Some of the equipment and tools used to perform maintenance on cars and other vehicles is expensive – the resale value of which can help the thieves make a decent amount of money.
Technology in the showroom
Technology like phones and computers that employees use to monitor dealerships or used for promoting sales may look appealing to someone looking for an easy steal from dealerships.
Improving dealership safety
According to the FBI, nearly $6 billion in vehicles are stolen each year, with an average loss of $8,407. Your dealership clients could be next if proper auto dealership security systems are not in place. Following conversations with various clients who faced similar issues with their dealership, we have curated the following solutions.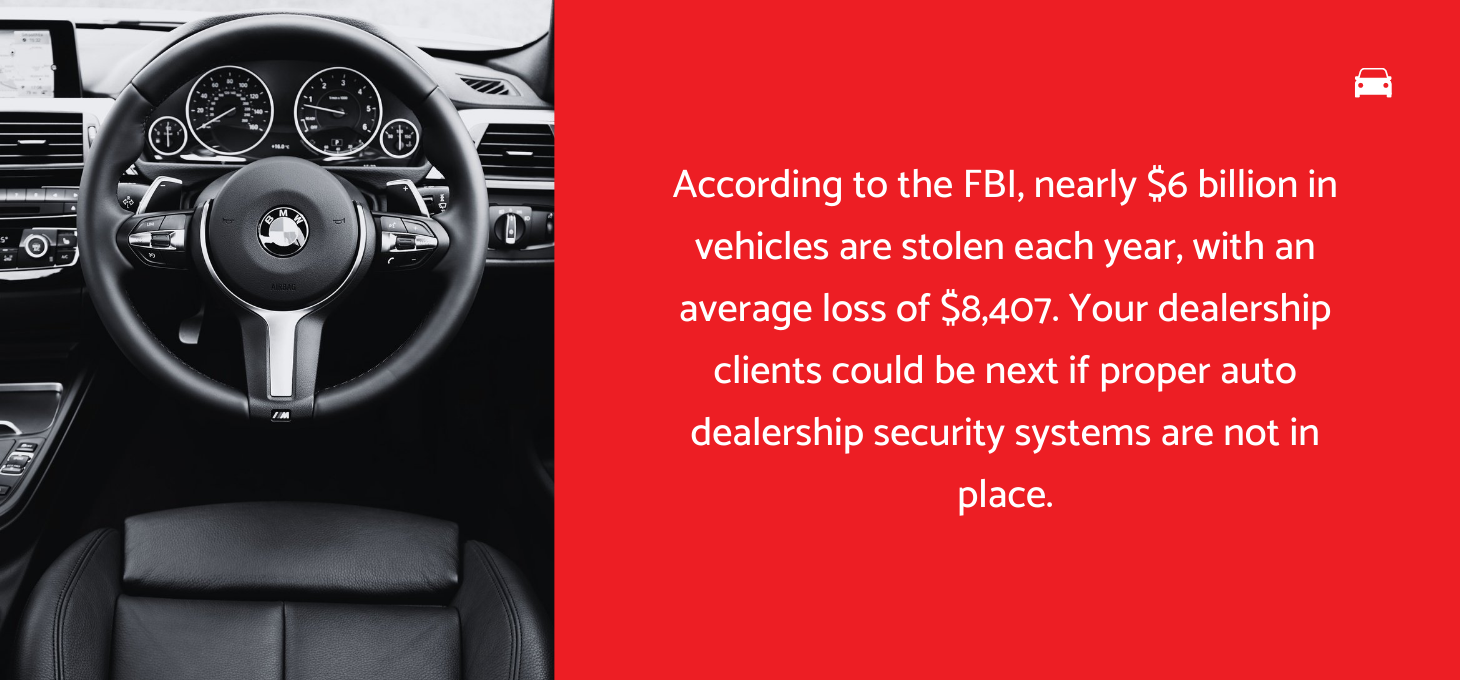 Inventory count
Maintain a property inventory list of vehicles on the property, equipment and technology accessible by the staff and customers. An updated list will make it easier to detect missing items and help protect you from internal theft.
Proper lighting
Maintain adequate lighting, especially on the exterior of the building and around the dealership lot. Bright lights frequently deter a potential criminal make him avoid the location in favor of the one that is darker.
Alarm Monitoring
Burglar alarms can be of great assistance in protecting valuable property and assets. If an unauthorized person enters the client's property and hears an alarm, there's a good chance they will flee empty-handed. Just having a visible sign or sticker indicating that your clients have an alarm system may be enough to deter the bad guys.
Video Surveillance
Installing security cameras at a car dealership is the best type of security your clients can have. Cameras are one of the few methods that can catch a criminal in real-time and record what is happening, so you have actual video evidence to provide to authorities and, if necessary, the insurance company if there is a need to file a claim.
How the security measures help
Monitored video security is the best choice for virtually any dealership out of all of your security options. Partnering up with offshore video surveillance teams to monitor the client property will help you receive the quickest and best security support in the event of an emergency. Here are some of the benefits of having monitored video security.
Video evidence
Having video footage can assist in identifying the criminal, whether it is a thief or a vandal who wants to cause damage to the property or assets. Security footage allows you to see what the perpetrator looks like, increasing the likelihood of law enforcement apprehending the perpetrator.
Real-time monitoring
Video cameras can record activity at the client location round-the-clock, to keep track of what is happening. Video is often the best evidence the authorities have when investigating a crime which helps them analyze what happened, including whether it was committed by a single person or a group of suspects.
360 Surveillance
A monitored security system elevates the concept of a camera system to the next level because there are now trained professionals monitoring the perimeters. The offshore security team can notify authorities as soon as they notice anything suspicious. Electronic security could imply sending the authorities to the client's location even while the crime is being committed.
Virtual Guards
As the name suggests, an offshore video surveillance team monitors your client's property on your behalf. Offshore video surveillance gives you the capability to patrol remotely, keep tabs on the entry and exit points and provide alarm monitoring services round-the-clock, ensuring your auto-dealership clients, their property, as well as inventory, are safe.
Looking into the dealership future
With the wheels of the economy turning faster than cars, we might need to keep an eye out for the possible dangers that might happen at an auto dealership. Irrespective of the size of the dealership, the threat of vandalism and theft is still present. Partnering up with an offshore security team can help you serve your auto-dealership clients with the help of security functions such as remote patrolling, video surveillance, gatehouse & alarm monitoring and video analytics. To get regular updates on how to ensure optimum security for your auto dealership or other clients, subscribe to us now.