At the beginning of the last year, Clutch predicted that about 52 percent of small businesses will continue to outsource jobs in 2020.
Then came Covid-19, worldwide lockdowns and an explosion in work-from-home culture!
These are the demographics of people working from home before the lockdown according to the Global Workplace Analytics' special analysis of 2016 ACS data: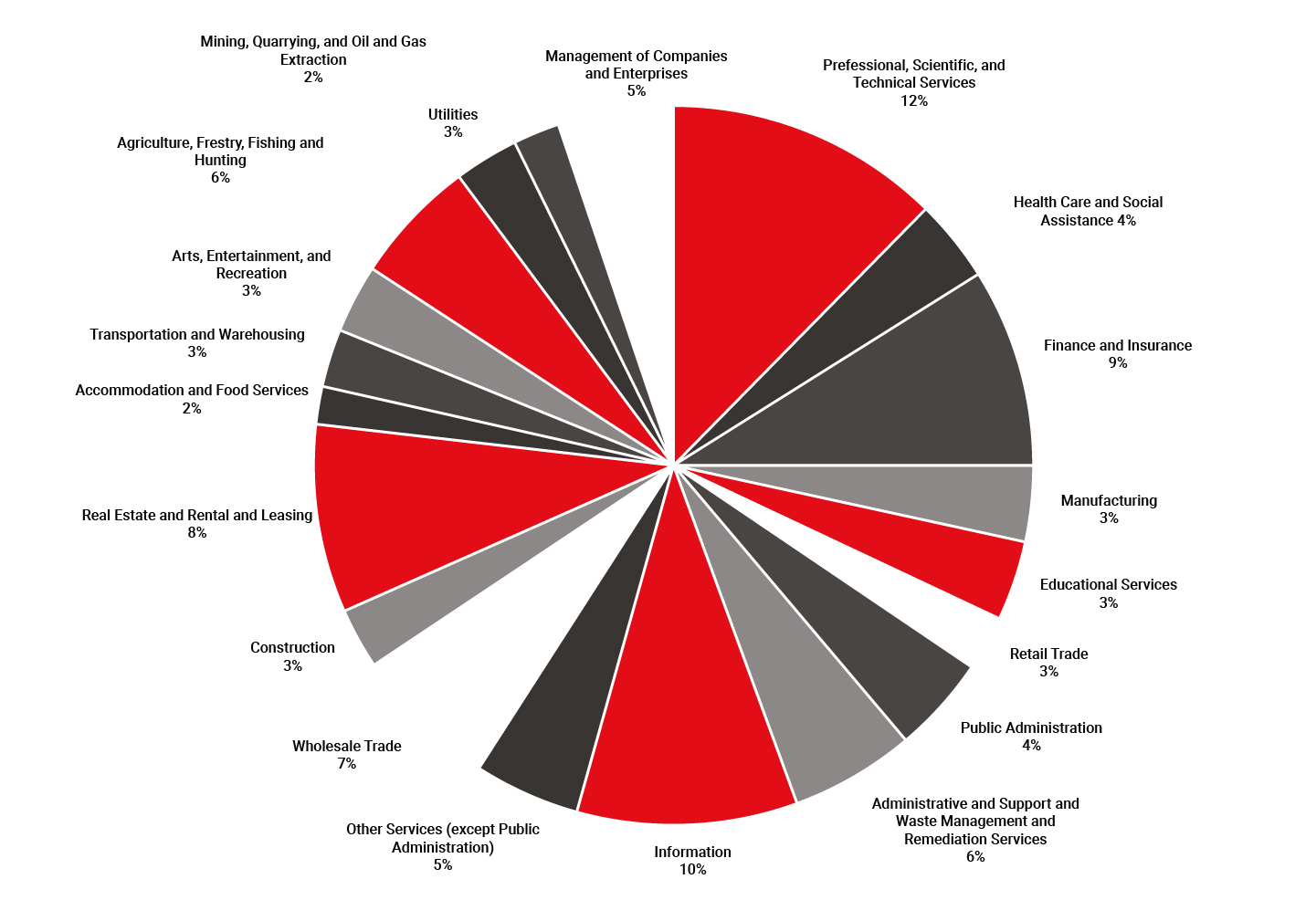 One thing is obvious – the past year was a game-changer in the world of work, with massive numbers of employees in the workforce switching to WFH. If remote teams and outsourcing were on the rise before the pandemic, the trend has literally exploded since the beginning of the 2020 pandemic.
As per Deloitte, the outsourcing and shared services market were forecasted to grow at an over 7.4% compound annual growth rate (CAGR) from 2019 to reach US$ 971.2 billion by 2023. At this rate, the OSS industry was expected to exceed US$ 1.0 trillion within the next 6 years.
Guess what?
No one is waiting around for the next six years; the market has literally taken the ballpark and exploded into beyond new frontiers of remote work. Take a look at this statistic from a blog on the Review42 website:

This means that there will be a significant shift towards outsourcing at least menial functions like back-office operations to offshore companies. If you aim to focus on your core competencies and simultaneously utilize your in-house teams for a boosted productivity – delegate some of your operations to an offshore partner. With the rising prominence and usage of tools like Blue Jeans, Google suite and Zoom, working remotely is not only doable – but also more productive. As an aside, take a look at this screenshot from businessofapps showing the explosive growth that Zoom experienced earlier this year!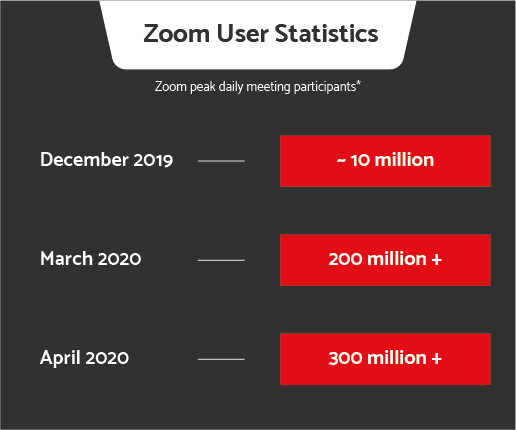 These trends are forecasted unanimously by large-scale research across global platforms, adding to these predictions' strength. According to Upwork, one of the largest freelancing platforms on the web, 73% of teams across global boundaries and industries are on course to have remote workers by 2028. The future is indeed ripe for long-distance team culture.
However, promising the future looks for outsourcing companies and remote teams, it is not without challenges at the implementation level. We have been in the market for ten years before remote work was so mainstream. When we see new players jumping into the outsourcing market, we believe it will only serve to strengthen and regulate the sector. At the same time, we can't help but notice some of the missing links and shortsighted vision that plagues most managed services vendors on the market today.
When thinking about managing remote teams on behalf of clients, a lot of basics need to be considered before you can even begin to cement the relationship:
Agreement on overall budget
Basic working structures
Industry-specific expertise
Longevity of service relationship
Cost-effective, high-quality solutions
Challenges faced by the business owners in 2020
Difficulty in recruiting the right talent
As per Coadvantage, the Goldman Sachs/Babson Voice of Small Business in America 2019 Insights Report found that the top challenges for 76% of respondents in small-biz include hiring and retention. Additionally, nearly two-thirds of businesses fail to find the skills they need within the applicant pool – a 50% increase from 2016.
Finding candidates may seem easy, but it is one of the most challenging tasks on the HR roster. The primary reason is that job descriptions are as varied as organizational goals and finding the right fit can be like finding a needle in a haystack!
An experienced RPO partner will find a qualified candidate without wasting time and resources. If you are worried about passing on advanced functions to a remote team, you may want to start with basic functions including
Accounting
Records retrieval
Video surveillance
Alarm monitoring
Digital marketing
Data management
RPO and other verticals
Struggling to maintain compliances
The Goldman Sachs report mentioned above also found that regulatory compliance imposes a significant burden on small business owners – with labor laws the most commonly cited challenge. In fact, over 60% say regulations negatively impact growth. Respondents also say they spend six hours a week on compliance-related tasks (or over 300 hours a year) – again, an increase from previous years. And the vast majority (85%) of small business owners handle compliance themselves.
Time spent on compliance is time spent away from business development and growth. If business owners can outsource some or all of their compliance activities, the drag on their business would likely be mitigated.
Difficulty trusting an offshore partner
No matter how resilient your business is, your confidence may plummet when it comes to handing over key operations to a remote partner. The remote partner is usually sitting on the other side of the globe, has little idea about your organizational workflow and may not even be familiar with your TAT periods. These fears play a key role in your decision to outsource. You are going to be making a significant financial investment in a managed services vendor you may not even have met and it is even more important to scope out a provider that shares your values and working style.
Considerations for back-office, records retrieval and accounting
Here is a little known fact. Back-office operations consume nearly 50% of the entire operational costs of any business. The evolving requirements for back-office activities can involve both simple tasks such as data entry or complex tasks such as bookkeeping and accounting.
Efficacy of data
When the data is accessed and used by multiple people, it may duplicate entries and things can get out of hand. A recent study found that approximately 30 percent of an organization's data becomes obsolete by the end of the year due to rapid changes in the information that both companies and employees require.
Extracting data
You never know which data may be required at any point in the strategic business implementations. Data extraction can be tricky, especially if the in-house team does not know how to find the relevant data that is needed. You may also need to ensure data safety if your business requires the care and handling of significant clusters of sensitive data.
Managing data
When data is collected from multiple input points such as forms, receipts, paper documents, images across a set of devices, a centralized system is needed to manage the entire process. Most modern businesses rely on electronic formats for data for easy operations and access. The actual struggle starts when there is a mix of paper and electronic data that needs to be reconciled.
Smoother process
The majority of time is wasted in retrieving the needed data. You need specialists that excel in organizing the flow of your records retrieval process so everything runs smoothly and all you have to do is supervise and pay attention to reporting! Faster record retrievals also lead to shorter claim cycles. The process needs to be smooth and better managed.
Read more on Task you didn't know a back-office support team could do!
How can you overcome these remote support challenges?
Basic as it may sound, we have actually used the SMART goals model to break down our hiring solutions.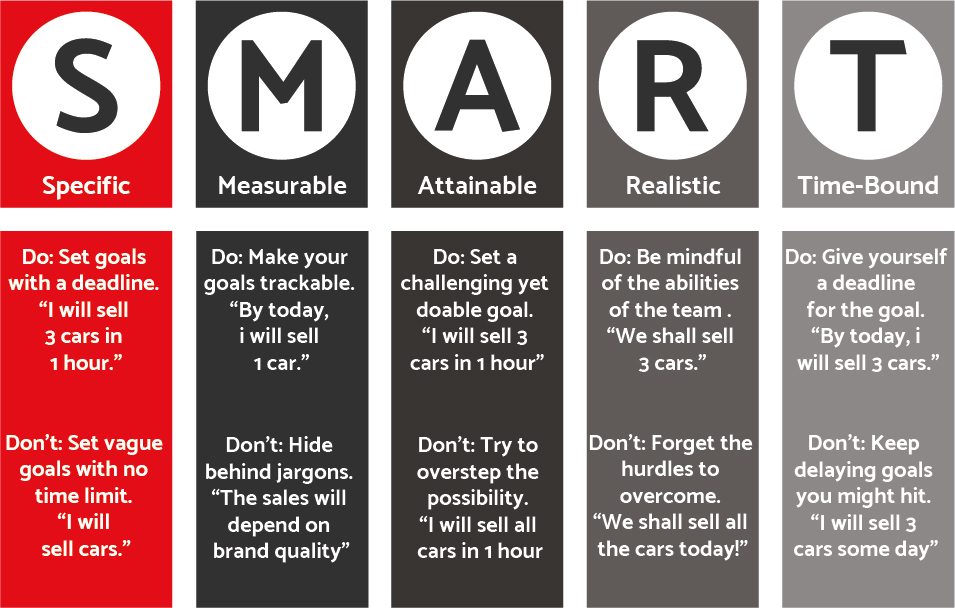 Lean then stay focused and aligned with the client's vision for growth. Let's take a closer look.
S – Specific
Remote teams can adapt quickly to specific needs such as your business may require peculiar outcomes. An ideal remote will help you set specific goals for hiring:
Weekly status report
Specific KPI measures
Solutions customized to your industry
M – Measurable
Remote teams work in a dedicated fashion. They always look for measurable goals that can help you understand the progress of your business. Remote teams can help you divide the larger goals into micro goals by:
Using KPIs
Defining hiring timelines & parameters
Setting monthly, quarterly & yearly goals
Conducting weekly meetings to track progress
Offering a documented record of accomplishments
A – Attainable
Remote teams are usually goal-oriented and this makes them efficient in delivering the expected results. They break the goals into micro-goals to use their efficiency and skills in attaining them. Here is what they do:
Breakdown daily tasks
Keep a track of timing behind each task
Regularly report on the progress
Knock out tasks with time-management
R – Realistic
Remote experts are trained to overcome hurdles and get things done on time. However, we set realistic goals and keep a track of potential hurdles that may come in our way before the completion of a project. Here is what you can do to keep team goals realistic:
Understand team capabilities
Help the team hone specific skills
Allocate roles based on performance
Focus on the solution rather than the problem
T – Time-bound
Remote teams understand the importance of time management and work efficiently to deliver the projects on time. They understand the TAT periods and hence, offer solutions on time. Remote teams can be a reliable means of time-based projects and the perfect option to manage operations such as:
Records retrieval
Video surveillance
Alarm monitoring
These operations require prompt actions, which a remote team is trained to do.
The pandemic had left most companies to rely on remote support for their menial operations. During those tough times, it was essential to manage and balance both – entry-level operations and core operations to stay on track and acquire more clients. However, companies can be at a greater advantage if they look at switching to remote workforce management as an opportunity.
Most companies don't have enough time or expertise to deal with these aspects of their work. This can be the main reason they find a remote partner with all the resources necessary to deliver these crucial incentives.
Technomine is one such remote partner that caters to the organizations looking for excelling in their niche with extended remote team support. Our agents are trained and professional in delivering time-bound projects with ease. We have been successfully delivering our services in the below-mentioned areas:
Teachers' recruitment
IT recruitment
Healthcare recruitment
Accounting & bookkeeping
Video surveillance & alarm monitoring
Digital marketing & SEO
Back-office
While some industries have some unique challenges and solutions most of the process remains the same for all offshoring teams. With a SMART remote team besides you, it is easy to deal with business issues even during Covid-19. Customers want to have an unforgettable experience with a company. It has become an essential factor in gaining customer loyalty towards an organization. This is why businesses are adopting customer-centric approaches that emphasize emotional journeys.