Many businesses wouldn't take it seriously if we proposed the idea of hiring a remote team to enhance business productivity a decade ago. But now, hiring a remote team is the new normal – especially after the pandemic.
In many ways, virtual teams are an ongoing experiment that has gotten more sophisticated as technology and global outreach evolved. Virtual teams have shown healthy growth with an 80% increase in business productivity from 2005 to 2012.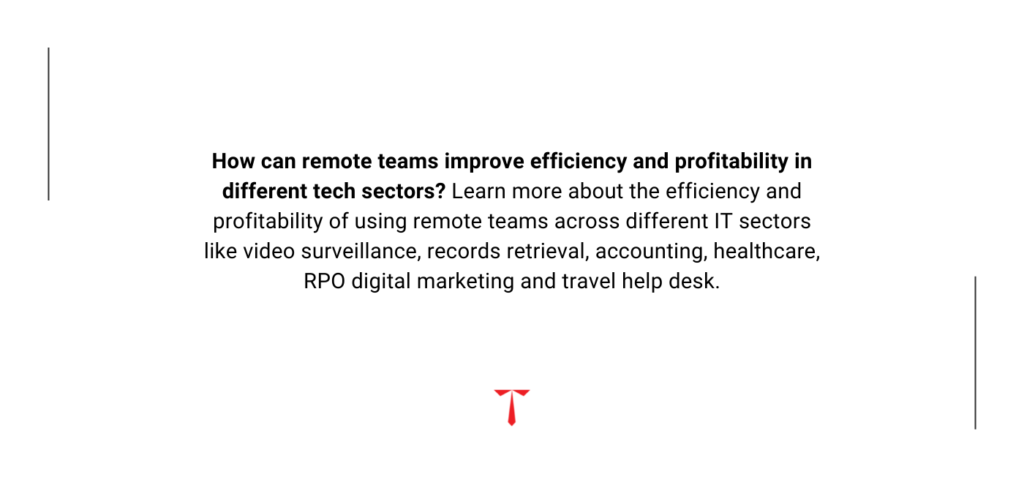 How can hiring a remote team help businesses boost productivity and market competitiveness?
To answer that question, Technomine is here with another blog focusing on the efficiency and profitability of remote teams across the following tech sectors – video surveillance, accounting, records retrieval, healthcare recruitment, recruitment process outsourcing (RPO), digital marketing and travel help desk. Keep reading for a brief analysis of work that can be outsourced across different industries for greater profits and efficiency.
Video surveillance
For the past three decades, video surveillance has proven beneficial in helping businesses reduce security costs, increase employee productivity and even maintain control of their property – anytime and anywhere. Remote video monitoring allows operators to monitor multiple unattended sites simultaneously, react to potential alarms immediately and even alert local authorities to stop a crime before it happens.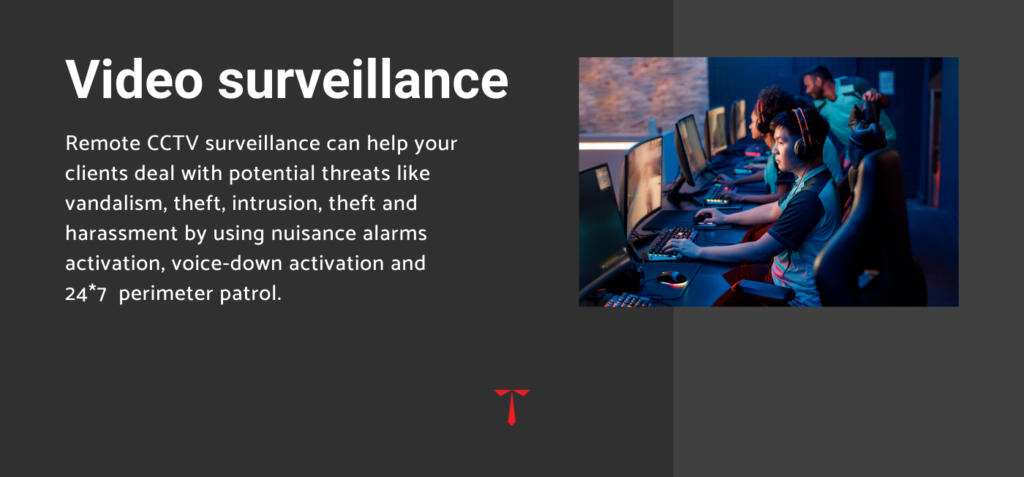 A trained remote team like Technomine can help protect your property anytime – even during out-of-hours. If people or property are in danger, trained virtual guards and alert law enforcement.
When you work with us, you never have to worry about over-burdening your existing on-ground team. Our remote video monitoring teams are trained to provide out-of-hours security services in sectors like healthcare, school campuses, warehouses and construction sites. Remote CCTV surveillance can help your clients deal with potential threats like vandalism, theft, intrusion, theft and harassment by deactivating nuisance alarms, voice down activation and 24*7 patrolling perimeters. Live monitoring is a potential solution to help your clients keep an additional eye on their properties.
What can Technomine help you with?
24/7 gatehouse monitoring
Footage retrieval & analytics
Video surveillance for perimeter safety
Experienced L-1 technical support
New site commissioning
Pending & nuisance alarm clearance
If you are looking to hire a professional remote video monitoring team to safeguard your clients' property, then Technomine is the right place for you. Contact us today to learn more about video surveillance and remote monitoring.
Records retrieval
A remote records retrieval team can help your clients save money and organize their records retrieval process for improved outcomes. Records retrieval involves handling records and data for medical, legal or insurance purposes. Effective records retrieval entails meticulous preparation, great relationships with institutions and proper time management.
Here are some records retrieval services that you can delegate to us.
Request Processing & Research Work
Follow-Up Retrieval & Status Updates
Document Processing & Uploading Records
Customer & Administrative Support
Contact Verification & Quality Assurance
Order Entry & Making Payments
A record retrieval process can be very time-consuming, especially if you lack the in-house resources and expertise. Switching to remote records retrieval services can save you both time and money. For more information on outsourcing solutions for records management and other business services support, check out this page http://bit.ly/Records-Retrieval.
Accounting
Remote accounting has seen a significant rise in the last few years. According to Forbes, hiring a remote professional reduces the chances of errors by 40% and delivers quality results. Remote accounting allows your business to find capable, expert finance professionals worldwide instead of being restricted to the local talent pool. Remote staffing has made it possible for start-ups and small firms to afford to hire highly qualified accountants in a cost-effective manner.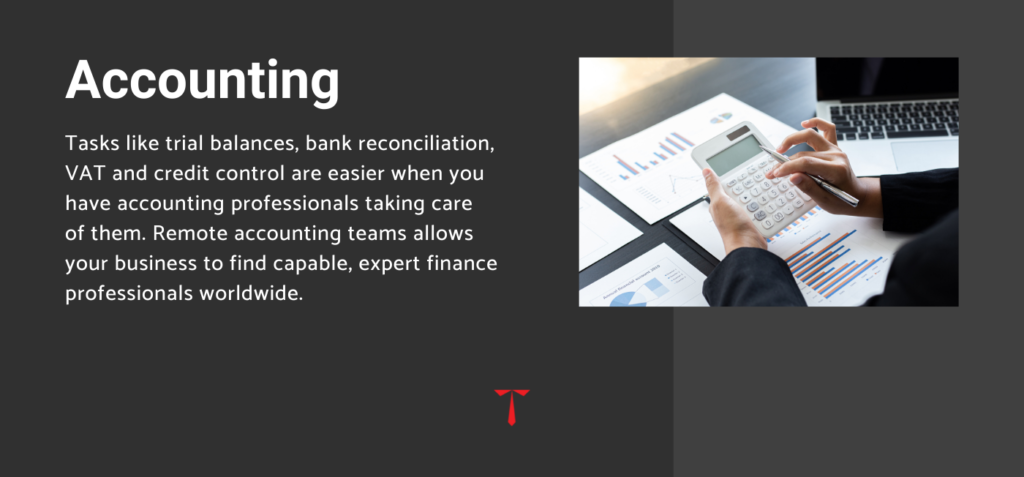 Technomine has unique remotely managed accounting solutions crafted to meet your needs. We have the infrastructure and institutional experience to help your organization cut operational costs, improve turnaround times and reduce errors.
Credit control and bookkeeping are the most daunting parts of business ownership. Tasks like trial balances, bank reconciliation, VAT and credit control are easier when you have professionals taking care of them. Here are some of the accounting services you can delegate to us.
Bookkeeping & Bank Reconciliations
Accounts Receivable & Credit Control
Accounts Payable & Payroll Solutions
Cash Flow Management & Sales Tax Filing
Financial Statements Reporting
Bookkeeping for CPA's
Healthcare recruitment
Hiring a remote team in healthcare recruitment allows your business to hire candidates with a depth of knowledge, specialized clinical skills and a performance-driven approach.
Technomine helps healthcare agencies fill vacancies by sourcing Doctors, Nurses, GPs and Allied Health Staff from across the globe and within your region. We also help with administrative support, compliance and payroll processing for healthcare recruiters within the UK.
We recruit talented clinical and allied professionals for your healthcare needs. Take a look at our healthcare recruitment services.
New candidate registration and re-activation
Locum placement services (Doctor, General Practitioners, AHP and MHS)
24*7 on-call support
Job posting and headhunting services
Administrative services
Timesheets/claims processing
A professional healthcare team can help your clients complete the pending tasks, including records management, patient intake coordination among others can all be done remotely.
Recruitment process outsourcing
Recruitment Process Outsourcing (RPO) allows recruitment agencies to hire skilled personnel and build efficient hiring practices consistently. Outsourcing the recruitment and selection process can provide agility and flexibility by targeting the areas that will help augment your existing hiring practices.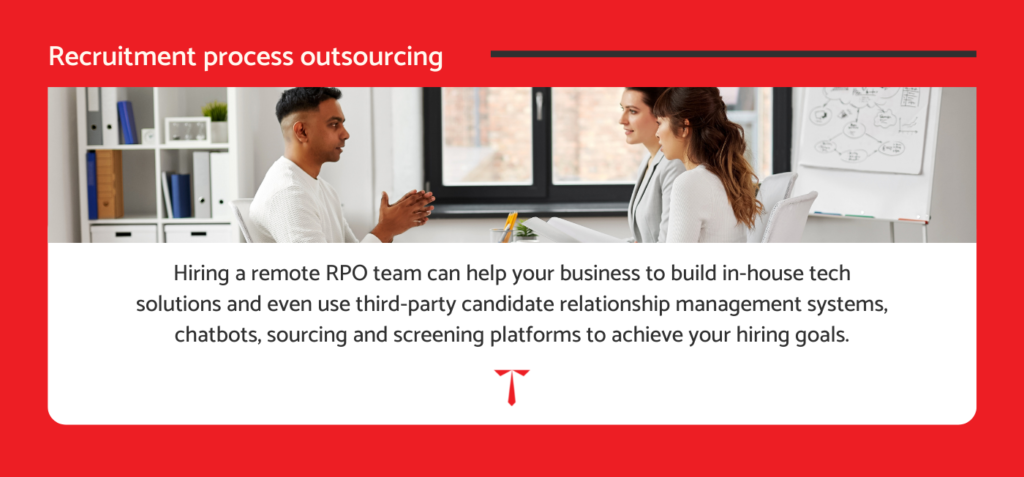 Hiring a remote RPO team can help your business to build in-house tech solutions and even use third-party candidate relationship management systems, chatbots, sourcing and screening platforms to achieve your hiring goals.
Take a look at our recruitment outsourcing processing services.
Flexible and scalable requirements
Out-of-hours working support
24*7 on-call services
Data mapping
Lead generation
End-to-end recruitment solutions
Quality candidates
Faster turnaround
Digital marketing
When you hire a remote digital marketing team – you do not have to pay for extra office space, equipment and supplies. On average B2B companies spend approximately 2% to 5% of their revenue on marketing. Since a remote marketing team is more cost-effective, you can reinvest most of that amount into your own company.
Technomine has an in-house digital arm that will help your clients to focus on strategic advisory, social engagement, brand growth, content distribution and client conversion.
Let us look at some of our digital marketing services by Technomine.
Improve Brand Recall & Engagement
Develop Strategic Marketing Plans
Increase ROI On Digital Marketing
SEO, SMM, SEM, Email Marketing
Craft Go-to-Market Strategies
Virtual travel help desk
Virtual travel assistants can save a business up to 78% operating costs. In fact, according to an article by Truelist, the demand for hiring virtual assistants has increased, including travel. Between 2020 to 2025, the virtual travel industry is projected to experience a compound annual growth of 4.5%. A virtual travel assistant will help your clients with their flight bookings, hotel reservations and itinerary management. Let us see how a virtual assistant can benefit you and your business.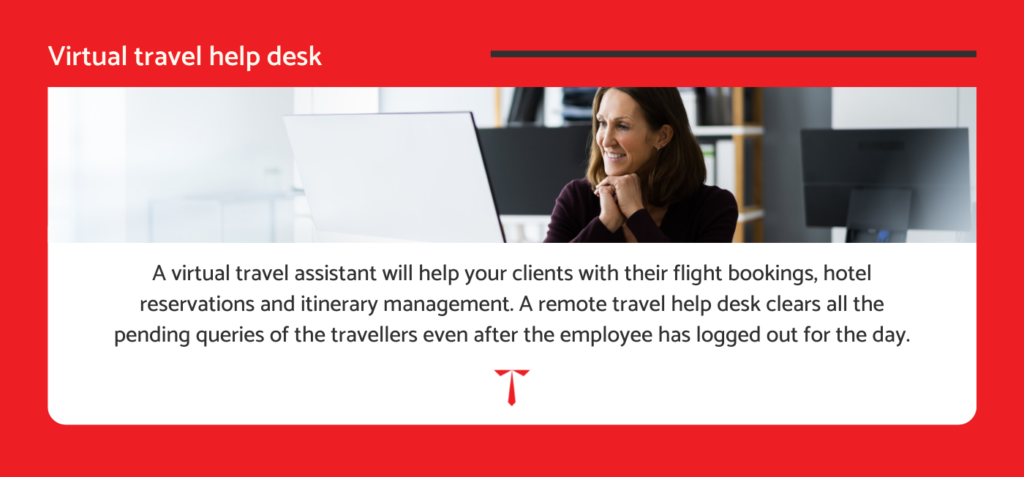 Let us look at some of our travel help desk support services by Technomine.
24*7 on-call services
Reduce your downtime
Streamline business costs and operations
Access to the latest tools and technologies
Increased productivity
Real-time assistance
Virtual travel assistants can manage the reservations for you. Virtual travel assistants can help your clients accommodate their preferences. Whether your clients want a room with a balcony or an indoor swimming pool, a virtual assistant (VA) is at your service. Out-of-hours services and remote travel help desk clear all the pending queries of the travellers even after the employee has logged out for the day, giving a positive head start for the next day.
Wrapping It Up!
Most forward-looking businesses acknowledge that remote work is here to stay. However, building a remote team takes dedication and lots of forethought.
Time zone differences facilitate increased productivity for growing teams. Managing day-to-day tasks becomes easier when you have people working remotely with overlapping hours.
With Technomine, you get a chance to offload tedious tasks so your team can focus on developing client relationships instead. No matter which sector you are in, be it video surveillance, accounting, records retrieval, healthcare recruitment, recruitment process outsourcing (RPO), digital marketing or travel help desk, Technomine is always there to support you so that you can meet your clients' expectation and even deliver them quality services.
For more information on outsourcing solutions for records management and other back-office support, email us at info@technomine.biz to book a discovery call.