After a year of remote work, the recruitment world is faced with a quickly evolving workforce and the adaptation of new technology. Today, thinking outside the box isn't just for startups but a necessity for all businesses. For those that miss out on available options for growth hacking, it could mean the difference between capturing new markets and having to scale down.
The traditional hiring process is slowly phasing out in favor of innovative technologies and hybrid practices that reach potential candidates in a market rife with freelancing gigs to cut through the clutter and present clear employer branding. While there are opportunities for growth for recruiters, the market is also unstable in many ways. Singular effort in any one direction is no longer effective in helping recruiters scale up – and even the behemoths of the tech world know this. Take Apple, for example.
"Apple Inc. utilizes both internal and external recruitment and selection methods in an effort to enhance its workforce" states Ivy Panda. Multinational companies like Apple, recognize the importance of balancing internal & external recruitment with hybrid recruitment strategies. Today, the hiring market is volatile. In order to pierce through the tight labor market and nurture prospects, hiring managers need to build and nurture relationships with clients and candidates alike. Think about it, the primary focus of employment agencies has long been talent acquisition. However, in a world where meetings are more often online than offline, acquiring talent requires an artful interplay of people, process, technology and analytics regardless of whether one is outsourcing the recruitment process or not.
In this blog, we will review secondary sources to uncover recruitment trends that will impact employment agencies in the coming months. We will look at how transformations in recruitment are changing the way people live, work and conduct business. Finally, we will look at some of the obstacles ahead for recruitment firms and suggest some of the offshore services that can help alleviate these challenges.
How are recruitment firms adapting to digital trends?
Recruitment specialists have been using Recruitment Process Outsourcing (RPO) for nearly two decades now. The reason everyone is hearing so much about remote recruitment in the past couple of years is because of the rapid shift towards hybrid teams. According to recruitment trends forecasted by Toolbox, the following transformations within the workforce will shape the way recruiters source, screen and onboard candidates in the future.
Switching to a remote workforce
While the media is touting benefits such as flexible schedules and employee satisfaction, we are still a long way away from accountability processes that can ensure employee productivity across the board.
While there is an increase in the number of fully remote businesses such as Gitlab, Hubspot, Time Doctor, most of these big names have one underrated weapon in their tool belt – strong offshore operational support. So, while the idea of extending your talent pool by allowing individuals to work remotely without geographical restrictions may seem wonderful, it is hardly achievable using just native teams alone.
Instead, recruiters have been harnessing the power of offshore recruitment to access a massive talent pool overseas. With an onshore-offshore hybrid team structure, reduced infrastructure and hiring costs, some recruitment firms are starting to discover that offshore tie-ups are highly lucrative.
Improving Offshore Company Culture
Anecdotal evidence has long indicated that watercooler conversations are crucial to information exchange and employee bonding – but just how critical is organizational culture when it comes to remote work? If this past year is anything to go by, the answer is that company culture is critical to productivity – remote or otherwise.
The rise of remote work has made establishing and maintaining a strong company culture difficult. If you are interested in learning more about remote work culture, you can check out our blog on building a virtual work culture. Nonetheless, many reputable offshore teams have already been introducing virtual 'coffee chats' and other team building activities for over half a decade now. When we introduced our own engagement programs a few years ago, we had our doubts on whether these virtual team building efforts would actually yield any results down the line. Today, we see the impact of rallying our people around our recruitment candy clients' fundamental values, company mission and overall vision.
There is no longer any doubt in our minds – offshore teams can fill the gap created by WFH practices to improve business culture and team cohesion using our organized team building programs at both agent and management levels.
Integrated recruiting solutions
As recruiters devote more time and money to finding the best candidates, thought also needs to be given towards ensuring that these new hires stick around. While there is no magic wand that can magically ensure low attrition rates, proactive communication can help recruiters identify red flags. However, reading these signs is a matter of intuition that is developed over years of experience. Yet, experience is something which many new offshore vendors mushrooming in the post-covid months may not have.
Offshore recruitment teams that have worked for years on an international scale are more likely to notice the signs and select candidates that stick around. Recruitment firms will also benefit from culturally savvy, diverse and inclusive outsourcing teams that can help the end client stay abreast of cultural trends to improve their employer branding. The key here is to adopt integrated recruiting solutions that strengthen candidate retention.
Social media recruitment services
Today, nearly all successful recruitment agencies go where their 'prospects' are – and a majority of prospective candidates are increasingly on social media. LinkedIn jobs, Facebook groups and industry specific portfolio platforms have already revolutionized the way we source candidates.
However, even digital hiring has evolved to a point where recruiters need to constantly skill up in order to stay on top of the latest recruitment trends. Recruiters that go beyond 'digital savvy' to find the latest recruiting hacks are more likely to attract the attention of high quality candidates as mobile usage and on-the-go interactions become the accepted norm.
Having a standard pipeline for finding, contacting, screening and hiring people serves as a way to keep the hiring process streamlined, cost-effective and impactful. The right content, recruitment hashtags and recruitment marketing can help increase your recruiting clout.
Valuing diversity in the recruitment process
Diverse teams perform better. A growing number of HR departments, employment agencies and recruiters are already dedicating staff solely to promote diversity and inclusion. Candidates now demand that employers back their D&I claims with solid action. Making your job listings more personalized and inclusive can help inject fresh prospects into your candidate pool.
Job descriptions are already gender-neutral and often open to people from different walks of life. In a world where representation is becoming more important, recruitment agencies can benefit from working with offshore firms that already have experience working with a diverse candidate pool.
Employer branding for top recruitment agencies
If you have been in the recruiting business for a while, you already know that people don't just work for money. While money is a strong motivating factor that compels talented candidates to stick around – the prestige, culture and reputation of their employer can be equally compelling.
As recruiters, we often help our clients develop their employer brand as we process hiring requirements. According to a CareerArc study, 75% of job searchers examine an employer's brand before applying. As recruiters, we want to maintain a positive & authentic image because we are the first line of contact for these candidates.
The right digital assets including owned media (websites, social platforms) and earned media (positive candidate reviews) can go a long way towards offering social proof. Remember, the benefits of social proof go both ways – clients are also more likely to collaborate with recruiters that have a positive reputation among larger candidate pools.
Soft skills for employment agencies
According to a LinkedIn study, 89% of poor hires typically lack soft skills such as creativity, persuasion, teamwork, collaboration, adaptability and time management. Does this mean that recruitment agencies should put down their screening tools and get to work training candidates on soft skills? Absolutely not.
However, there is an opportunity that has opened up here for recruiters that like to think ahead of the curve. You see – historically – it has been difficult to catch these 'soft' skills ( or lack thereof) in action. This means that most of the time, recruiters hiring a candidate on behalf of a business were making a partially 'blind' decision.
Even if you implemented psychometric evaluations into your interview process, you would have no way of knowing what that person is really like before they actually started coming to work for your client. However, social platforms have changed the way we hire. Today, social media allows recruiters to review candidates' digital footprint – even on personal platforms like Facebook, Instagram and Snapchat – to see what that person is really like. This sort of informal 'soft skills' assessment done by an RPO team can give recruiters an edge over competitors.
RPO services for recruiting solutions
Depending on the needs of the organization, recruitment solutions can include managing hiring fluctuations throughout the year, lowering total recruiting costs and reliance on staffing agencies, improving hiring manager satisfaction, lowering time-to-fill job positions, elevating employer brands, improving candidate experience and simplifying or streamlining the hiring process.
It is no coincidence that the list above is exhaustive – and growing. As the recruitment industry transforms, many older functions are becoming defunct, and new processes are brought in to fill the gap. Greg Moran, the CEO of OutMatch says "We can expect 2021 to continue to bring major disruptions to digital hiring and recruitment. This will be particularly evident in how the process leverages technology to drive efficiency for both recruiters and applicants alike." The fact that there are massive disruptions in the recruitment industry need not be a ticking time bomb.
With the right tools, and a willingness to embrace new processes to drive efficiency by leveraging technology, recruitment agencies can actually simplify the process for both clients and applicants. The best part? There are some very affordable RPOs on the market that can help with a variety of these newer services so recruiters can go on doing what they are good at – building relationships.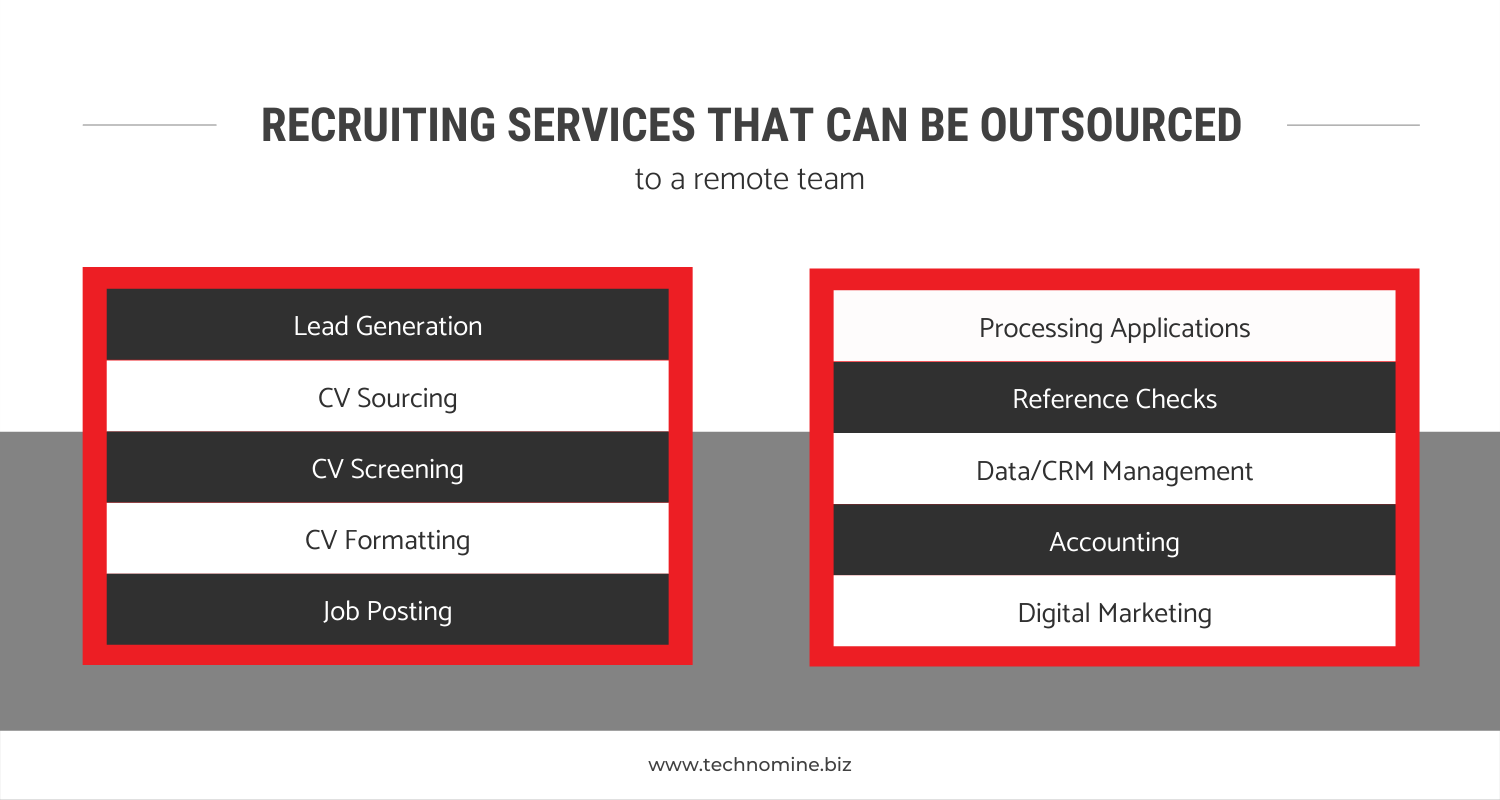 Lead Generation
Recruitment agencies are specialized in lead generation to gather the details of companies that are open to hire and collaborate with decision-makers. This partnership allows you to find pre-qualified leads and the efforts, time and money spent on calls, electricity and internet are not wasted. Often, growing businesses benefit from qualified outsourcing staff to generate custom leads to propel agency growth. On a daily basis, the contact information for potential leads is collected and organized for you by the outsourcing team – saving you a lot of time.
CV Sourcing
A team of professionals with CV sourcing expertise searches for and selects the best candidates for the job based on criteria handed over by the recruitment firm. By pulling out only the most relevant profiles, the RPO team locates an active CV that meets the employment requirements and thorough job description provided by the recruiter. RPOs hunt the most appropriate CVs using a mix of networking, online portals and other resources.
CV sourcing is critical for every organization, especially in the recruitment business. Your offshore recruitment team can source all relevant resumes from job boards and other portals to streamline your hiring workflow.
CV Screening
Next, profiles are thoroughly screened after the relevant CVs have been sourced. At this stage, your RPO team double-checks information such as skills, experience, job profile, qualification, location, age and competencies. Scanning resumes takes a lot of time, which is why a designated outsourcing specialist saves you both resources and time. Recruiters can save money and time by using this resume sourcing strategy.
CV Formatting
At the formatting stage, your offshore recruitment team formats the applicant's CV according to customized client specifications. The CV needs to be presented professionally so that it is easy for the decision maker to read and analyze. We then format and present the collected CV data to aid better and faster decision-making.
CVs are formatted to stay accurate and concise while also meeting the client's needs. For example, when distributing the CV to the final clients, some recruitment firms may not want to disclose the candidate's personal information on the resume. Did you know that an efficient RPO provider can offer basic formatting services in as little as 20-30 minutes per CV? Of course this depends on the CV formatting requirements.
Job Posting
As part of end-to-end RPO services, your outsourcing team will handle all job postings, ensuring that you only receive the right candidates who meet the requirements of your organization. A team of offshore recruiting agents will understand the technical know-how of navigating job boards and professional networks to improve your employer profiles and give your organization maximum visibility. An experienced recruitment process outsourcing specialist will optimize the pool of available prospective candidates by weeding out active candidates from passive ones.
Processing Applications
When processing applications, CVs posted on various portals are verified and shortlisted. Your RPO vendor will then screen, analyze and verify whether the CV posted is genuine with accurate information. Your offshore team also weeds out any CVs that have fake or incorrect information. Once profiles for appropriate candidates are considered to be an appropriate fit, the application is further processed.
Reference Checking
Completing reference checks is a time-consuming task that requires a significant amount of patience and perseverance for follow-ups. In addition, the consequences of using inaccurate or invalid references could be severe. As a result, reference chasing, a critical component of the pre-employment screening process, cannot be taken lightly. RPO providers work to ensure that your staffing firm is considering candidates' employment history, duration of employment, role and past performance in their previous job.
A comprehensive report is generated based on the candidates' background checks, allowing you to assess their chances of success – and ensure that your clients are satisfied with the hire.
Data/CRM Management
Generally, RPO providers can help you manage your applicant management system, a database containing millions of active and passive candidates from specific industries, with varying levels of skill, working on contractual or permanent roles. The data management service helps with candidate reactivation, invoice generation, data management and many more back-office tasks.
Database management has a lot of value for recruiters looking to speed up their candidate search process, minimize turnaround time and bottom-line growth. Your offshore team can ensure that your database is adequately managed, updated and organized.
Accounting
Outsourcing back-office and mid-office accounting activities like scheduling & expense management to RPO firms operating offshore can substantially impact the productivity, speed and efficiency of your business processes. Recruitment process outsourcing agents process applications and manage candidates on a global scale. This makes them well-equipped for timesheet processing, filing tax returns, invoicing on a global scale.
Outsourcing your accounting work will also help you avoid the unnecessary administrative expenses that recruitment companies often incur. At the same time, you may also be able to increase employee and contractor satisfaction with an efficient time and attendance system managed by your offshore team.
Digital marketing
According to Pew Research Center, 77 percent of Americans are online on a daily basis. As a result, digital marketing is a necessity for each sector that is under the blue sky – especially recruitment companies. A large part of this population is most likely composed of job seekers, recruitment clients and recruiters. Today, using online channels to reach job seekers is critical for successful recruitment agencies.
Unfortunately, digital outreach is one aspect of the recruitment process that is generally overlooked, misunderstood or underserved. Just as you want to learn about candidates, they want to learn about your client or recruitment services too. With digital recruitment services, you can also enhance your company pages by including information about the CSR activities, culture, photos of the company in order to become a thought leader in your recruitment niche.
Defining recruitment outsourcing success
A valuable takeaway from the recent remote work transformation is how in-house and offshore team members had to put their soft skills like communication, teamwork, resilience and management to the test to ensure that work goes on. Collaboration is enhanced by soft skills. Understanding personality traits, personal characteristics and other non-technical abilities helps members work and communicate with each other. When your job has a remote dimension, these skills become non-negotiable! Consider the following suggestions for a smooth recruiting collaboration.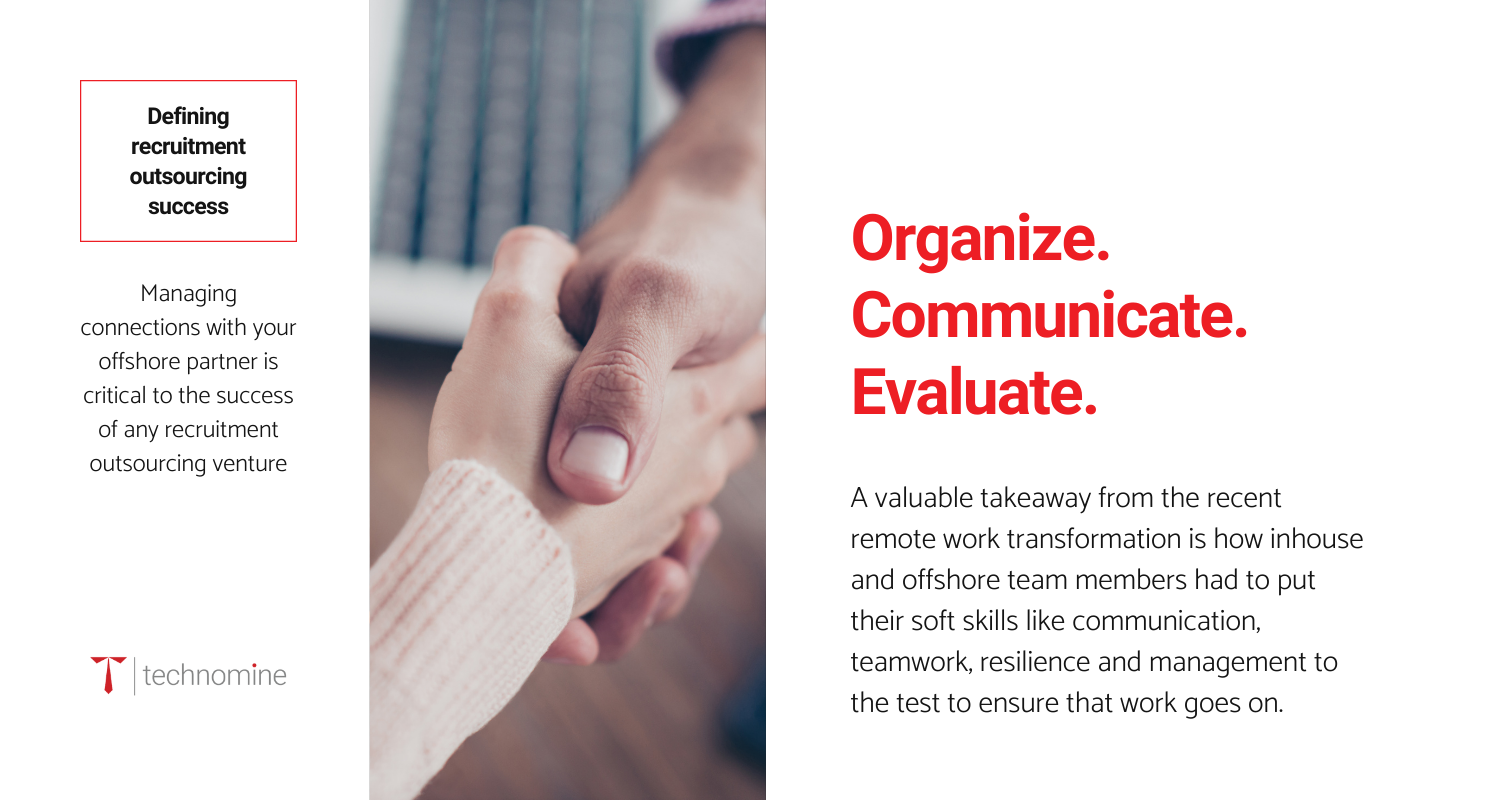 Organize
Signing up with an offshore recruitment support vendor can be a daunting task but collaborative preparation with the right training, onboarding, expectations and scheduling can get your relationship off to a productive start. When your offshore recruitment team knows your expectations and timelines, they will be more likely to deliver satisfactory service. Having that time to organize your team collaboration, structure, goals and expectations at the beginning of the relationship also allows your remote team to really shine and deliver services that make a difference to your recruiting agency.
Communicate
When everyone communicates openly, any work-related issues that come up can be resolved easily. When we onboard clients, we encourage someone on their side to stay in touch with the person managing their offshore team on the ground. Not only does this build up a culture of accountability and accurate reporting, it also allows people on both sides of the pond to get to know each other and build up rapport.
Evaluate
If you have laid down the groundwork above to set expectations for accountability, it will be easier to evaluate team performance with the help of regular feedback and review sessions. Usually we find that even if things are going extremely well and our weekly meetings are just five minute calls to affirm that everything is on track, this simple ritual offers the offshore team as well as recruitment agencies opportunities for bonding, process improvement and growth.
Managing connections with your offshore partner is critical to the success of any recruitment outsourcing venture. When the expectations are communicated and scope of work is defined, the offshore team will be able to support your recruiting needs, and even go the extra mile to ensure that your candidates as well as clients are coming away with a positive experience.
Re-evaluate the skills required for today's working reality
At the beginning of this blog, we set out to explore trends and transformations in the recruitment world. We looked at how remote work is changing the very nature of how recruiters source, screen, interview and hire potential candidates on behalf of their clients. We also looked at services that can safely be outsourced.
Delegating services such as lead generation, CV sourcing, screening and formatting, processing applications, reference checking, Data/CRM management, accounting and digital marketing can help recruitment agencies turn the ship around and focus on client acquisition as well as growth while the offshore team carries out the cumbersome day-to-day activities to ensure that the candidate pipeline remains productive.
Outsourcing recruitment solutions can help recruiting managers and agencies streamline their workflows, reach a diverse pool of candidates, slash infrastructure and training costs and even help them find client leads to help their recruiting business grow.
If you are looking for a one-stop back-office, HR recruitment & RPO services solution for your hiring needs, you can reach out to one of our hiring managers using the form below and we will personally guide you through the entire process.