Considering the past, present, or future of the healthcare business one can not fail to notice the increasing strain in recruiting healthcare professionals. The recruiters bear a large responsibility for the well-being and lives of those who the medical hire serves. The healthcare sector continues to discover how to turn difficulties into opportunities. The medical industry is under increasing pressure to keep their vacancies almost minimum so that the patients and the revenues do not suffer. Failure is not an option as the agency competitors are ready with larger manpower to combat any challenge they might face.
The exceptional events that occurred in 2020, in particular, have left the healthcare recruiters trying to catch up. Many healthcare locum agencies were affected and are still reeling from the effects of the pandemic. While healthcare agencies needed assistance with administrative tasks, they were cautious to combat the insecure future in a post-pandemic economy. To safeguard the upcoming healthcare recruitment challenges, medical recruitment agencies needed support from an efficient back-office team to clear the backlogs. Wait. What are the challenges we are talking about?
We agree with the smart owners who don't think medical recruiters should spend hours getting trained in a secondary task and rather focus on the revenue-generating functions. In this blog, we explore current global healthcare recruitment challenges and offshore team solutions that can help recruiters overcome these challenges.
Healthcare Recruitment Challenges
Recruitment in healthcare can be tough and stressful for the recruitment agencies trying to hire the right fit. The healthcare personnel that is recruited requires an extra layer of caution since the medical staff would be directly influencing the health and well-being of their patients. As a result, it is critical to identify the finest applicant for the position.
Recruiting is difficult in any sector, but you will be hard pushed to find one that is more difficult than healthcare. The stakes are enormous and healthcare institutions cannot afford to hire people who do not deliver upon unique demands.
Politico quotes Matthew Taylor, chief executive of the NHS Confederation, "Sadly, it doesn't come as a surprise that so many people believe the NHS has been damaged by the pandemic, as it tackles a huge treatment backlog and increasingly complex cases, all while the staff is overstretched and exhausted."
Payment Processing
Payment processing covers a large chunk of the routine recruitment tasks. Allied health professionals often state that timely payment collections are their top management challenge. When a hospital gets overwhelmed with patients, staffers can work long hours, and if they do not get paid adequately and on time, that can compound the problem leading to high attrition rates. Billing statements get complicated due to the many variable factors making it one of the biggest challenges in recruitment medical staffing.
It is expensive for medical offices to set up such invoicing and payment processing systems in-house. They must not only negotiate agreements with each payment processor and create the infrastructure (e.g., patient portal, secure payment processing) but also absorb the continuous administrative costs of such technology. It is important to maintain payroll compliances and bookkeeping hygiene so that healthcare agencies can retain quality manpower and continue to serve their clients.
Data management of the medical candidates
As more healthcare data of nurses, doctors, and other allied health professionals are generated in multiple platforms and different formats, the more scattered across multiple platforms and databases it becomes. As a result, it is difficult to find a 'source' that gives what you want timely. Additionally, comprehending and retrieving healthcare data becomes difficult and time-consuming as it comes in all forms of formats.
To properly leverage the power of data, healthcare recruitment agencies can embrace data-driven decision-making. Managing data may be a time-consuming task but necessary so that insight may be utilized to support executive decision-making.
Candidate attraction
Competition is fierce. Candidate attraction focuses on how to attract candidates so that they associate themselves with your agency. Tribepad curated some statistics to throw light on the hurdles of being short-staffed in healthcare.
In the UK

There's been a shortfall of around 100,000 health workers for years across NHS trusts. A think tank predicts that could hit 350,000 by 2030 – leaving one in six posts unfilled.

Across the EU
Globally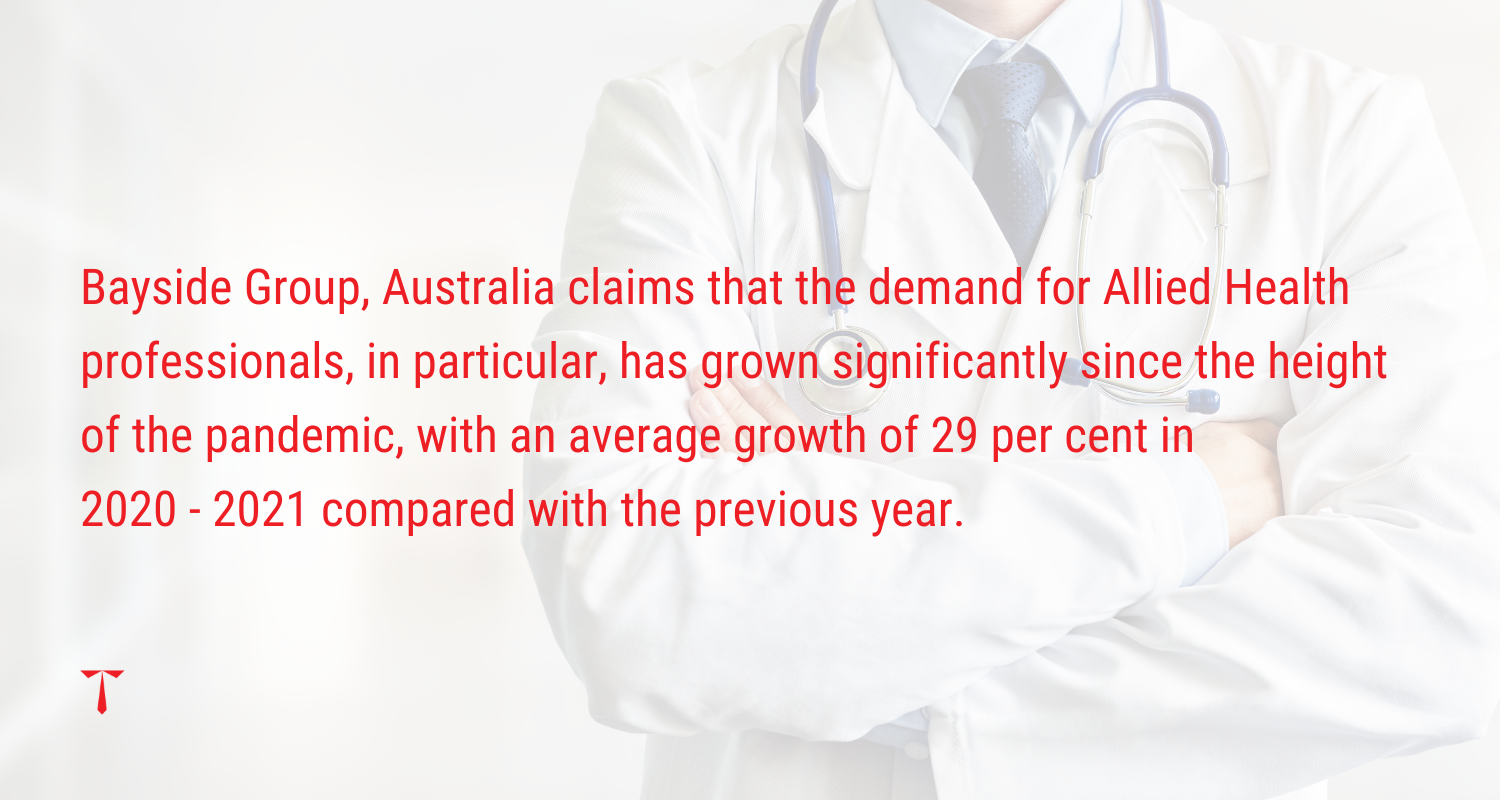 The volatility of the healthcare employment market is familiar among the recruitment agencies as well. The concept of employer branding is now an important factor to attract candidates. This calls for professionals who understand how to attract clients based on the current market trends. After you attract, you need to also maintain the retention rate.
Retention Rates
Tribepad once again puts forth a critical point. If attracting healthcare workers into the sector is one challenge, keeping them there is another. Healthcare turnover is notoriously high.
Even if talent acquisition strategies resort to higher recruitment in healthcare, isn't it pointless to pour water into a leaky bucket? More importantly, higher retention rates must be a top goal for healthcare in 2021 and beyond. Any strategy must be cross-functional rather than solely recruitment-focused. Early turnover indicates that an immediate focus on onboarding is required. However, the entire picture must be examined to determine where the worst turnover occurs.
Rising costs
Lastly, due to the staff shortages, volatile turnover, and challenges in advertising and agency, a dramatic rise in costs is noted.
Following a major global upheaval, companies in every industry can least afford increasing expenses and dropping outcomes. As a result, healthcare recruiters must search for cost-cutting opportunities throughout the recruiting cycle as soon as possible. The age-old issue of "doing more with less" has never been more defined.
Healthcare's workforce challenges are a shared burden
The burden of tackling healthcare's recruitment problems does not fall only on recruiters but also on offshore teams working with you. Employer brand, workforce diversity, culture, purpose, colleagues, management style, workloads, and other factors influence engagement, retention, and eventually recruiting. Now that we know about the common healthcare recruitment challenges, let's read about effective solutions.
What offshore teams provide
Until recently, the healthcare sector was reliant on physicians and the services supplied by hospitals or physicians. However, with time, the healthcare business has become increasingly focused on patient demands and income creation. As a result, the function of hospital and back-office support services has grown in importance. Maintaining regular cash flow is critical for the successful operation of a practice, and this requires skilled teams to handle administrative and operational tasks. Most practices find it difficult to perform these tasks independently, resulting in claim denials, underpayments, and other issues that impact their revenue cycle. To avoid complexities, maintain regular cash flow and get assistance in the following services, most healthcare recruitment agencies outsource back-office support services.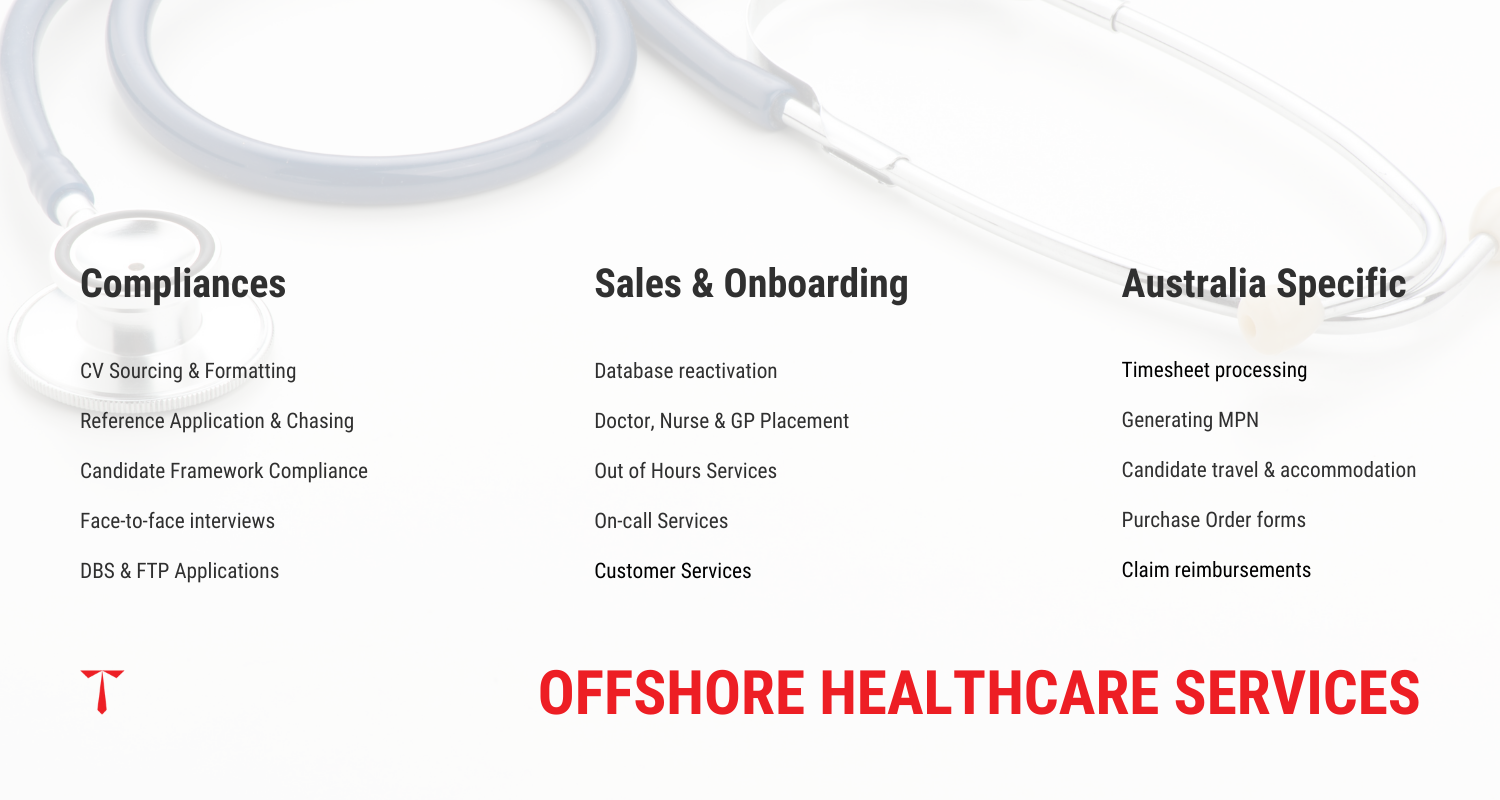 Compliances
CV Sourcing & Formatting
A team of professionals with CV sourcing expertise searches for and selects the best allied health professional for the job based on criteria handed over by the healthcare recruitment agency. CVs are formatted to stay accurate and concise while also meeting your needs.
Reference Application & Chasing
Ensure candidates' employment history, duration of medical practice, role, and past performance in their previous job are considered. The offshore team generates a report based on the candidates' background checks, allowing you to assess their chances of success and ensure that your clients are satisfied with the hire.
Candidate Framework Compliance
For any new or existing doctors, we keep checking whether the doctor is compliant with the recent developments or not. All required documents, as per state and hospital, are checked and ensured to be up to date. If any document is missing or expiring in near future, we notify the doctor.
Face-to-face interviews
To abide by the government's rule to meet the candidate at least once to confirm the authenticity. Due to the pandemic, face-to-face interviews are being conducted via applications like Zoom and other media platforms. The offshore team assists the healthcare recruitment agencies in arranging interviews and completing formalities.
DBS & FTP Applications
DBS application is a criminal background check that is mandatory for all healthcare professionals. FTP (Fitness to Practise) applications require the allied health professionals to be verified if they are fit to work or not. These applications are filled regardless of the field and we assist the healthcare agencies in this tedious task.
Sales & onboarding
Database reactivation
Utilizing and re-activating the passive candidates buried under the pile of registrations can be a very productive affair. Build robust staffing pipelines by maintaining relationships with the candidate pool on your behalf. An offshore team delivers better care, deflects burnout, and builds better trust within the patient community.
Placements for Doctors, Nurses & GP's
The doctors, nurses, and GPs need to be placed for temporary work to generate revenue for healthcare agencies. The job vacancies come in and get filled up very fast as the candidates are often available to more than one agency at a time. So, the team is required to be very quick and agile to tap the right resources before the competitor agency.
On-call & Out of Hours Services
We can assist in issuing and canceling any booking that arises out of hours. The specialized team understands that the time after you log out is a window of opportunities and we ensure to tap it. The offshore healthcare recruitment team is available for placing candidates and making compliance calls after you log out and even on weekends,
Additional tasks (Especially for Australian Healthcare)
Timesheet processing
If a doctor has worked extra hours or attended any special training required by the hospital, then the same has to be mentioned in the document. The total hours are calculated based on normal, on-call, call back, or overtime and deducting break time as per the hospital norms and policies.
Medicare form filling and generating MPN
We fill medicare form on behalf of the doctor with the required details and get the MPN for the same. The signed medicare form along with supporting documents like AHPRA Registration/ Web check copy, Passport Copy is sent. If the doctor is from a foreign nation then visa or VEVO check for processing.
Candidate travel and accommodation management
If the candidate needs to travel to another locality or nation, offshore teams help in booking the travel and arranging accommodation for them. Whether the amount is fully paid by the hospital or partial, the teams assist in filling up reimbursements forms mentioning all details like hospital name, invoicing email, expense description.
Purchase Order forms to claim reimbursements
If any expense is paid by the agency, then we file PO Form mentioning all details like supplier name, job number, consultant desk, doctor name, position, department, hospital name, contact person in hospital, invoicing email, amount, and comment whether is fully paid by the hospital or partial.
Shouldering responsibilities through coordination
The services we offer in the above section depend on the legal compliances of the respective nations. Depending on the countries and their local laws, we provide customized healthcare recruitment solutions to agencies worldwide. We study and understand the requirements on a case-by-case basis to decide which services can fall under their range of requirements. At the beginning of the blog, we set out to know healthcare recruiters' challenges globally. However, the question remains if allied health professionals should spend hours getting trained in a secondary task or should they focus on the revenue-generating functions?
Many of the functions that a healthcare team spends hours doing can be saved by delegating to the right offshore team. Those hours can be instead allocated to meeting client deliverables and planning how to expand a business. You may decide to postpone partnering up with an offshore team based on your performance and workload. If you agree with what we propose, get in touch with our recruitment expert at info@technomine.biz