Virtual legal assistants work as an extension of your legal team to perform administrative tasks so you can focus on your cases and billable work. From managing corporate communication, taking calls on your behalf, scheduling and payroll processing, contract management to records retrieval, an experienced virtual legal assistants can handle multiple tasks on behalf of lawyers and paralegal firms. Many of our legal clients have found the freedom to expand their practice by using remote management to onboard more clients, manage data, organize files, retrieve legal documents and even market their legal services.
When we delegate the non-revenue generating functions to an offshore team, we have often seen that legal businesses get a chance to strategize plans for business expansion. Virtual team-building practices also allow legal businesses to cut out infrastructural overheads while maintaining the same or better quality of administrative work. If a law firm requires an ancillary or a non-core service, chances are virtual legal assistants already have the knowledge, expertise and manpower capable of handling the functions.
Over the past few years, the demand for outsourcing back-office, legal records retrieval and digital marketing functions are growing steadily. According to a Global Legal Process Outsourcing (LPO) Industry report by Report Linker.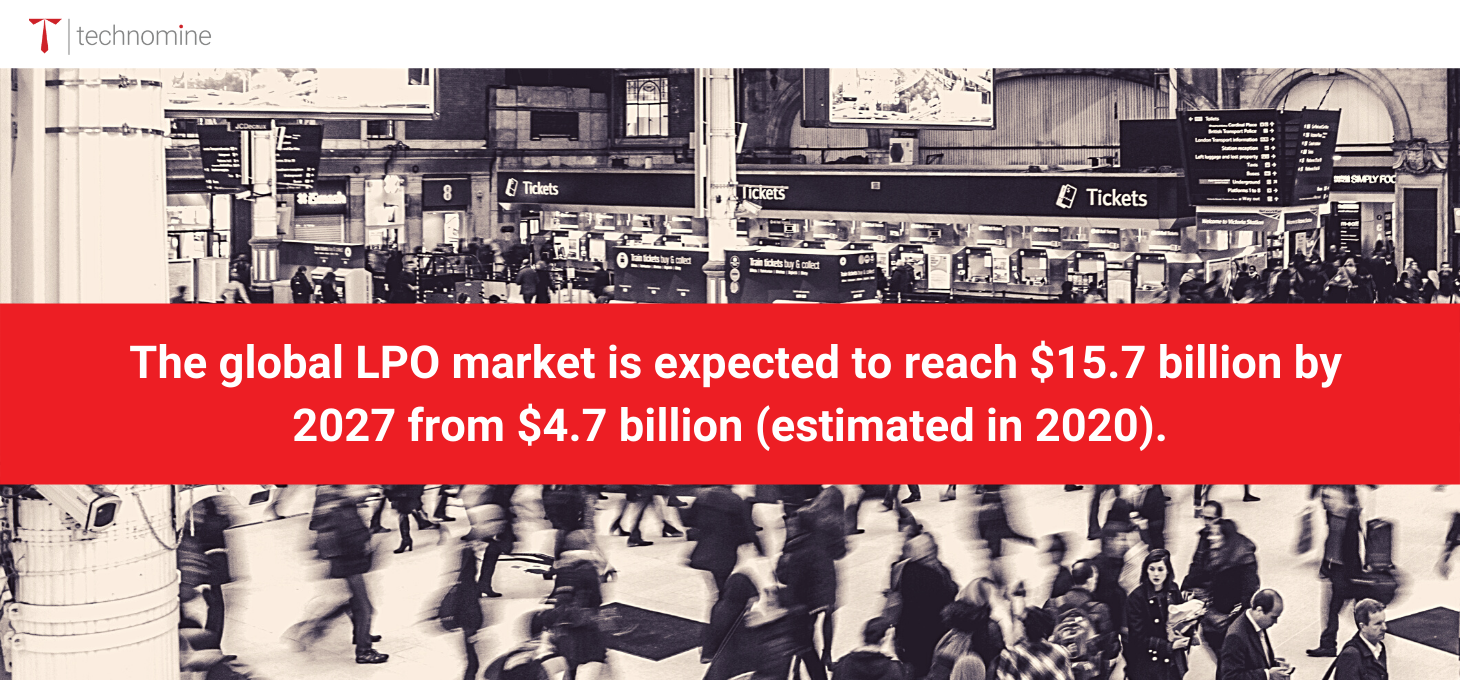 Apart from the usual administrative operations – scanning, copying and emailing – attorneys can use offshore legal assistants for assistance in back-office, records retrieval, digital marketing, word processing and other legal functions. In this blog, we will understand what administration services law firm offices can benefit from in order to slash overhead costs, beat the competition and maintain quality of service to withstand the vagaries of a volatile economy. To outsmart the competitors for faster growth, check out these three areas for delegation of work.
Using back-office services
Legal administration is a crucial secretarial department in law firms. Legal assistants and support services assist law attorneys in keeping their work schedules in order. Offshore legal administrators can also manage duties such as budgeting, payroll processing, directing the whole clerical staff while managing daily operations of law firms and legal departments. Typically, they should be able to handle both secretarial and legal matters.
However, legal admin personnel may already be overburdened with administrative tasks. Legal research, recovery of legal documents and administrative work are great functions to outsource. Below are a few more back-office support functions that can increase your productivity by as much as 40% while lowering costs and maintaining quality.
Contract Management
One of the most typical operations in each legal practice is contract management. This process entails contract writing and abstraction – which is the process of extracting essential dates, clauses and other data from papers. It also includes labeling all of the important provisions of the contract. Long and intricate contractual contracts require more time from attorneys or legal administrators. Law firms can save time and money by outsourcing administration, resulting in greater productivity and greater compliance throughout the contract lifecycle.
Legal Data Entry
Attorneys have a lot of paperwork and data entry jobs for which they generally hire entry-level individuals. Outsourcing legal processes like data entry will get you access to a large, experienced team with fast data entry operators to handle legal data input – at a fraction of the cost. Keeping in mind the fact that legal papers are extremely sensitive – data entry for legal clients is done with the utmost care. Many attorneys consider data input to be one of the most time-consuming tasks and rightly so. In light of this, legal business process outsourcing can be a fantastic option to help tackle tedious data entry and focus on relationship management.
Paralegal & Secretarial Jobs
As part of their professional responsibilities, legal assistants are responsible for a wide range of tasks. Document management, document conversion, graph/chart/presentation preparation, appointment scheduling, client follow-up and a variety of other administrative activities. To increase the productivity of this non-revenue generating task, many progressive law firms have found significant success with outsourcing relevant functions.
Legal Writing
Legal administrators need to create memorandums, work policy guides, proposals and job descriptions. Additional tasks include proofreading, editing, constructing interrogatories, draught emails, attachments and uploading documents. Law firms can actually outsource legal writing-related duties for better precision. This practice also ensures the necessary security compliance is met while organizing, preserving, storing & sharing legal papers. Outsourcing staff are trained with a keen eye towards detail, ensuring that any errors and omissions are corrected at multiple checkpoints in the legal process.
Through our experienced manpower, law firms can access a global virtual platform, experienced staffing and resources specific to the legal industry. Legal assistants like Technomine offers back-office, accounting, records retrieval, marketing to law firms and professionals.
Legal records retrieval
Managing remote teams to retrieve records can involve a steep learning curve at first. Understanding various records management systems can be one of the most challenging aspects of the records retrieval process. A person's legal record might be made up of a lot of different moving parts. Whoever seeks this sensitive data must know exactly what they want in order to get the information their client needs. However, being able to delegate multiple records retrieval processes simultaneously makes up for the initial hiccups in outsourcing the records retrieval process. Check out the benefits of outsourcing the records retrieval process.
Focus on revenue-generating operations
Delegating to an offshore team allows your in-house team to focus on your business growth operations rather than obtaining documents. A professional records retrieval service can leave your internal resources free to build and manage client relationships. Offshore virtual legal assistants act on your behalf and take care of everything from the first request through to follow-up and the organization of records.
Swift audit functions
Most retrieval service providers conduct an extra audit function when you outsource records retrieval. State regulations governing the release of records often establish uniform copy and service costs. In-house records keepers are frequently unaware of these rules and may accidentally charge more than what is permissible.
Comprehensive legal records retrieval
By providing a comprehensive history of the person involved, professional records retrieval firms may assist decrease the costs of claim payments and possible claim disputes. Furthermore, the summarization of records is more than just putting them together. It provides structured, summarized and hyper-linked summaries that allow you to assess the case much more quickly and accurately.
Improve records retrieval accuracy
Locating, requesting, tracking and getting documents can be a time-consuming task. Many legal teams we spoke with spend more time looking for legal paperwork than focusing on critical aspects of the case. To be able to swiftly and accurately retrieve documents, outsourcing is one option that allows your team to concentrate on their key strengths when working on a given case.
Your legal staff has limited time to manage complicated matters, clients and trials alongside documentation and operational red tape. Waiting for records or not being able to obtain them in a timely manner can create additional obstacles & stress. A records retrieval service can help reduce anxiety and enhance the performance of your legal staff. A records retrieval service can speed up the legal records retrieval process while maintaining accuracy, security and efficiency. A prepared lawyer can make all the difference in a case.
Outsourcing Your Digital Marketing
Some of our clients in the legal sphere are already established in a particular area, but want to expand to newer pastures. Law firms looking to acquire new customers must invest in marketing. Gone are the days when law firms could generate new business by putting up a billboard or placing an advertisement in the local newspaper. Now is the time for businesses to develop a forward-thinking marketing plan that includes SEO, social media, web presence and email marketing.
Customers shopping for legal assistants look forward to swift replies, so information should be accessible round the clock on your website. To put it another way, selling legal services in a post-covid world means expanding your presence online. In fact, there are a number of good commercial reasons to outsource all or part of your firm's digital marketing, whether you are working with an in-house digital marketer or not.
Bespoke legal marketing support
While knowing a little about internet marketing in the legal industry can help you pick the appropriate provider and speak their language to some extent. It can rapidly become a big distraction from your other duties and obligations. On the other hand, if you opt for offshore services, you can tap into an entire team of digital marketers executing effective campaigns at an affordable cost.
Save significant time & gain resources
Finding competent digital marketers that specialize in the legal industry know the right legal keyword and SEO practices; understand the legal writing practices, conduct legal research and even draft legal contracts and documents on your behalf. Hiring an outsourced agency for legal content will give you a flexible rolling contract depending on the assignments. On the one hand, you will have more resources at your disposal and on the other, you will not have to worry about staff costs, infrastructure bills and holidays for yet another division.
The growing trend towards outsourcing
A growing trend towards legal assistants and outsourcing is expected in the future. Firms have been getting comfortable with outsourcing IT & back-office functions and already – many other functions are being brought to the table as we speak. As the need for digital content distribution grows, lawyers are increasingly turning to outsource content for their law firms.
Lead generation for law firms
To bring in new clients, many legal firms rely on referrals, which obviously works to an extent. However, recommendations alone are not enough to keep most law firms' pipelines continuously full these days. While some legal schools now provide marketing classes, the emphasis is typically on personal branding rather than lead generation. Today, firms can use advanced marketing strategies in tandem with outsourced marketing to generate leads using a team that specializes in legal marketing. Below are some strategies that have helped our legal clients in the past.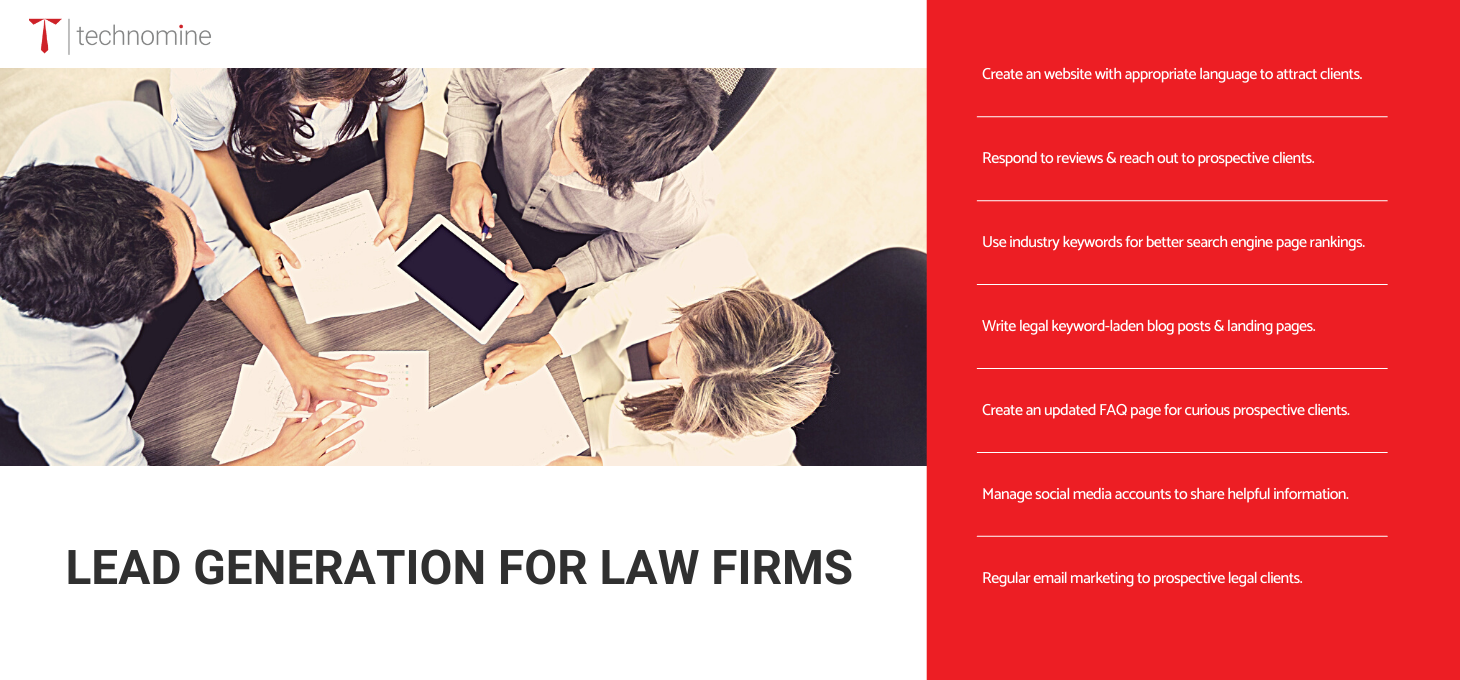 Offshoring offers legal firms a chance to concentrate on what they do best: closing and litigating cases. With the right provider working with you as a managed services extension of your own company, you can focus your valuable time on beefing up your legal practice and reputation.
We cater to legal clients working in very specific niche areas – family law, civil law, personal injury, immigration law and even legal advisory or paralegal firms. The team at Technomine understands the legal world from your perspective so our goal is to make things as smooth and pain-free for your attorneys as possible.
With over a decade of experience in managing offshore teams, Technomine has been working virtually with legal businesses long before the hybrid workforce was a reality. Long-term gains for your legal business include (but are not limited to) reducing costs of paperwork, records retrieval, securely managing documents and digital platform outreach. We assist you with everything you need to operate your legal practice so you can focus on 'lawyering'.
In a recent research paper "Provocations and Perspectives" by Professor Richard Susskind OBE, he talks about how "The emerging consensus is that traditional lawyers will still be needed for complex legal work in tomorrow's legal world but that routine, repetitive, process-based, and administrative work will be conducted through a variety of alternative sources – for example, by legal process outsourcing, near-shoring, off-shoring, sub-contracting to lower-cost law firms, and so forth."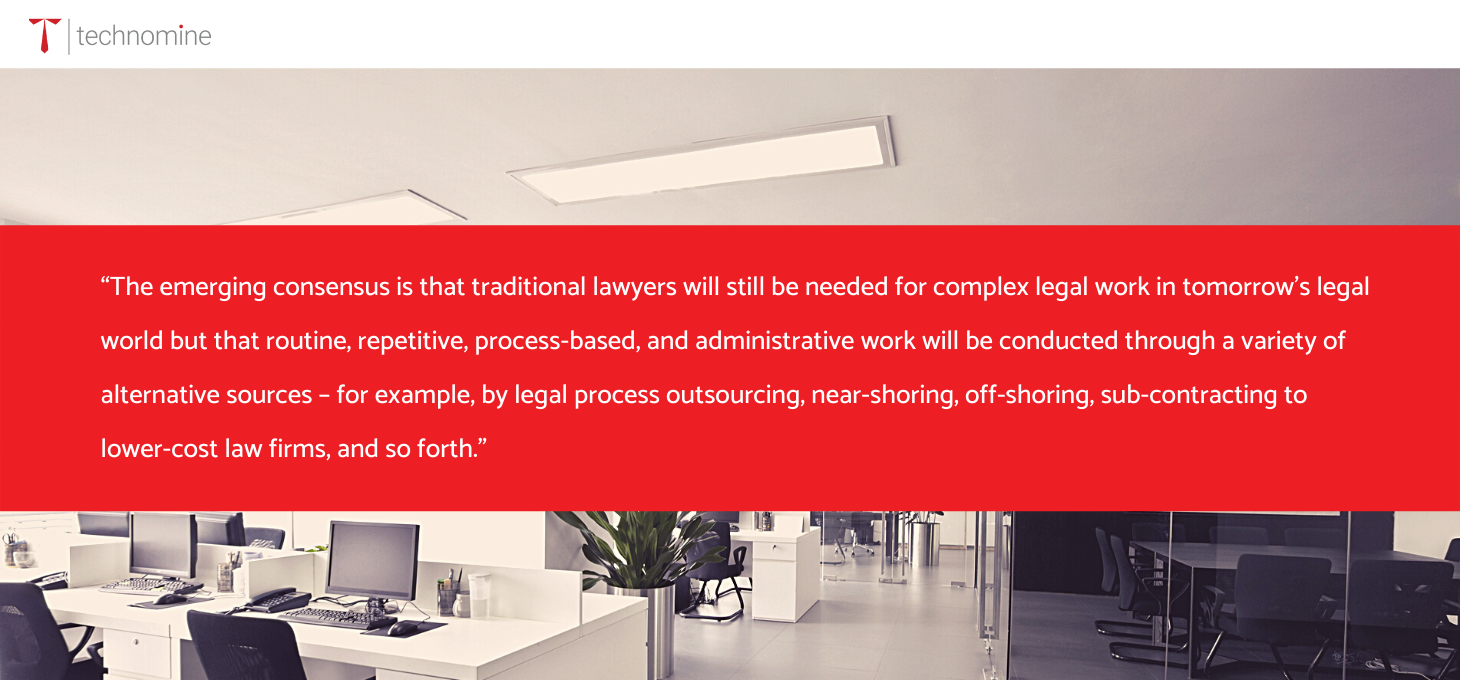 A lot of the hours that a legal team spends on secretarial work can be saved by delegating to the right offshore team. The hours saved by delegating your basic legal functions to a remote team can now be allocated to meeting client deliverables and expanding your business.
Today, the entire world is shifting to a hybrid legal services model. While hiring a freelance virtual assistant or having your secretarial staff working remotely may seem like an easy fix, you often end up 'managing' each of these entities separately. Additionally, if any one of these support services decides to go on vacation or leave, you may end up losing all the processes and administrative experience that they possess.
In contrast, having an offshore extension of your own law firm ensures that all of your delegated services are available and accountable in one seamless managed services relationship. The best part is that if anyone from your managed services team decides to up and leave – you already have all of those processes and knowledge absorbed into your own offshore team model – so training someone new for the same job is no longer your headache.
If you are in the legal business and need help in deciding when is the best time to partner with an outsourcing firm for your legal back-office tasks, get in touch with us at info@technomine.biz