As the world economy recovers, the financial world is in a state of flux. From remote transformations in bookkeeping to bank reconciliations to accounts payable and receivable to global taxation – the rules of the accounting game are constantly changing.
Business leaders in every field are currently up against a unique challenge – and an opportunity to drive growth for their company.
Remote accounting services can help small, medium and large companies think beyond number crunching and tired old metrics to plan their finances strategically, rethink revenue models and unlock new horizons for purposeful, growth-oriented financial decisions. In fact, remote transformations, insightful accounting and investing in global talent can explode growth – even in uncertain times like these
Even profitable businesses can struggle with delayed payments and poor cash flow. These risks can be easily mitigated with the help of a few remote accounting functions that are often overlooked
What if you could access comprehensive bank reconciliations, procure-to-cash services, eliminate tedious paperwork, improve cash flow, boost compliance, make strategic decisions, and stay competitive without sacrificing quality while reducing your workload?
Too good to be true? It is not.
Some of the most remote accounting overlooked functions include expenditure tracking, business structure advisory & financial analysis. Accounting and financial reporting can provide purposeful insights into every business decision you make.
This month, Technomine took a close look at some of the accounting services we have offered over the years. We looked at how we evolved from a simple number crunching offering into a bespoke accounting partner to medium-large firms across Europe, North America and Australia.
We pared down all of this valuable learning into a simple breakdown of how our clients can benefit from streamlined remote accounting. Read this blog to see what we have learned about remote accounting over the years. But first, let's start with the basics.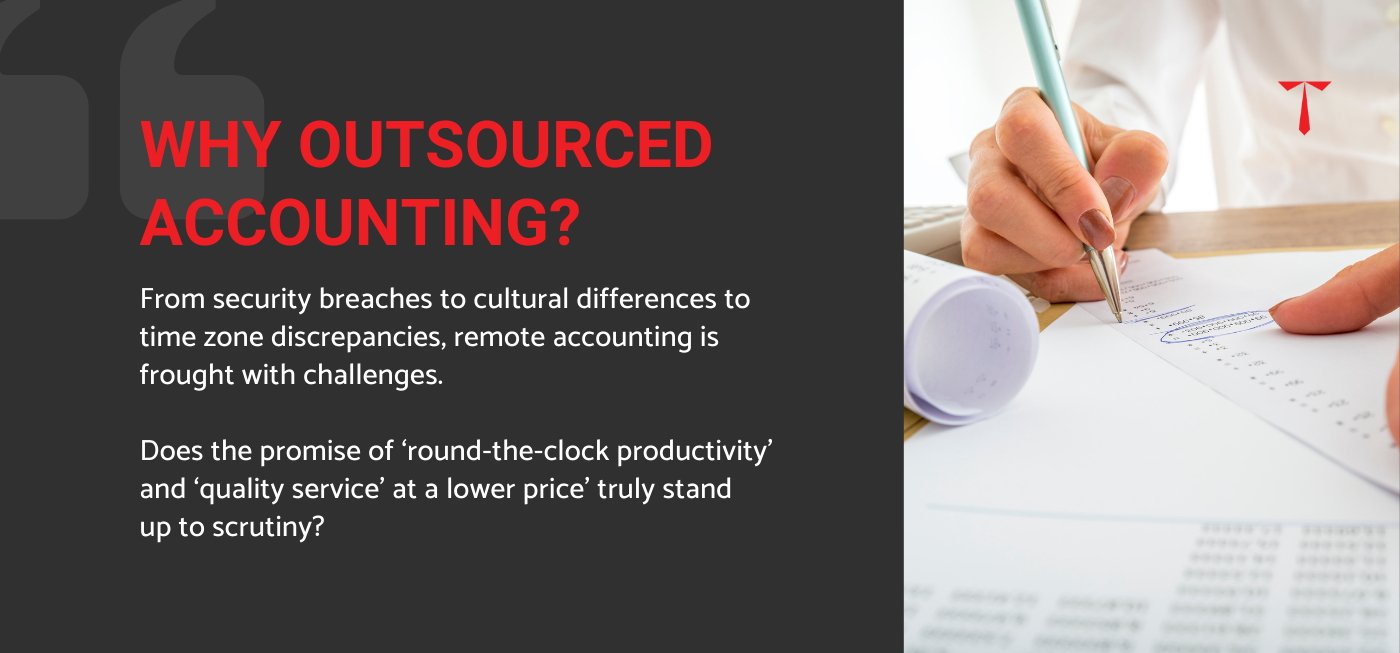 Why outsource accounting?
Before we get into the nitty-gritty, there is a single question that we field the most from a potential client. Why should I outsource my accounting? This is a question worth exploring.
Nowhere is the growing talent deficit in the western world more pronounced than in the medical, tech and financial sectors. After-effects of COVID on disrupted university schedules continue to impact businesses looking for qualified fresh talent. The accelerated remote adoption across all business industries has intensified an existing problem. According to Silicon Angle, the current skills crisis is comparable to the last recession that happened in 2008.
Here is a shocking statistic.
Nearly 90% of executives are facing a severe digital skills gap globally based on recent McKinsey reports.
If you think this problem will not affect local businesses where you live, think again. This shortage in financial talent will impact nearly all businesses' growth and productivity as the need to delegate functions and processes goes from a luxury to a competitive necessity.
However, not everything here is doom and gloom. For leaders brave enough to venture beyond the US and developed nations in search of qualified accounting talent, there is a teeming pool of staff with global and local expertise. Technomine trains such professionals to bring their skills up to par – and qualifies them to handle world-class accounts and complex accounting challenges.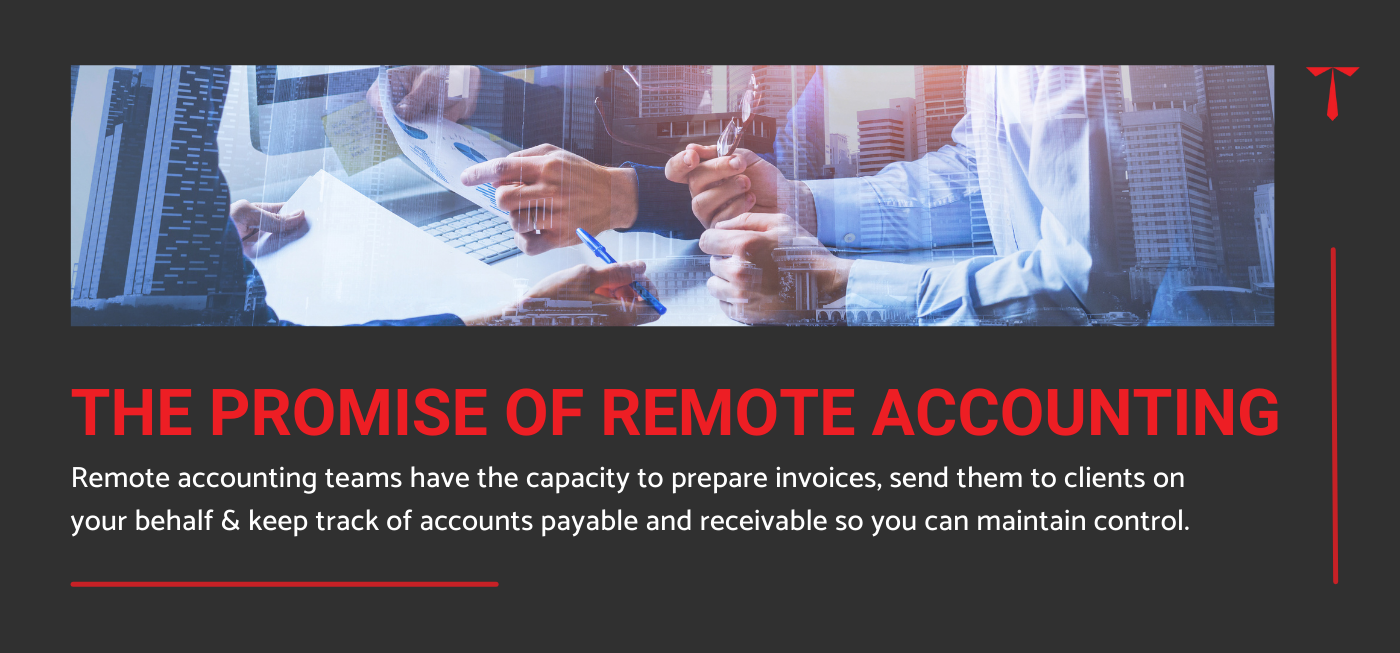 With us handling the tedium of manpower, many of our client companies have been able to scale at speed – even as the pandemic tore across the world.
Of course, if it were just a matter of finding the right accounting talent, everyone would be able to run a successful venture. As business owners and upper management already know, there are many risks attached to outsourcing your accounting – and we will address each of these concerns in the following sections.
From security breaches to cultural differences to timezone discrepancy, we will address each of these one by one to see if the promise of 'round-the-clock productivity' and 'quality service' at a lower price' truly stands the test of time when the rubber meets the road.
Next, we will look at some functions that form the backbone of any serious accounting outsourcing service.
Basic outsourced accounting functions
Any decent accounting service will have the capacity to prepare invoices, send them to clients on your behalf, keep track of accounts payable and receivable, tally invoices against payments and even offer regular reporting so you can maintain control. However, with an outsourcing firm that acts as an extension of your own company, you will be able to access accounting support that goes above and beyond the basics.
Bookkeeping
An organized bookkeeping workflow frees up more time for you to focus on growth-oriented activities. Outsourced functions in the early 90's were generally low-risk, low barrier to entry jobs like data processing and customer service.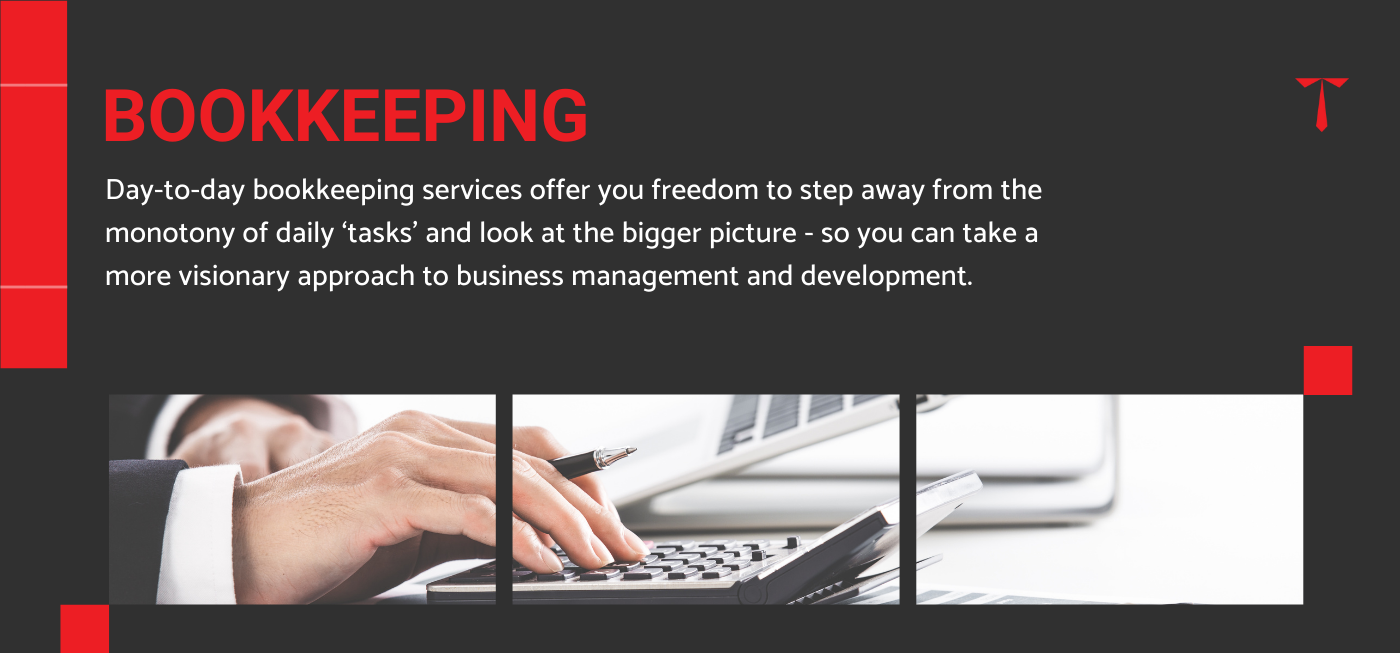 With the evolution of human-led and tech-driven remote services, the outsourced accounting industry's personnel quality has also risen a notch. With better-qualified accounting staff aware of global rules, regulations and trends, there is a reduced risk of errors – and a greater sense of responsibility and accountability on both sides.
Finally, there is the obvious argument – delegating your accounting overseas reduces the overall expense of doing the bookkeeping – money that would otherwise be lost on infrastructure management, office equipment, communications, and more.
Day-to-day bookkeeping services offer the freedom to step away from the monotony of daily 'tasks' and look at the bigger picture so you can take a more visionary approach to business management.  
When someone else processes your accounts from scratch based on your bank statements, invoices, bills – and most importantly, your preferences and instructions; bookkeeping becomes less of a stressor and more of a vehicle for fund management to optimize profits.
Looking for help with your bookkeeping organisation?
Managing Accounts Payable
We can take charge of your accounts payable function from the root level and make the cumbersome process error-free. We escalate urgent matters for prompt action and even reply to supplier payable queries.
Apart from reconciling the supplier statements, we also issue weekly aged payable listings, so you know whom to pay, how much, and when to pay. We can also set up the payments on your banking website to review and authorize!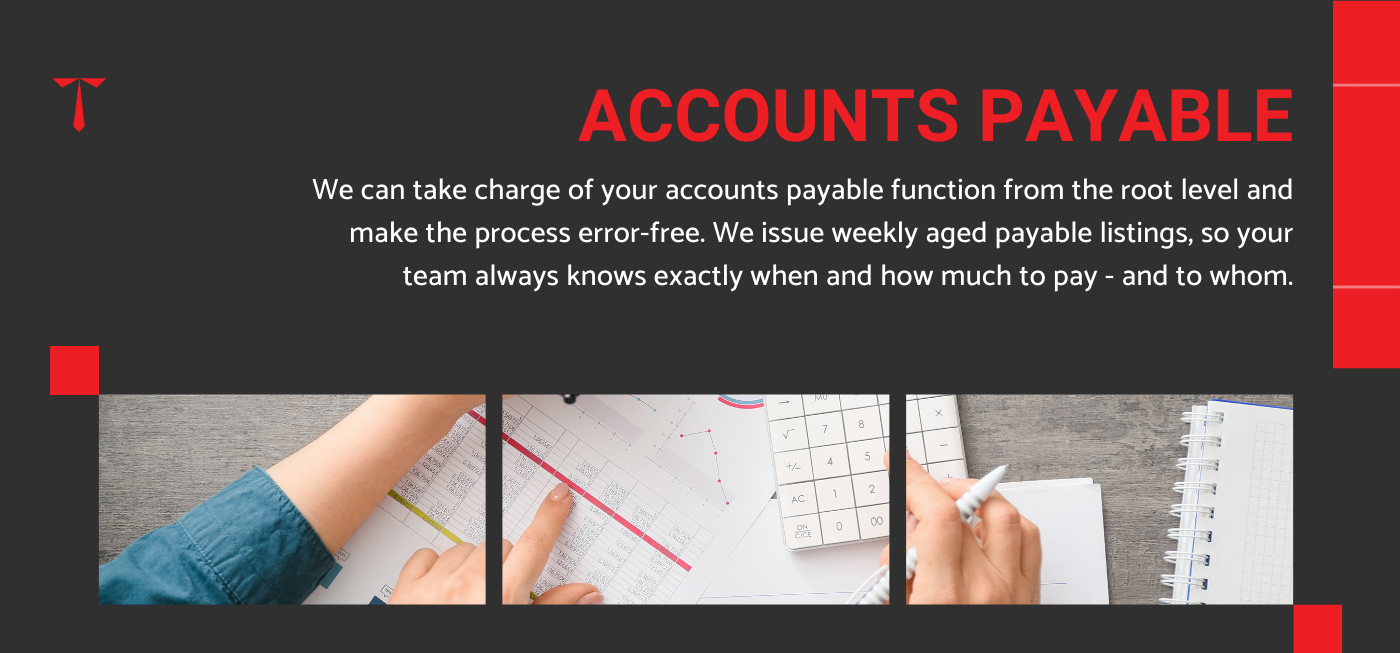 Most accounting firms will be comfortable providing advisory services, conducting audits, managing compliance requirements and tax planning. CPA firms are well aware that bookkeeping can be extremely time-consuming and negatively impact the bottom line.
However, the first-time business owner or manager may not be aware of this. It can be an unpleasant surprise to see how much energy these essential functions can consume, even sometimes pushing your actual business and sales to the back burner.
Payroll Solutions
The hesitation with delegating payroll functions is understandable. However, when your outsourced accounting team functions as your very own personal payroll department, you get to decide upon the SOPs to be followed to ensure maximum control over your payroll processing. In most cases, clients will work closely with our accounting team for a few months until they gain comfort and understanding after multiple rounds of feedback. After the initial whetting period, most of our clients just pass on their timesheets or leave details and we are happy to handle the rest.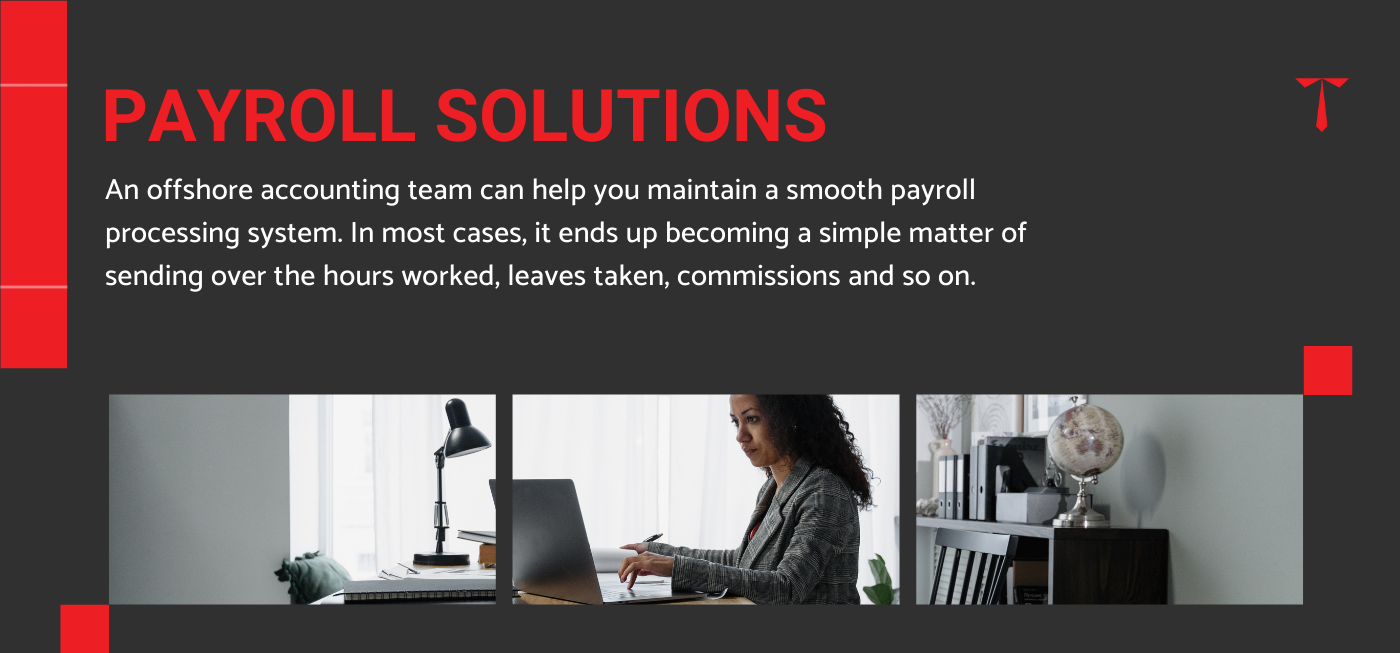 Once there is a level of trust built up in our services, it also opens up the conversation to discuss our complete roster of payroll services. From payroll processing, calculating taxes to be withheld, issuing pay slips, handling payment summaries and handling all lodgements with the ATO (where applicable).
For most clients, it eventually becomes as simple as sending over the hours worked, leaves taken, commissions or bonuses applicable – and any other variables. Then, you move on with your day to more important things.
As tech pushes the boundaries of what is possible with remote teams, we have also been able to add new service skills to our accounting team. Today, online payment setups and internet banking payroll processing have become an essential outsourcing support function. We set up the entire system so that all your team has to do is log in, authorize payment or suggest revisions.
For clients in Australia, we have even supported them with year-end compliances. We handle all ATO obligations by reconciling and reporting the tax withheld from their employees' pay.
Improving Cash Flow Efficiencies
Cash flow efficiency is defined as the ability of an organization to produce cash flows from its ongoing operations consistently. At Technomine, we can implement cash flow forecasting models to suit your business needs leading to better profitability and increased productivity inside the organization.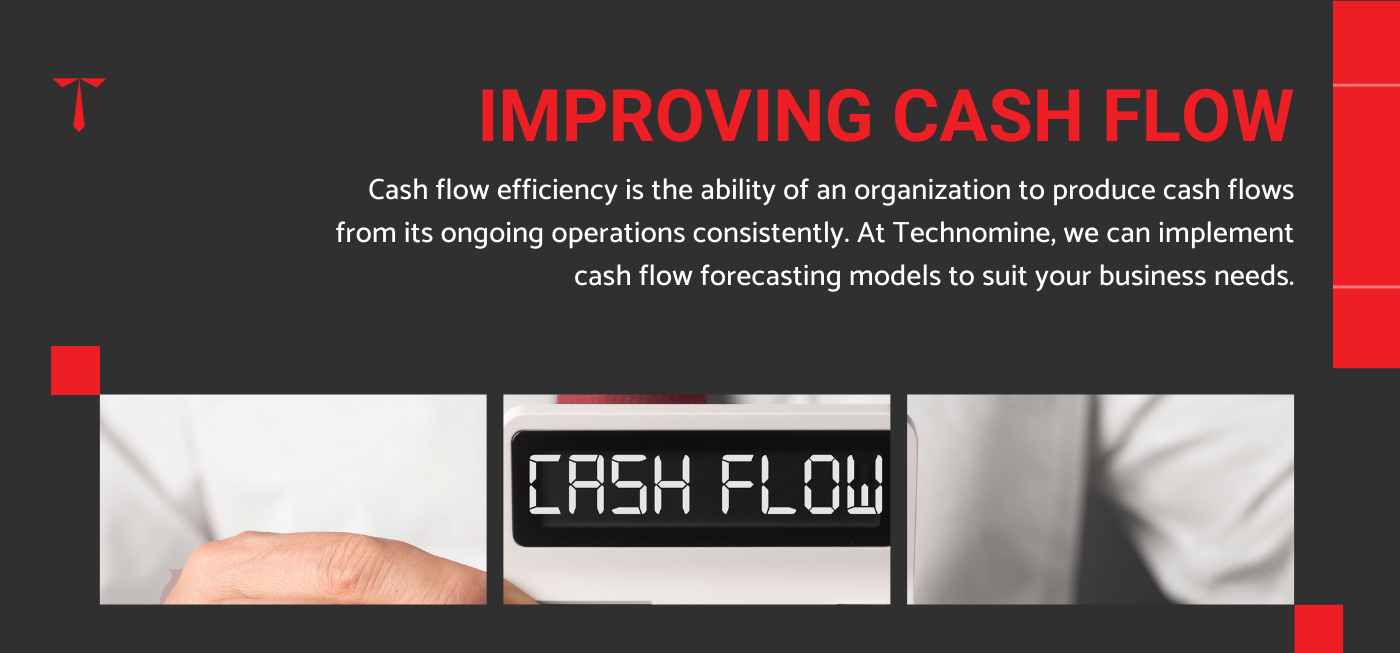 After your accounting workflow is created according to your financial needs, remote accounting staff acting on your behalf can ensure timely submissions, the accuracy of documentation and strategic insights to increase profit margins.
Bank Reconciliations
We keep your banks and credit cards reconciled so that there are no income and expense discrepancies leading to late penalties. We keep an eye on the recurring transactions to verify any necessary information and associated documentation.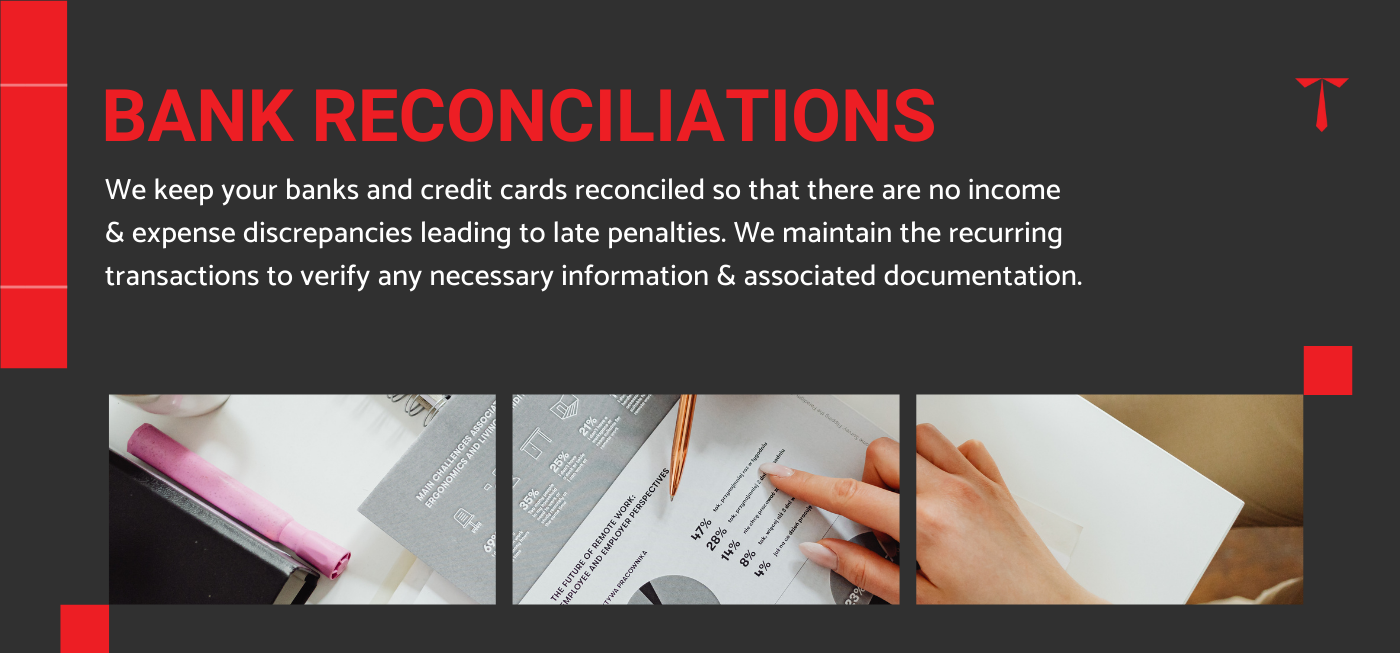 Procure to Cash
Procure to cash is defined as the process of requisitioning, purchasing, receiving, paying for, and accounting for goods and services. We provide you with the best services making a safe payment platform for you. With the help of A/P processing, your clients get to pay the suppliers and vendors purchased by the company.
A remote accounting service can handle your incoming payments and invoices. Whether your business is small, medium or large, it does not matter. With the help of Technomine accounting services, you get easy payment processing regardless of the complexity of your business.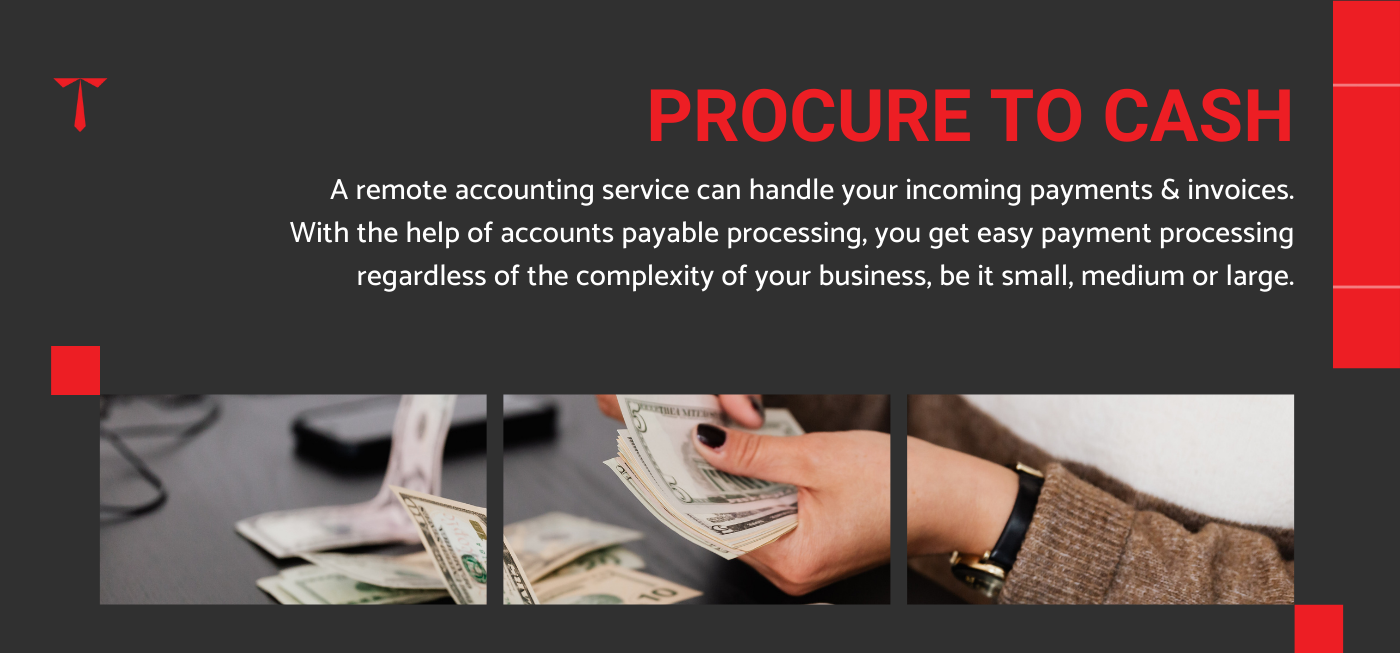 When the payment is completed, 1099 processing starts, which helps the business record payment activities. 1099 is an Income Tax Reporting Form used by the US federal government. The 1099 form is then sent out to the suppliers as an official receipt that states that the payment has been completed. We also work with clients to process their payments regarding A/R invoice processing, receipts processing, sales audit & reconciliation and A/R collection & analysis.
Fund Management
Fund management is very important for businesses to keep their record books clean. With the help of Technomine Accounting Services, you can take care of check processing with the click of a button. We complete the pending payments on clients' behalf and even update them with the regular transactions.
Additional services like deposit processing, fund transfer entries, bank reconciliation, and cash forecasting can help alleviate the burden of accounting tasks to help you manage your funds with ease.
Sales tax filings
Whether clients own a small, medium or large business enterprise – regardless of whether they are located in the USA, Australia, the UK or Canada – there will always be a mandate to contribute some amount of tax to the national, local or state government. For our UK clients, we make sure that your sales tax, VAT filing and internal audits are monitored carefully without any errors – and in a timely manner.
Does taxation feel like a time-consuming process? Not if you have someone else take care of it!
With Technomine remote accounting, you are covered for a variety of taxation services. So, we take on the burden of tax filing paperwork on your behalf. Below are some of the many taxation services & applications we support.
S Corporation (1120 S)
C Corporation (1120 C)
LLC
Individual Tax Filings (1040)
Tax Returns / Processing
Looking for expert guidance on accounting principles?
Financial Statements Reporting
Every business is unique. So, business management requirements are different too. We can provide periodic reports to make management decisions better through our industry-oriented management information system. With financial statement reporting, we offer comprehensive support with the following services.
Getting a complete income report
Balancing sheet and cash flow statements
Ensuring data accuracy
Profit or cost center reporting
Complete KPI reports
Analysis schedules of important balances
Budgeting and variance
Other financial reporting

Best Practices in Outsourced Accounting
Following best practices in outsourced accounting can help you manage your funds with ease. Not only will you get a better cost-to-quality ratio by using proper accounting protocols but you will also be able to manage your portfolio – and get your money to go much further.
The best part? Outsourced accounting costs less, requires minimal effort from you and you get to take home more – while still staying compliant with local and national regulations.
Maintain Cost-to-Quality Ratio
Regardless of business size and scope, a lot has been said about the cost-effectiveness of offshore teams. However, there is an equal pushback from skeptics who have burned their hands at the mercy of unscrupulous, poor-quality outsourcing firms.
The equation for maintaining a high cost-to-quality ratio is simple – we invest heavily in our people. While outsourced accounting is no longer 'dirt' cheap, it is significantly cheaper than hiring an expensive accountant or engaging an accounting retainer in a first-world country. However, without systematic training and accountability processes in place, these cost-saving measures can lead to more expenses down the line due to poor or even unethical accounting practices on the part of the managed accounting service.
Technomine actively 'insures' against the above scenario by rigorously training our accounting staff, ensuring a hands-on approach towards onboarding both clients and accounting staff. So, at the beginning of any new relationship on either side, we have reporting processes and accountabilities in place to communicate clear expectations and honor our clients' preferences. We ensure that these accountable reporting processes are maintained even after the initial learning curve is behind us and things are running smoothly on both sides of the pond!
Use the right tools
The future is no doubt tech-driven – but humans will (and should) be leading the charge forward.
The adoption of technology solutions in the accounting industry will only intensify in the coming years. As the demand for computerized accounting grows, accounting software companies will address this with increased investment in bridging the digital training gap for their accounting staff.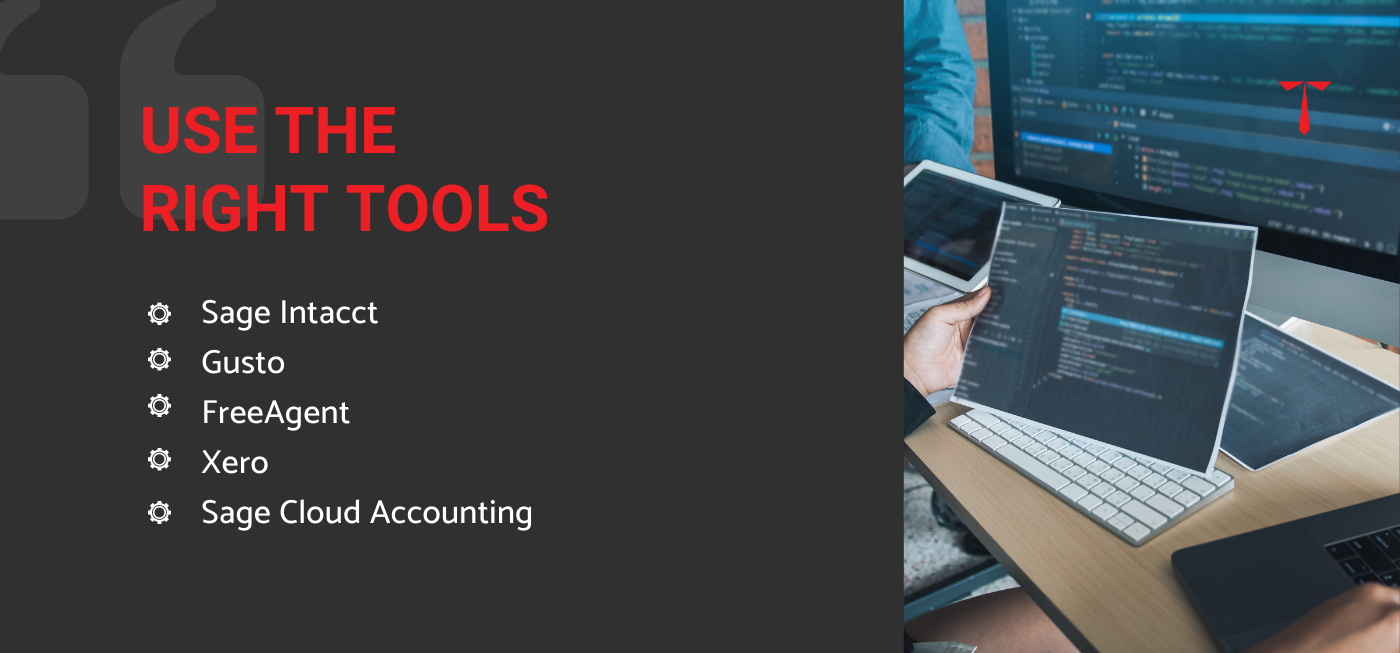 Whether we use in-demand software like Sage Intacct, Xero, FreeAgent, Gusto or Sage Business Cloud Accounting; we are constantly scanning the market for newer, more efficient software trends to quickly meet client demands and train our staff to hit the ground running.
From accounting software and tools to training in ethical conduct, we have a strong focus on ensuring that your offshore team has both the technology and training to handle any challenges they may face on the job handling your accounting work.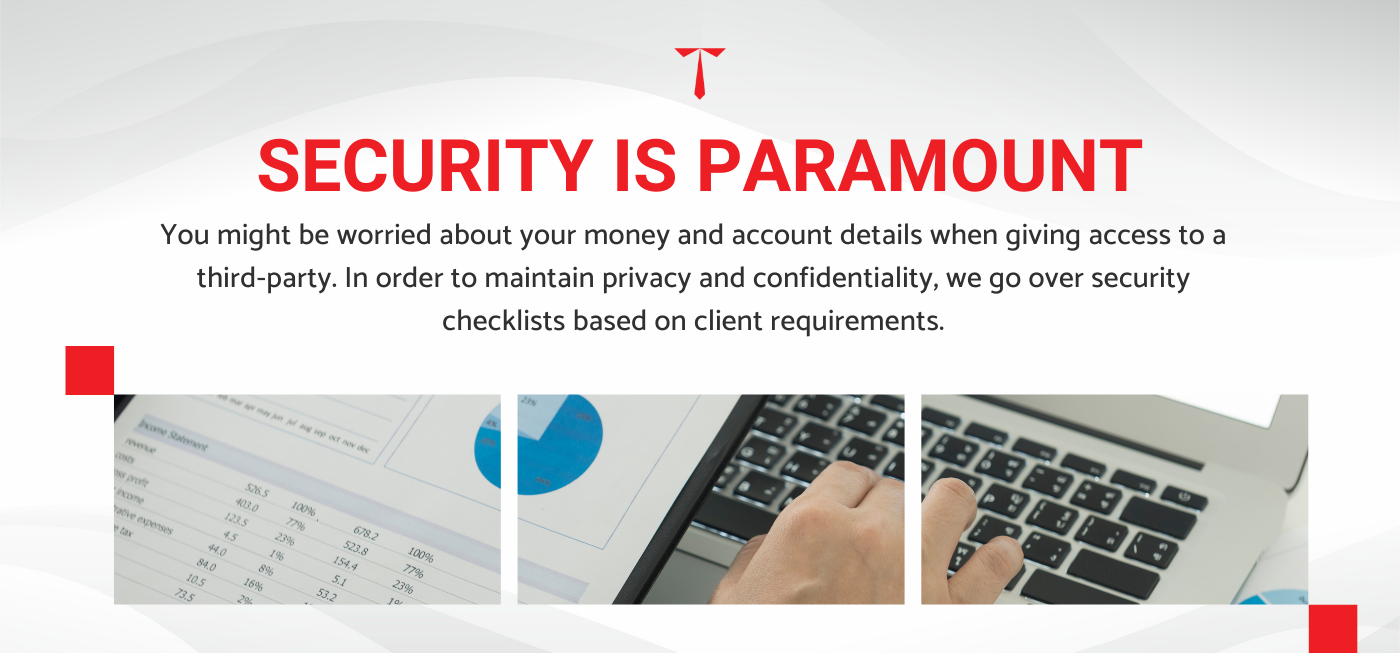 Make Security Paramount
You might be worried about your money and account details when giving access to a third party. In order to maintain privacy and confidentiality, we go over security checklists based on client requirements. This ensures that sensitive information is not compromised under any circumstances whatsoever.
Did you know that we have a sizable server room that is monitored round-the-clock to ensure watertight protection for every process within the organization?
To ensure safe data or document transfer, we also have strong security firewalls, checklists and protocols in place that are mandatory for all accounting staff to follow.
Take a look at some of our data protection protocols below.
Disabled USB and data transfer devices
While we handle your accounting services, our team ensures that data sharing is completely forbidden unless authorized by the client. We ensure your privacy to the extent that using a USB or cellphone with any of our accounting devices is completely disabled by our technical team. This happens before an accounting staff member ever touches your information.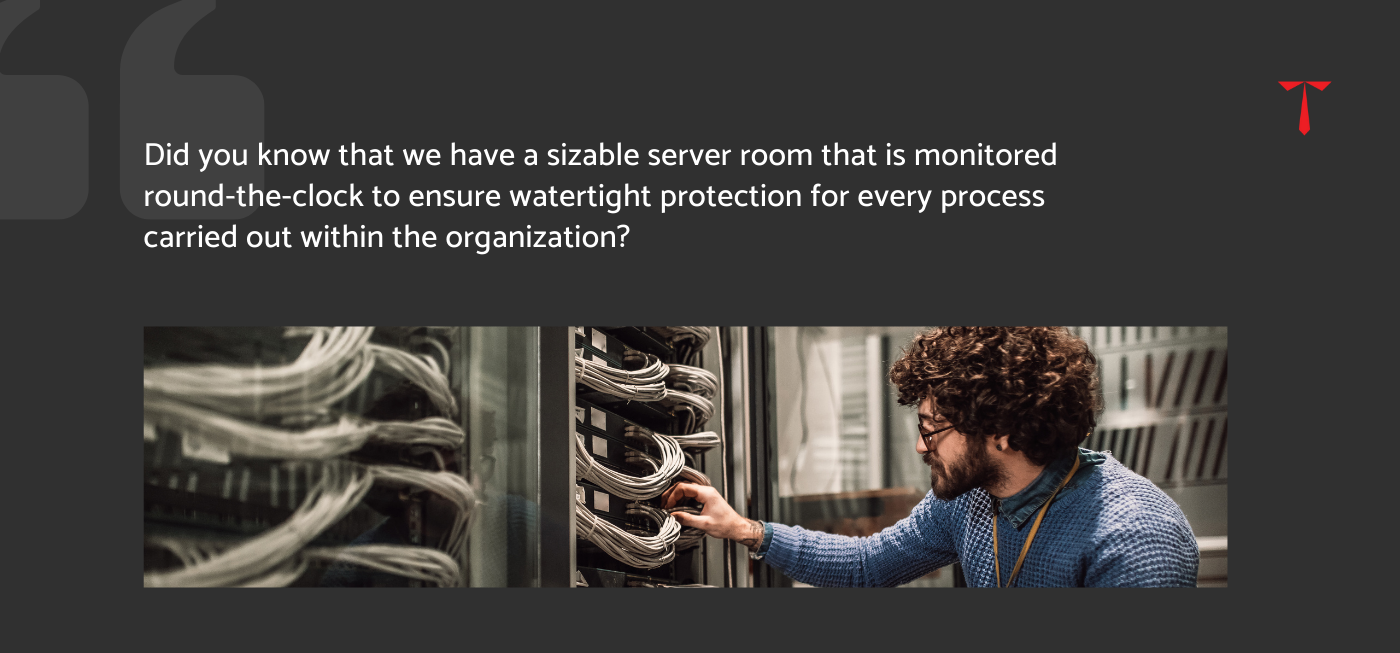 24*7 CCTV surveillance
Technomine accounting services are so secure because our accounting workspaces are monitored round-the-clock with CCTV cameras. While our team monitors your accounting requirements and tasks, we monitor them.
Blocked access to personal emails
We do not practice the use of personal emails inside the business premises – or when doing any of our client work – ever. Our accounting team has been given a professional, trackable and secure email account for accessing information that they are authorized for so that they can carry out their duties.
Key card access
Staff check-in and check-out timings are registered and monitored on a daily basis using biometric and keycard monitoring. Personal mobile devices are also prohibited inside the work area. Staff are mandated to leave their personal mobile devices outside in assigned locker areas that are also monitored. With a strong security background and organizational experience in video surveillance and electronic security, Technomine premises have watertight security measures to ensure that our clients are ensured maximum protection.
Strong firewalls and 256-bit SSL encryption
Our working software is properly secured and monitored with 256-bit SSL encryption and strong firewalls – ensuring that there is no theft of personal data and sensitive information. Additionally, staff internet access is also controlled and monitored regularly – with spot checks to ensure accountability.
Build trusting financial relationships
Trust is paramount in the digital world as well as the real world! Today, trust is the currency that drives business relationships forward – more so than money. Trust is built over time with consistent action across the board from our organization to our staff to our clients.
Nowhere is trust more important than when handling someone else's money. At Technomine, whether we manage accounting functions, electronic security services, recruitment or even marketing, we train our people to follow a solid yet simple value system.
We encourage our people to handle every interaction in every client relationship with ethical, competent and trustworthy behavior. Towards that end, we also have solid protocols and accountability systems for our staff to follow at every step of their job.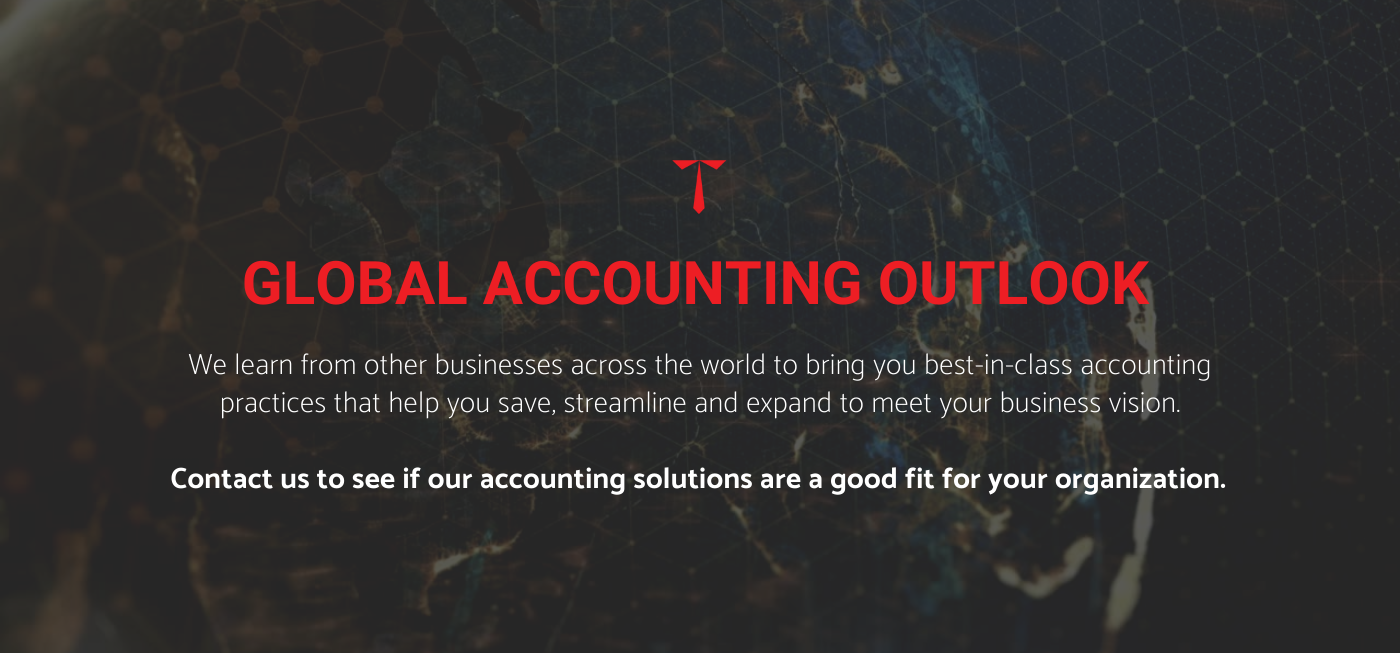 Accounting solutions with a global outlook
From remote transformations in bookkeeping to bank reconciliations to accounts payable and receivable to taxation, accounting is a moving target in a changing world.
As a global firm that handles accounting for clients across various industries and countries, we like to think that we bring a globally-informed approach to our accounting work. This is why we believe that remote accounting offers something far beyond help with filing taxes and payroll processing.
Offshore accounting services can help organizations think strategically about cash flow, human potential and even profit models. We learn from other businesses across the world to bring you best-in-class accounting practices that help you save, streamline and expand to meet your business vision.
Armed with clear financial insights and accounting support on various aspects of their business's financial standing, leaders can dare to be more ambitious, inspire talent and acquire more prominent clients.
Financially aware leaders can be purposeful, inspire trust and lead an organization towards brave new horizons.
Contact us to see if our business insights and accounting solutions are a good fit for your organization.
Frequently Asked Outsourced Accounting Questions Answered
1. Why should you outsource your accounting?
Reasons why you should outsource accounting services :
– Boosts Productivity
– Reduced Costs
– Reduced Frauds
– Scalable Options

2. What accounting functions can be outsourced?
Following accounting functions can be outsourced
– Accounts receivable/payable
– Bookkeeping services
– Tax filing
– Financial statements
– Manufacturing
3. Why do companies outsource bookkeeping and accounting?
Companies should outsource bookkeeping and accounting because:-
– Outsourced accounting saves time
– Eliminate extra costs
– Professional help is guaranteed
– Data security
4. What are the types of accounting?
There are 9 accounting types as follows:-
– Financial Planning
– Managerial Accounting
– Cost Accounting
– Auditing
– Tax Accounting
– Accounting Information Systems
– Forensic Accounting
– Public Accounting
5. What are the basics of accounting?
Basic accounting concepts used in the business world cover revenues, expenses, assets and liabilities. These elements are tracked and recorded in documents including balance sheets, income statements and cash flow statements.
6. Who is the father of accounting?
Luca Pacioli is known as the father of accounting. He was the first person to publish a work on the double-entry system of bookkeeping on the continent.
7. What are the functions of accounting?
The basic functions of accounting are as follows:-
– Collection and storage of financial data
– Data gathering and financial data management
– Results are verified by external accountant
– Proper accounting of taxes
– Information is maintained as per legal compliances
8. What are the 3 major areas of accounting?
Although there are many specialties, the three main areas of accounting are:-
– Public Accounting
– Governmental Accounting
– Internal Auditing