As each year ends, talent acquisition and recruitment teams plan their strategies for the next 12 months. Developing a concrete action plan to improve their recruiting processes and hiring efforts is certainly the biggest priority for talent acquisition teams at the end of the year.
The past few years have accelerated the evolution of the workplace. The corporate market is now more competitive, with Zoom interviews becoming the 'new normal'. With a low 3.5% unemployment rate and hiring remaining strong, companies need to shift their focus to new recruitment trends. This month, our team at Technomine will discuss top hiring and recruitment trends that businesses can expect in 2023.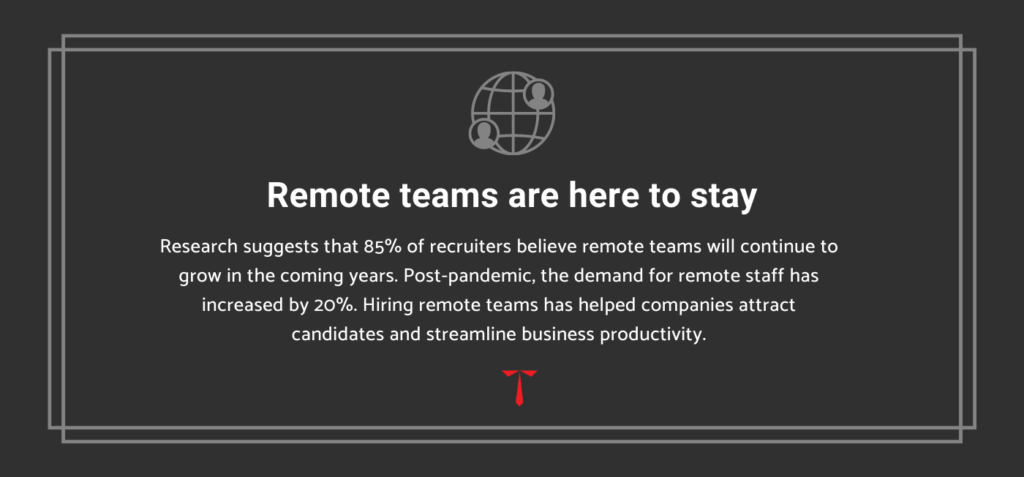 Remote teams are here to stay
Research conducted by Employeecycle predicted that 85% of recruiters believe remote teams will continue to grow in the coming years. Post-pandemic, the demand for remote staff has increased by 20%. McKinsey and Co. indicate that hiring remote teams has helped companies attract candidates and streamline business productivity. Remote work does not just benefit the recruiting efforts, but it also helps retain the existing talent.
Your reputation leads up to open positions
As per Statista, the majority (86%) of candidates research the brand and reputation of the organization before applying for a position. It does not matter if they have a higher salary; 75% of candidates agreed they would not work for a company with a bad reputation.
It is important to remember that reputation is not just about the name, logo or marketing material created for your company. It goes deeper. The workplace ethics, talented employees, vibrant culture and profitability, when combined, create a good reputation for the company.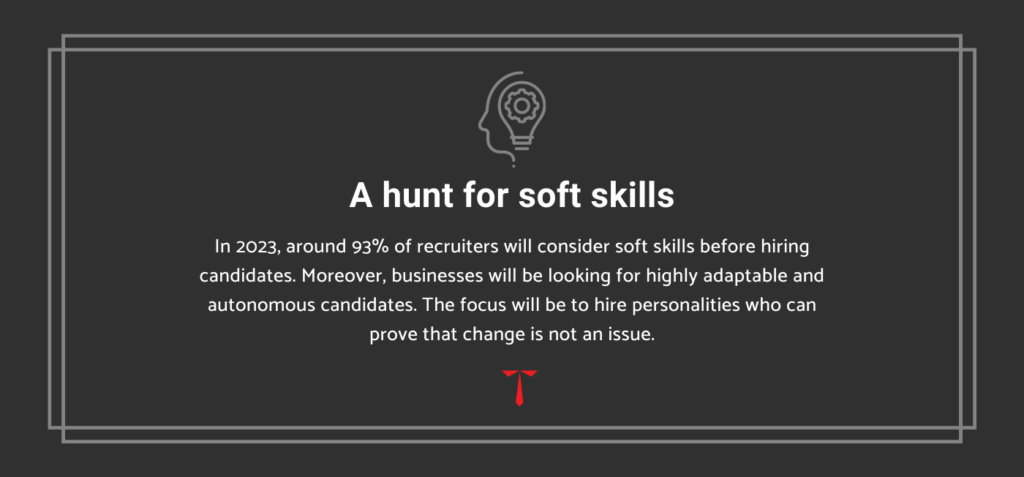 A hunt for soft skills
According to Harvard University research, 85% of job successes come from having well-developed soft skills and only 15% of hard skills. You probably heard about soft skills before. In 2023, around 93% of recruiters will consider soft skills before hiring candidates. Moreover, businesses will be looking for highly adaptable and autonomous candidates. The focus will be to hire personalities who can prove that change is not an issue.
Employer branding
Employer branding plays a crucial role and will be a trend in 2023. It is vital for a company to position itself as an organization that cares about the recruiters, including its candidates' well-being and development. Even if your company has a team of 3-4 people, it is time to make it a priority; the potential recruiters will expect their well-being to be a focus in 2023.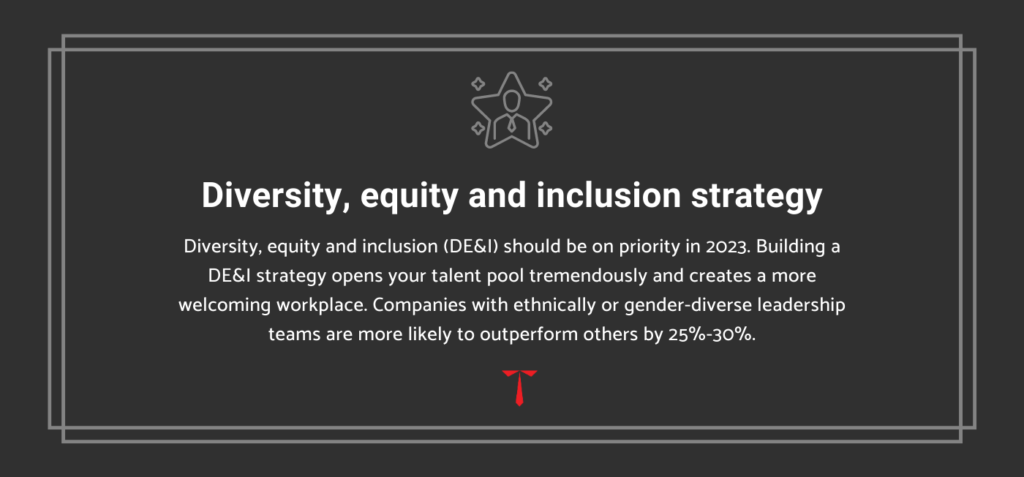 Diverse, equity and inclusion strategy
Diversity, equity and inclusion (DE&I) should be on priority for talent acquisition leaders. Building a DE&I strategy opens your talent pool tremendously and creates a more welcoming workplace. To better understand what DE&I means, let us break it down into three pillars.
Diversity – the presence of candidates irrespective of their race, gender, ethnicity, sexual orientation and apparent & non-apparent disability.
Equity – the process of ensuring that procedures and systems inside the organization are just and impartial, eliminating unfair advantages and promoting equal opportunities for all.
Inclusion – the practice of creating an environment where everyone feels heard, supported and secure in sharing their opinion.
Statistics suggest that companies with ethnically or gender-diverse leadership teams are more likely to outperform others by 25%-30%.
Set your recruiting process for success!
While recruiting businesses will face plenty of uncertainty in 2023, these recruitment trends will help your company find the right pool of candidates to better capitalize on the opportunities presented to them in 2023. By focusing on remote work, DE&I, flexible working space and employer branding, companies can successfully retain a competent workforce in the face of a general talent shortage.
At Technomine, we help our clients find the best candidates to help their organization grow and generate business leads. Be it accounting, video surveillance, records retrieval, digital marketing or recruitment, we are always here to help our clients get the best candidate. If you wish to know more about our services, email us at info@technomine.biz.